2021 Boys HS Nationals
High School Nationals Team By Team Breakdown
High School Nationals Team By Team Breakdown
New faces, new programs, and new styles come into the fray this year at High School Nationals.
Jun 17, 2021
by Ryan Holmes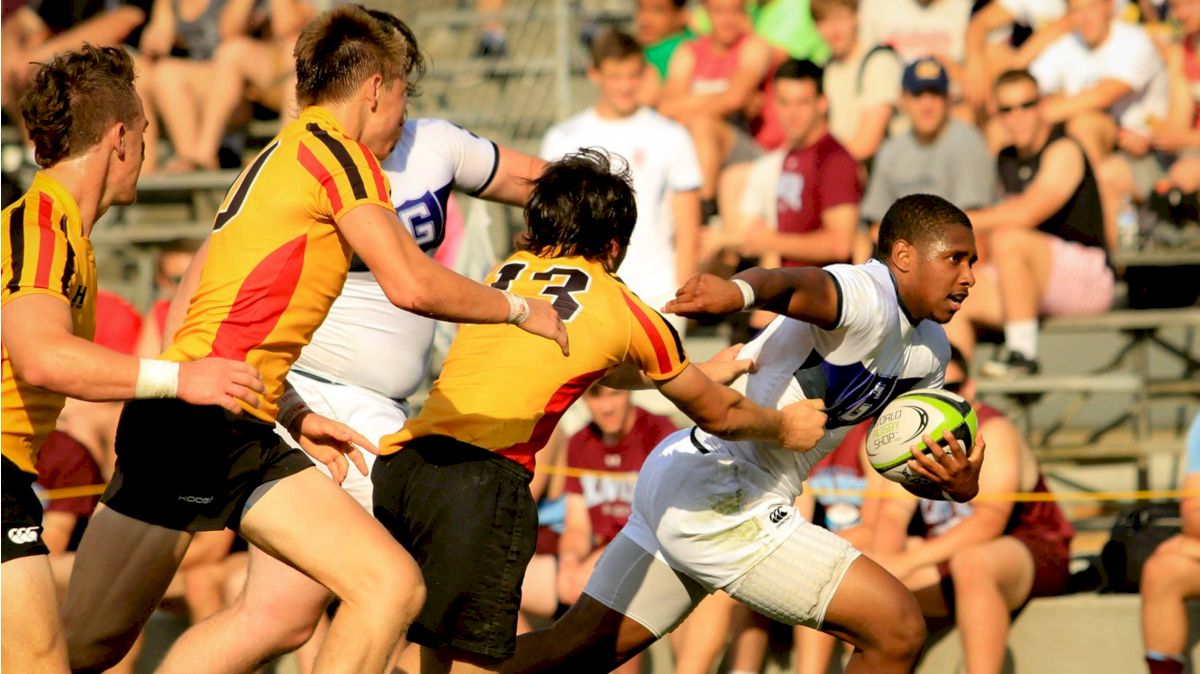 High School Nationals is back.
How good does that feel to say! Following a year off, the grandest youth tournament in the country kicks off today, as teams from across the nation vie to earn the illustrious title of "National Champions".
New faces, new programs, and new styles come into the fray this year, but the intensity will be palpable as ever, and the quality will stand out once again. Whether you're a parent, a friend, a rugby fan, a collegiate scout, or just someone looking for some hard-hitting entertainment, Kansas City is the place to be this weekend.
And, luckily, if you can't make it to KC, we've got you covered. Each and every game will be streamed LIVE & On-Demand right here on FloRugby, so you won't have to miss a second of the action.
With another huge weekend of rugby on deck, let's have a quick look at the teams competing:
Single School
#1 Seed - Herriman: No strangers to the big dance, the boys from Utah are back to avenge their loss in the 2019 title game. The Mustangs, winners of 10 straight, are on a roll and will require a monumental defensive effort to slow down.
These guys are certainly a favorite.
#2 Seed - St. Ignatius: Perennial Ohio state champions, the wildcats venture onto the national stage for the first time, looking to translate their in-state dominance into nationwide success. Well coached, skillful, and tough on defense, these boys are confident they can go all the way.
#3 Seed - Gonzaga: There'd be few arguments if you claimed Gonzaga the best high school team of the last decade. Winners of four titles since 2014, the lads out of Washington D.C. are one of the most respected programs in the country, and if you look across the collegiate (and even MLR) landscape, you'll find a number of former Zags.
They may be a little undercooked this year, but underestimate these guys at your own risk. They're back and they expect to win.
#4 Seed - St. Thomas Aquinas: The Saints won't have to travel far - or at all. The hometown kids are out to make their city proud, and having spent some time at #1 in Goff Rugby Report's HS Boys rankings this season, the quality is there.
Aquinas has had success in this tournament before, winning Tier 2 in 2017, but are they ready to take the next step up? They'll certainly think so.
#5 Seed - Staples: The best-kept secret of the tournament, Staples has compiled one heck of a season up in Connecticut. Winners over big dogs Xavier, Greenwich, and Fairfield, these boys are battle-tested and battle-accomplished.
Jot them down as your dark horse now.
#6 Seed - Saint Louis University High: Some close calls against local rivals St. Thomas Aquinas and Kansas City didn't quite go their way, but aside from that, the boys from Missouri are blemish-free. With a rock-solid defense, SLUH can grind teams down, but they'll need an offensive spark on the big stage to make a deep run.
#7 Seed - Greenwich: The beasts from the Northeast stumbled twice this year in tight losses to Staples, but the Connecticut outfit is used to winning and comes in as a plucky 7-seed. Keeping teams out of the tryzone will be paramount for Greenwich, as we know they can generally put lots of points on the board.
#8 Seed - Xavier: One of the better-known teams at HS Nationals, Xavier comes into the big dance perhaps as shaky as they've ever been. Six losses on the campaign is unusual for the New Yorkers, but to be fair these defeats came to some powerhouse teams.
Xavier has been there many times before, and won't back down from the big moment. Rich in history and well-drilled, these guys will show up with upset on their mind.
Club
#1 Seed - Charlotte Tigers: Following the departure of a strong senior class, the Tigers reloaded in a big way in 2021. Undefeated on the season, Charlotte has smashed anyone it its path, including Single School #2 seed St. Ignatius.
There isn't a weakness in their game, and to beat these boys, somebody will need to put together a complete game from start to finish. The Tigers are rockin' & rollin' right now - can they finish what they've started though?
#2 Seed - Genesis: Not a name people are used to seeing at HS Nationals, this Utah side could well be the best team in America. With an impressive resume that includes wins over Single School #1 seed Herriman , United, East HS, and the West Valley Warriors, this big & fast team has its sights dead set on an undefeated season.
#3 Seed - Royal Irish: One of those teams that always makes noise at nationals, the boys out of Indiana are four-time champions with a potential fifth top of mind. They've lost just once this season, a 2-pointer to St. Ignatius, and always seem to peak during the postseason.
Expect to see the Irish well in the mix once again in 2021.
#4 Seed - Fort Hunt: It was mentioned earlier that the Charlotte Tigers ran through everything in their path; that's not entirely true. Virginia's Fort Hunt ran close with the Tigers in a narrow 27-24 defeat, and clobbered everyone else on the schedule.
Should they get through the opening round today, Fort Hunt will be on course for a rematch and some possible vengeance in the semi-final on Friday.
#5 Seed - The Woodlands: The team everyone's been waiting to see. After Westlake HS's three-peat from 2014-2016, the state of Texas has belonged to the men in green. The Woodlands, who won the state title in 2017, 2019, and 2021, have breezed through competition in the Lone Star State the last five years, and feel they're ready for the big leap.
For the first time in a decade, a Texas team will be represented at HS Nationals, and the Woodlands carry with them lofty expectations and pressure to perform. Can in-state dominance translate onto the national scene? We'll see.
#6 Seed - The Thunder: Champions of tough So-Cal competition, the Thunder are venturing out of state for the first time this year. In their first appearance at nationals, the boys from Cali could sneak up on teams if they aren't ready.
Smart decision-making will guide the Thunder through this tournament - hopefully to the championship game.
#7 Seed - Aspetuck: Another representative from Connecticut, Aspetuck got a taste for the big show in 2019, and that left them hungry for more. Battle-tested after close defeats to the Royal Irish, St. Ignatius, and the Charlotte Tigers, there is no challenge too big for these boys.
They're going to come out of the gates swinging, so their opponents better have their guard up.
#8 Seed - South Orange County Raptors: Another team from that touch So-Cal region, the Raptors have logged a win over the #6 seed Thunder, and won't back down from anyone. Key will be their talented pack keeping them on the front foot, allowing the backs time and space to make the magic happen.
They have a massive task ahead, but the Cali kids have the goods if they just put it all together.
Tier 2
#1 Seed - San Francisco Golden Gate: The youth team for one of the more storied clubs in the country, these boys have fought through a very tough Nor-Cal region with a 3-2 record. They are quick and skillful, and will back themselves from anywhere on the field.
They will be one of the key favorites in Tier 2.
#2 Seed - San Diego Mustangs: These boys always seem to be in the thick of things at the National Championships, and this year figures to be no different. Wins over strong teams like Tempe, Back Bay, & Belmont Shore have proven that the Mustangs can handle anyone on their day.
They must pair their physicality and athleticism with smart play - do that, and they have a real good shot.
#3 Seed - Raleigh Redhawks: Raleigh was there at Nationals in 2019, and want to improve upon those results and go all the way this time. A tight loss to the Royal Irish, and a respectable defeat to the Charlotte Tigers should give the Redhawks the confidence they need to know there's nobody out of their league.
#4 Seed - Tempe: The Arizona state champs are itching to add another trophy to the cabinet this weekend. A big win over a hard Red Mountain team propelled them onto this stage, and as a bit of an underdog, these boys are playing with house money.
Will the Tempe team that beat the Southern Orange County Raptors, or the Tempe team that lost to the San Diego Mustangs show up? Hopefully the former.
#5 Seed - Kansas City Jr. Blues: The other hometown team in the tournament, the Kansas City Jr. Blues are frequent HS Nationals participants. Their nationals results over the years have been up and down, but their experience should serve them well over the weekend.
A tight loss in their rematch with Saint Thomas Aquinas shows they can hang with anyone.
#6 Seed - Eastside Lions: After a second place finish in the 2019 Tier 2 tournament, the Lions are ready to go one better this year. A factory for top players over the years, the program from Washington always has the talent to make some noise.
They may not have played many games this season, but the Lions are ready to hit nationals in full stride.
#7 Seed - Vienna: Potentially underseeded, Vienna came out of one of the nation's toughest regions with competitive losses to only Gonzaga and Fort Hunt. This may be their first foray into the National Championships, but they're not going to go in unprepared.
Keep an eye on these Virginia boys.
#8 Seed - Phoenix Alpharetta: The lads from Georgia had to search far and wide for credible 15s competition this year but only lost two from eight games (to Charlotte & Raleigh), and swept the competition for 7s and 10s.
Look for these guys to out run their opponents, with superior fitness and pace.