D1A Rugby
Wednesday Rewatch: 2018 Collegiate All-Americans Demolish Glendale Raptors
Wednesday Rewatch: 2018 Collegiate All-Americans Demolish Glendale Raptors
Arguably the best Collegiate All-American side ever assembled, the 2018 CAA's terrorized MLR's Glendale Raptors with a stunning performance.
Mar 18, 2020
by Alex Rees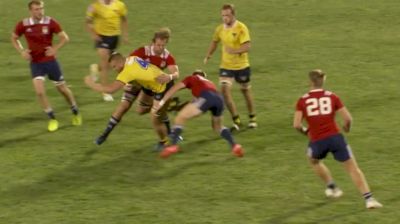 In the summer of 2018, 83 men's collegiate rugby players were invited to a week-long selection camp as they aimed to secure a place on the Collegiate All-Americans side.
The camp, led by CAA head coach James Willocks, was designed to filter the group to just 37 players, who were to then play an exhibition against the 2018 MLR runner-up Glendale Raptors. The boys spent the first two days doing skills and testing exercises, before being divided into four teams which were to each play one scrimmage on the fourth day.
60 players were chosen from D1A, a whopping 24 of which came from the Mid-South, while eight came from D1AA, seven from D2, and six from NSCRO.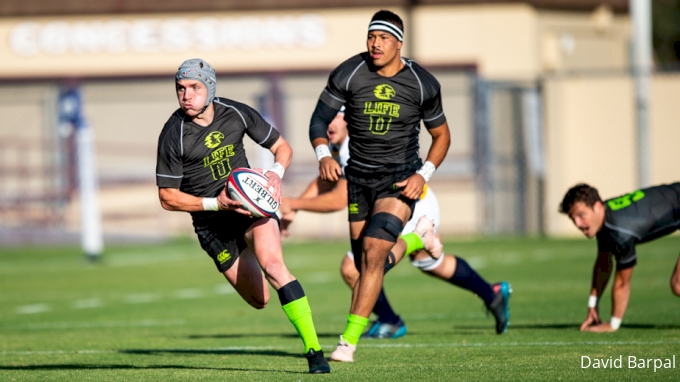 Current St. Bonaventure and former Life University head coach Tui Osborne, current Houston Sabercats skills coach and former USA Eagle Paul Emerick, and current Life Men's Club head coach Blake Bradford filled out the assistant coaching roles, while Tom Kindley served as Strength and Conditioning coach, James Harrison as Performance Analyst, and Kevin McCory as Team Manager.
Here are the 37 players who suited up to clobber the Raptors 55-10 at the culmination of the week-long camp.
| | | |
| --- | --- | --- |
| Berrisford, Jamie | Lock | Life University |
| Dabulas, Mike | Fly-half | Penn State University |
| Day, Jackson | Prop | Western Michigan University |
| De Waal, Michael | Flanker | Lindenwood University |
| Engelhart, Oliver | Scrumhalf | Dartmouth College |
| Feakes, Nick | Fly-half | Lindenwood University |
| Harmon, Matthew | Prop | Life University |
| Hunkin-Clark, Tommy | Lock | American International College |
| Irimescu, Rob | Hooker | Penn State University |
| Koroi, Maciu | No. 8 | Life University |
| Maree, Tabo | Flanker | Arkansas State University |
| Mascolo, Santiago | No. 8 | Iona College |
| Matarazzo, Michael | Lock | University of Notre Dame |
| Matthews, Aaron | Center/Fullback | Saint Mary's College |
| Maughan, Alex | Prop | Life University |
| May, Malcolm | Lock | Penn State University |
| McNerney, Connor | No 8 | United States Naval Academy |
| Mikesell, Deion | Wing | Lindenwood |
| Mteto, Anelisa | Center/Wing | Iowa Central Community College |
| Muntanga, Brian | Hooker | Life University |
| Phelan, George | Fullback | Life University |
| Rees, Ryan | Scrum-half | Life University |
| Rodriguez, Christian | Fullback/Wing | Lindenwood University |
| Rogers, Kyle | Fullback | University of Arizona |
| Scarcella, Michael | Center | Iona College |
| Sullivan, Kevin | Prop | University of California, Berkeley |
| Trotter, Kevin | Fullback | Penn State University |
| Tupuola, Marcus | Fullback/Wing | Notre Dame College |
| Van Schalkwyk, Duncan | Fly-half | Life University |
| Wenglewski, Chance | Prop | Lindenwood University |
| Wheeler, Harley | Wing | Life University |
| White, Wesley | No. 8 | Lindenwood University |
| Wilcox, Tosh | Flanker | Brigham Young University (BYU) |
| Wilson, Mitchell | Center | Life University |
| Yacoubian, Sean | Scrum-half | Saint Mary's College |
| Young, Zachary | Center | Arkansas State University |