Samurai PRP Player of The Week: Adriano Ojeda, Belmont Shores
Samurai PRP Player of The Week: Adriano Ojeda, Belmont Shores
Samurai PRP Player of The Week: Adriano Ojeda, Belmont Shores Life West
Apr 6, 2019
by Austin Willis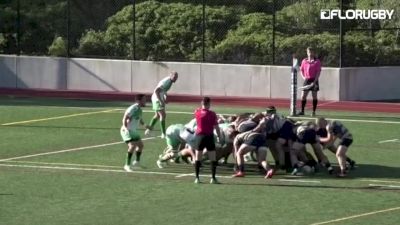 Adriano Ojeda was on our Midseason All-League team, and already got a Player of the Week nod, but his performance against the PRP leading Life West should put all of D1 men's rugby on notice ... again.
In past weeks Ojeda has been the set-up man for a blazing Belmont Shores back three. In Round 5 we saw Ojeda assist a handful of Adam Channel's five try Samurai PRP Player of The Week Performance.
But this week Ojeda took hit upon himself to put a dagger in the PRP's top team, Life West. Using his incredible stiff arm and powerful leg drive the outside center pushed his way through the Life West backline defense for two late match tries.
Relive Adriano Ojeda's Performance
In the 69th minute, Belmont Shores trailed by a point to the Gladiators and Ojeda saw the 1-2 switch call from flyhalf Matthew Walsh. Ojeda used the stiff arm to propel off Life West scrumhalf Deveraux Ferris to deliver Belmont the lead.
Then in the 80th minute with Life west down by 6, Belmont Shores slowed their pick-and-go drive to a halt and dished the ball to Ojeda with three defenders in front. Somehow Ojeda tumbled through four defenders to put the match on ice.
Many teams in D1 men's rugby look to apply pressure on the outside center channel, but they'll have to slow their blitz against the Belmont Shores #13.
There's tape of Ojeda not only spinning the ball to his teammates. but also powering through defenses that knew he was getting the ball. Adriano Ojeda will certainly be on the shortlist of players up for PRP player of the year.