The Pacific Rugby Premiership season is not over by a long shot, and trailing teams are sending a very clear message that they want in on the party.
SFGG Logs First Win
After starting the season 0-6, San Francisco Golden Gate upset the Santa Monica Dolphins 36-29 Saturday to log the club's first win of the season.
The game itself was a back-and-forth affair. Santa Monica wing Eric Pawlakos staked his team to an early lead, but SFGG exploded in the middle of the first half. Flanker Siaosi Nonu and wing Michael Latu both scored tries, and fullback Ronan Orford converted both and added a penalty for a 17-5 Gate lead.
Santa Monica replied with a converted try, but a yellow card to Dolphin center Sebastien Kamyab gave another opportunity to SFGG, and they took it. Prop Tokemoana Kefu's try made it 24-12 with Orford's conversion, and right on the stroke of halftime the powerful prop did the honors again.
Watch Pacific Rugby Premiership Games On-Demand
Up 31-12 at the break SFGG was in control, and when wing Viliami Huihui went over it seemed the game was basically over. But with SFGG's Viliami Soakai in the sin-bin, Santa Monica rallied. They got a penalty try and then a try the old-fashioned way to inch closer. With 24 minutes to go the Dolphins scored again to make it 36-29. But SFGG held on from there.
"We are just finishing a little better and getting a little more continuity, which is helping our attack," said SFGG head coach Neil Foote. "We are still guilty of running the ball from our own line, and throwing loose passes. That's putting us under pressure."
That impatience is a symptom of a young team, and Foote said the lessons have been tough as the losses have piled up. Even in victory, it was a bit of a nailbiter.
"It's great to get the first win even though we made it a lot hard then it should have been," Foote said.
Glendale Resurgence Continues
Belmont Shore came into the weekend 5-1 and with a good shot at taking 1st place. Instead, Shore ran into a much-improved Glendale Merlins squad, and was torched 49-24.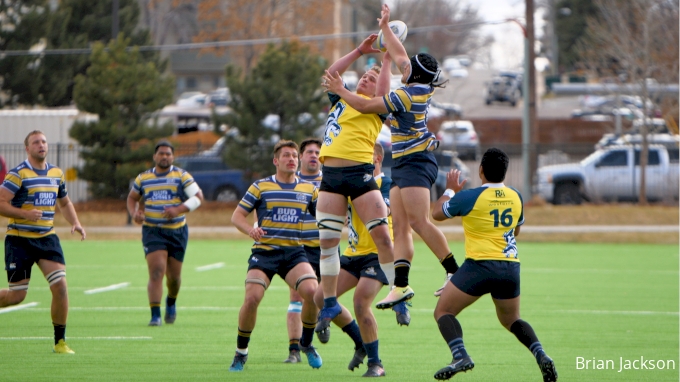 As with the SFGG-Santa Monica game, the winning team gave up an early try. This time, Adam Channel did the honors for Shore, and that lead held for 20 minutes. Once again, it was a yellow card that broke the dam. Lock Hayden Pitts of Belmont Shore took a seat for ten minutes, and in that time Glendale scored two tries, courtesy of wing Siale Maka and flanker Jonathan Layne.
Gregory Sisley's try for Belmont tied the game at 12-12, and the teams continued to trade scores after that. Channel touched down a second time while Glendale fullback Alex Walsh kicked two penalties, and the Merlins led 18-17.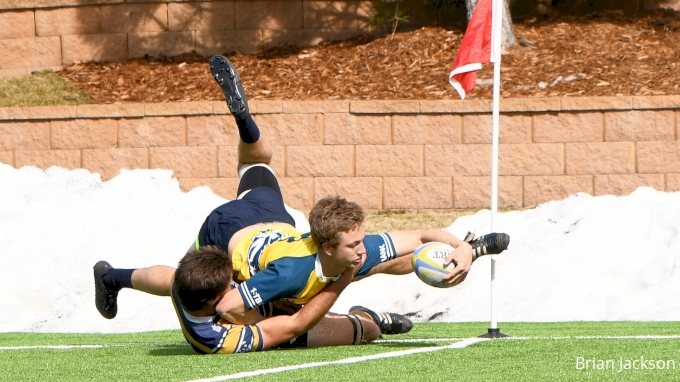 It all changed in a ten-minute period in the second half when forwards Marcus Thomas, Stephen Karas, and Justin Oles scored. Walsh converted two of those and Glendale led 37-17. Belmont Shore would get a fourth try (Ed Tandy) for a bonus point, but no more. Mateo Gladsden went the length of the field for one more, and Alex Wormer finished the game off with another.
"The boys are starting to play like a team," said head coach Luke Gross, who was named to the US Rugby Hall of Fame this week. "We also had a very aggressive mentality, and once we had Belmont on the back foot we didn't let up."
Life West On Top
First place would have been out of reach for Belmont Shore regardless, because Life West beat OMBAC in a tight one 40-37 to stay on top with a 6-1 record. OMBAC falls to 2-4-1.
The standings themselves have not changed, but while Life West is pulling away at the top, the middle has closed up considerably. It's now a three horse race for 2nd, and a spot in the championship game, with Belmont Shore, Santa Monica, and the surging Merlins in that contest.