Create a free account to unlock this article!
Get Started
Already a subscriber? Log In
You could get a crick in your neck bouncing from one European competition to another, and this week the Six Nations takes a break allowing the Guinness PRO14 to keep some moment with a full slate of games.
Fans in Latin America, Middle East, North Africa, Spain, Portugal, and France
can see all of these games LIVE on FloRugby
Here's what's on:
Dragons at Edinburgh
Edinburgh is clinging to 3rd in Conference B but a bad day could see them drop to 5th. In his column for FloRugby, Edinburgh back JP Socino said that this was a crucial game. The Dragons, in 6th place, but the winner when these teams met in November, are not to be underestimated. They learned that lesson losing to the Southern Kings in January.
Key Stat: Edinburgh is one of only two teams in the league with a better than 90% tackle rate. Attention to detail on defense will be the key for the Scots.
Watch Live Feb 15 KO 19:35 GMT/UTC
---
Southern Kings at Munster
Munster rules Conference A, but that just means they are under pressure to make sure a last-place team doesn't trip them up.
Key Stat: No team has missed more tackles than the Southern Kings. In fact, their 553 missed tackles is at least 100 more than any other teams except one.
Watch Live Feb 15 KO 19:35 GMT/UTC
---
Ulster at Ospreys
With the Ospreys in 3rd and Ulster in 5th you'd think on team is in form and one isn't. You'd be right. Ulster is in free-fall after going 0-2-1 in the last three games. They haven't won since before Christmas. The Ospreys were on a roll, but have been up and down of late, losing a dour 9-3 decision to Glasgow last time out.
Still, Ulster is one bonus point out of a playoff spot, and the Ospreys have three teams very close to chasing them down.
Key Stat: Both teams have made exactly the same number of tackles this season, 2,814, which is exactly 21 per game.
Watch Live Feb 15 KO 19:35 GMT/UTC
---
Leinster at Zebre
Leinster is in complete control in Conference B and won't lose this one.
Key Stat: Leinster leads the league in points, tries, tackles made, carries, sit second in meters gained and has some of the best discipline stats in the Guinness PRO14. OK, that's more than one stat, but it paints a picture of a team that grinds you down.
Watch Live Feb 16 KO 14:30 GMT/UTC
---
Cheetahs at Connacht
For a while it seemed the Cheetahs would be out of it, but now the South African team is 6th, and a win away from being 3rd in Conference A. Connacht is one of those teams just barely ahead of the Cheetahs, so this is a must-win for both, and perhaps the most compelling clash of the weekend. Lose this one and maybe you say bye-bye to the playoffs.
While the Cheetahs are on a four-game winning streak, those four wins have come at the expense of the last-place teams in each conference.
Key Stat: The Toyota Cheetahs gain 4.2 meters per carry, which is far and away the best in the league.
Watch Live Feb 16 KO 17:30 GMT/UTC
---
Scarlets at Benetton Treviso
Benetton is 2nd in Conference B. How did that happen? By being really difficult to play in Italy. Benetton's defense, kicking, and grit have them ahead of teams such as the Scarlets. Now, the Welsh squad wants to bring them down to earth and maybe solidify a playoff spot for itself.
Key Stat: The Scarlets have won the most turnovers in the Guinness PRO14 with 176, while Benetton is the only team to average more than one yellow card per game.
Watch Live Feb 16 KO 17:15 GMT/UTC
---
Glasgow at Cardiff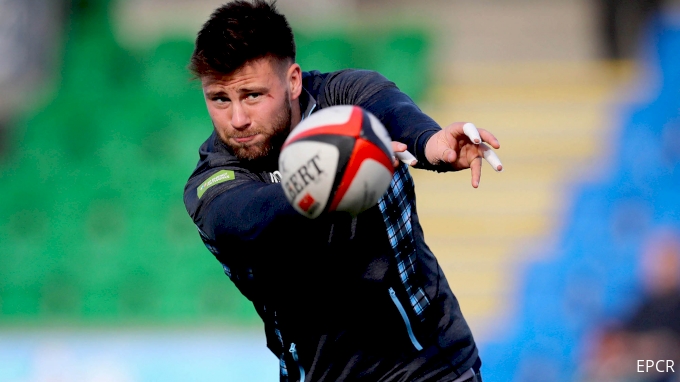 Glasgow easily defeated Cardiff last November, but this could be a different meeting as neither team seems to be able to score too many points of late. Put the over-under at 20 points. Glasgow needs to consolidate 2nd in Conference A. Cardiff could benefit from Connacht playing the Cheetahs, and gain on one of those teams with even just a bonus point.
(But don't hold your breath for four tries from either of these teams.)
Key Stat: Glasgow is the only team to have gained more than 10,000 meters so far this season (10,507, which is 50 meters a game more than anyone else), but they've also given up the most turnovers, leading you to think they make ground, lose the ball, and have to start all over again in their 22.
The Warriors are a strong offensive team, to be sure (623 points), but could be making too much work for themselves.
Watch Live Feb 16 KO 19:35 GMT/UTC