Create a free account to unlock this article!
Get Started
Already a subscriber? Log In
USA Rugby has confirmed the brackets for the four collegiate championships to be decided this fall.
The Women's D2 and Men's D2 semis and finals will be LIVE on FloRugby Dec 1-2.
The Men's D1A and Women's D1 fall finals will be LIVE on FloRugby Dec 2
The defending Men's D2 champion (Wisconsin Whitewater), defending Men's D1AA champion (Mary Washington), defending Women's D2 Fall champion (Winona State), and last three defending Women's D1 fall champions (Davenport, Air Force, and UConn) are all in action.
In Men's D2, Vermont makes a reappearance, and has been ranked #1 during several weeks of the fall by FloRugby before Wisconsin-Whitewater reclaimed that spot.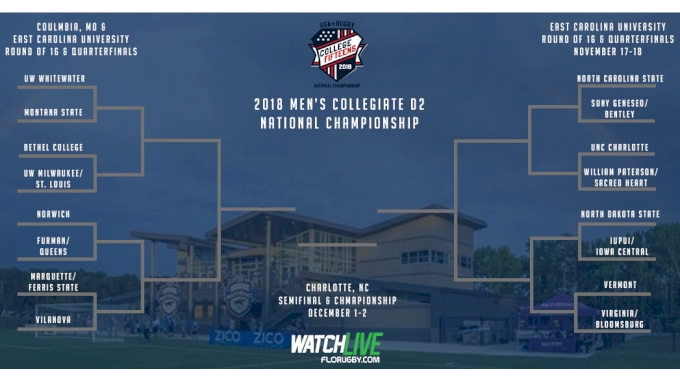 Watch The Final Four Live Dec 1-2
In Women's D2, Winona State will have to play-in. The bracket has established teams - Vassar, Coast Guard, Minnesota-Duluth, Kutztown, and some upstarts, such as Stony Brook, School of Mines, and Maine.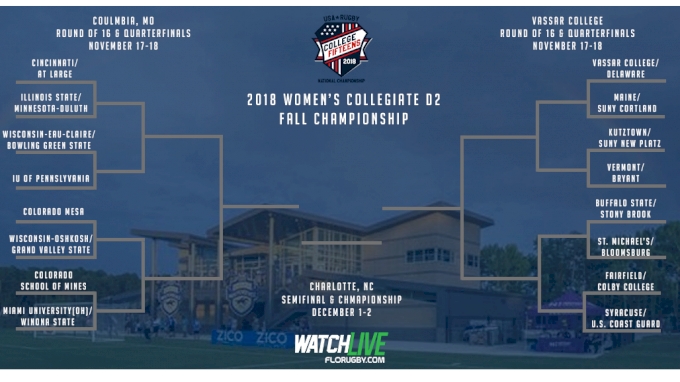 Watch The Final Four Live Dec 1-2
The Women's D1 bracket, which will likely stand alone as a fall championship, features multiple D2 title-winner Davenport, which moved up to D1 last year and won it all. Air Force took the title in the fall of 2017, and lost in the final to UConn in the fall of 2016.
Upstart Michigan State plays in, as does Navy against a tough Northeastern team. Notre Dame vs Minnesota might be the most intriguing opening round game.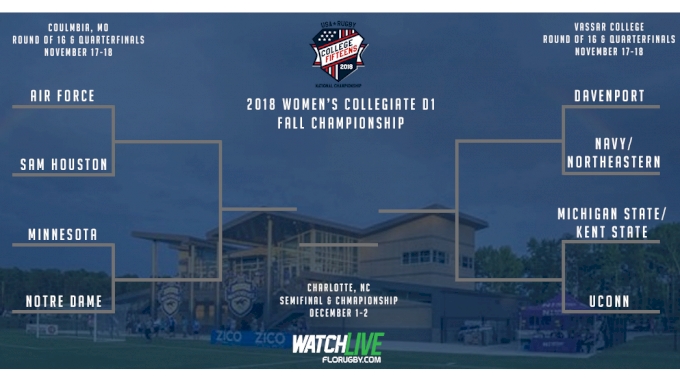 And in men's D1AA, it's unlikely we'll see a Fall vs Spring final as we did the last couple of years. Mary Washington won both the fall and the whole thing last year. The Ivy League dropped out of this bracket, but the 2017 fall runner-up, St. Joseph's is back, as well as Kentucky, and previous finalist Bowling Green.
We are waiting on this weekend's Cheaspeake finale between JMU and UMW to decide who plays St. Joe's. JMU needs to win with a bonus point to unseat Salisbury as the #2 seed.
Lindenwood-Belleville comes in as an independent team, having logged a 7-2 record this fall, with wins over strong D1AA opposition Kentucky and Kansas, as well as Wisconsin-Whitewater (defending D2 champion), and going a very competitive 2-2 against top D1A teams Wisconsin, Indiana, Arkansas State, and Lindenwood (outscoring the opposition 99-87).