Numbers had plagued Michigan State the last few years, and in 2017, there were more rookies on the team than veterans. That ratio shifted this season, as 25 of the 42 active players are returners – but only four players have more than a year's experience.
By Jackie Finlan
Nevertheless, the young group is eager and optimistic, and will enter the USA DI College Fall Championship playoffs for a go outside the Big 10.
Watch The Women's Fall D1 Final LIVE on FloRugby Dec 2
Vice president Hannah Jung is one of the few experienced vets out in front, and the senior fullback sets the example alongside fellow captain and sophomore lock Julie Eiler. The duo is further supported by skippers-in-development Emma Vaitkevicius (sophomore lock) and Sarah Michelson (junior outside).
"The rookies from last year have learned the game, grown as athletes, and stepped up in taking responsibilities in several leadership roles. With their help, we were able to recruit athletes who come from different athletic backgrounds," Jung explained the growth in numbers. "But that's the remarkable thing about this team: Some have had previous rugby experiences, some have played a contact sport and others have not, and some have never played a sport whatsoever. But the overall level of athleticism and desire to learn brought in by this year's rookie class is what has let this program continue to grow as a successful team."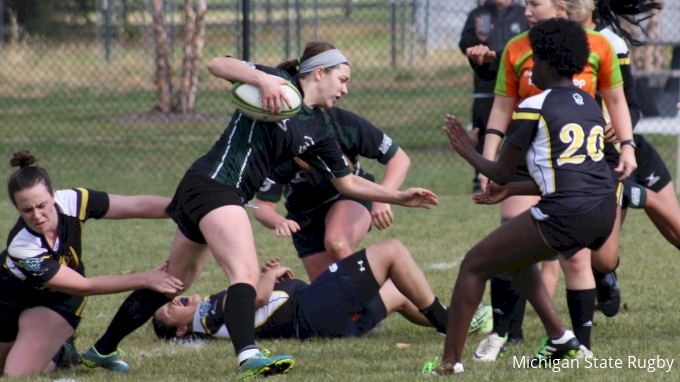 First-years like sophomore wing Anna Lindquist, freshman flanker Emilie Reinhardt, freshman No. 8 Sophia Lamphier and freshman hooker Allyssah Lanza distinguished themselves and were integral to a third-place finish in the Big 10. Penn State repeated as champion, defeating Notre Dame 30-25 in last weekend's title match, but defers its post-season berth until the spring with fellow DI Elite teams. When the Irish and Spartans met earlier in the season, Notre Dame pulled away in the final 20 minutes for a 29-12 win.
"The Big 10 has always been filled with extremely strong and talented teams with great athletes, coaches, and competitiveness," Jung reviewed the league. "I personally think that the level of competition was a little more difficult this year because of the overall growth and interest in rugby across the nation. Having tough and challenging teams to play against allows our team to play the sport that we love and have several different learning experiences."
Michigan State beat the rest of its league opponents, including an uplifting 31-26 win over rival Michigan. The Wolverines also played Allegheny's Kent State – Michigan State's play-in opponent Saturday – in a non-league game last weekend and won 27-17. The Pennsylvania team is back on the road to Michigan this weekend, and the play-in victor will advance to the DI Fall Round of 8/4 in Poughkeepsie, N.Y. Michigan State or Kent State will face the Northeast champion on Nov. 17.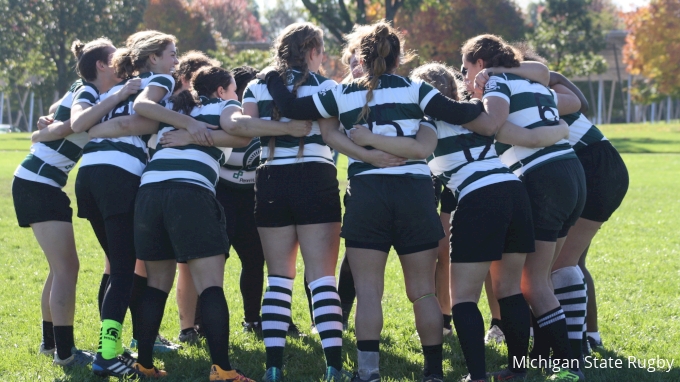 "Our goal is to continue to grow as a program by developing what we already have, attracting interest and talent, and strengthening our team concept," Jung concluded. "For the remainder of this season, we plan to take it one match at a time; hoping to advance as far as we can."
In addition to the Michigan State vs. Kent State play-in game next weekend, independent Navy will travel to the Northeast runner-up for a spot in the fall quarterfinals.
FloRugby will be livestreaming the DI and DII Fall College Championships from Dec. 1-2 in Charlotte, N.C.