Close Up To The Bears: On The Sidelines With Cal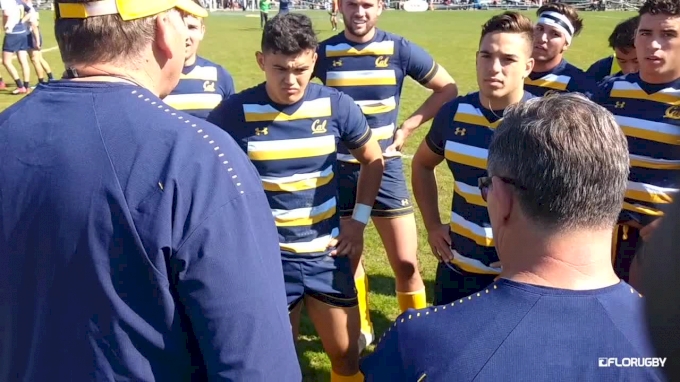 Create a free account to unlock this video!
Get Started
Already a subscriber? Log In
BERKELEY – Olympic 7s rugby returns to Witter Rugby Field Saturday and Sunday, Nov. 3-4, as California hosts the 2018 PAC Rugby 7s Championship. An eight-team field representing the best rugby teams among Pac-12 member universities will compete in 20 matches over two days for the title of conference 7s champion.
Gates open at 10 a.m. Saturday on Witter Rugby Field and play begins at 11 a.m. with Arizona vs. Oregon State. The Wildcats and Beavers are joined in Pool A by Utah and Arizona State.
Cal kicks off its first match Saturday in Pool B against Stanford at 11:45 a.m. Pool B also includes USC, which faces the Bears at 1:15 p.m. Saturday, and UCLA, which takes on the Blue and Gold at 2:45 p.m. in the Bears' final pool match of the day.
Saturday results will determine seedings for Sunday's knockout play, which begins again at 10 a.m. (gates open 9 a.m.). The championship final kicks off at 12:35 p.m. Sunday.
The Bears enter the 2018 PAC 7s having won both tournaments they entered this fall, most recently beating the Utes, Wildcats and Bruins Oct. 22 to finish a sweep and win the automatic postseason qualifier on Treasure Island at the West Coast 7s. Cal also swept the Oct. 6 tournament in San Luis Obispo, where UCLA and Arizona were among the Bears' six wins.
The Bruins are sure to test the Bears for Pool B supremacy, having battled Cal in the PAC 7s semifinals of 2016 and '17, and the final of 2015. Cal is 12-3 in 7s all-time vs. UCLA. The Bears are 6-0 combined all-time in 7s against USC and Stanford, but both the Trojans and Cardinal have shown improvements. Stanford recently beat ASU and took Utah to the wire on Treasure Island, while USC finished its Oct. 6 tournament in San Luis Obispo with a 28-0 win over Santa Clara after narrowly falling in pool play to Arizona, 19-14.
Arizona is the top seed in Pool A at the PAC 7s and comes into the tournament having won the 2017 event, 31-26 in overtime vs. the Bears. The Wildcats' win ended a streak of five consecutive PAC Rugby 7s Championships for the Blue and Gold. Arizona, which has finished third and fourth at its past two tournaments, will be chased by in Pool A by Utah, which beat Stanford en route to a 17-12 overtime loss to UC Davis in the Plate Final on Treasure Island, as well as former PAC 7s finalist ASU and Oregon State.
"In winning these first two tournaments, we haven't always performed to our potential," said Cal head coach Jack Clark. "We are hopeful to hit on all cylinders this weekend."
The 2018 PAC Rugby 7s Championship continues the rising trajectory of rugby following the recent Rugby World Cup 7s in San Francisco, where 100,000 fans enjoyed the event that sets the stage for upcoming qualifications for Rugby 7s at the 2020 Summer Olympic Games. Pleasant weather conditions are forecasted for an exciting weekend in Strawberry Canyon.
All Cal students are admitted free to the PAC Rugby 7s Championship, as are all active military personnel with valid ID. Tickets are $10 each for adults, $5 each for youth ages 10-19 and seniors 65 and older, and $3 each for groups of 10 or more. Advance online tickets for each day can be purchased here.