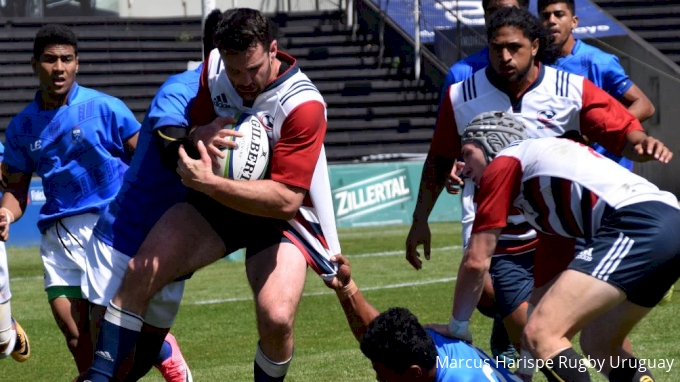 The non-test-level international series involving four teams from the Americas: USA Selects, Canada A, Argentina XV, and Uruguay XV, plus two from the Pacific: Tonga A and Samoa A.
Results
---
Games
-
Back to Top
Six teams compete in the Americas Pacific Challenge, which one group of three playing against the teams from the other group of three.
The championship is decided based on the best record, using the bonus points system.
---
Standings
-
Back to Top
2018 Americas Pacific Challenge Standings
| | | | | | | | | | |
| --- | --- | --- | --- | --- | --- | --- | --- | --- | --- |
| Pool A | W | L | T | PF | PA | PD | BT | BL | PTS |
| Argentina XV | 2 | 1 | 0 | 131 | 56 | 75 | 3 | 1 | 12 |
| Uruguay XV | 2 | 1 | 0 | 94 | 77 | 17 | 3 | 0 | 11 |
| Tonga A | 1 | 2 | 0 | 85 | 85 | 0 | 1 | 1 | 6 |
| | | | | | | | | | |
| | | | | | | | | | |
| Pool B | W | L | T | PF | PA | PD | BT | BL | PTS |
| Samoa A | 3 | 0 | 0 | 97 | 72 | 25 | 2 | 0 | 14 |
| Canada A | 1 | 2 | 0 | 58 | 111 | -53 | 1 | 0 | 5 |
| USA Selects | 0 | 3 | 0 | 63 | 127 | -64 | 0 | 0 | 0 |
---