2019 Club 7s Rankings
Final Men's Club 7s Rankings
Green means you moved up, and red means you've moved down.
Well, after all is said and done it's Washington Athletic Club who top the rankings. We had WAC moving up and down the rankings all season, not sure what cast of players would be available for nationals. In the end, they proved their last ranking to be dead wrong and won the whole thing.
Aside from a pool play loss to Park City Haggis in the opener, WAC's most difficult game was its semifinal vs Old Blue. If not for a knock-on in the endzone on the final play, it would have been Old Blue in the final. For Old Blue's extremely close loss to WAC, and its comfortable victory over Life West during pool play, we have them as the #2 team, despite finishing the weekend 3rd.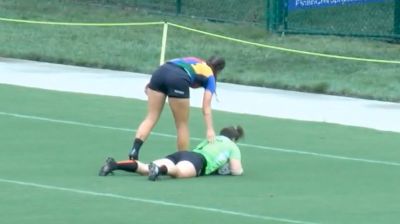 Aside from that, just about every team finishes in the rankings where they finished at nationals, except for Mystic River and Milwaukee. Mystic simply laid an egg, save for a commanding 40 point win over Milwaukee, who fell apart on Day 2 after an encouraging Day 1 performance.
Beltway Elite jumps in the rankings; we feel they were the best team left out of the tournament. The Elite finished 2nd in the MAC region, which included Schuylkill River, who finished 4th at nationals, and NAV 7s, who went 4-2 on the weekend.
The Dallas Reds were very good, and have a good case to be ranked even higher. Their only two losses were to Life West and Old Blue, which kept them from reaching the quarterfinals. However, Atlanta Old White, despite going just 2-4, were only a hair away from beating Old Blue in the quarterfinals, before dropping their final two to the Westside Ronins and Chicago Lions. Their closer loss to Old Blue and trip to the quarterfinals gives them the slim edge over Dallas.
Looking ahead to 2020, there figures to be some changes in the bidding process for nationals. The Frontier, which generally performs the best, might lose one of its three bids after two of its teams finished in the bottom four. The Pacific North could be a region that claims an extra bid, after three teams from the region finished in the top seven, two of which made the final (Life West was a Super Qualifier, and thus didn't use up one of the region's two bids this year.)
The MAC only got one bid this year, but got another team in via the Super Qualifier. The two MAC teams finished 4th and 11th, and could certainly lobby for a second bid. The Red River and the South regions also got just one bid each, and on the backs of those teams' success (Dallas and Atlanta respectively), also have a case for a second one.
Unlock these rankings, live events, and more with a subscription!
Get Started
Already a subscriber? Log In