World Rugby
World Cup Final More Than Just Black Ferns Win
World Cup Final More Than Just Black Ferns Win
As England and New Zealand prepared to face off in the World Cup final, both knew they were 80 minutes away from immortality.
Nov 14, 2022
by RugbyPass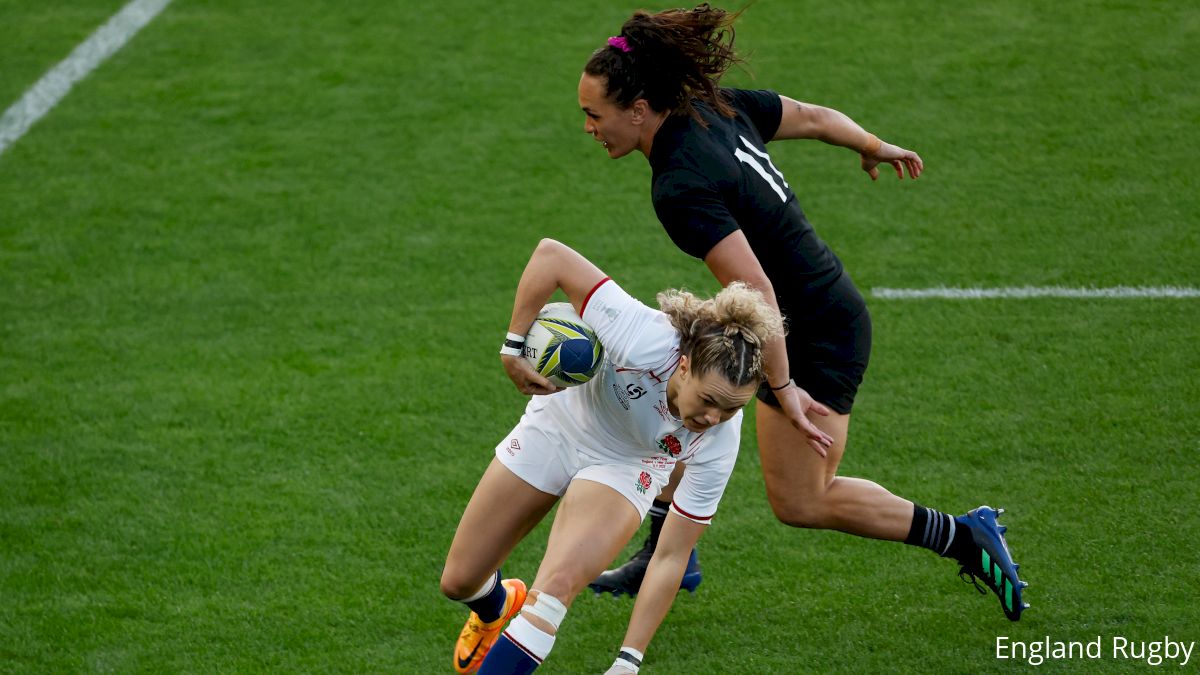 There's a fine line between sheer delirium and utter devastation. As England and New Zealand prepared to face off in the World Cup final, both knew they were 80 minutes away from immortality.
But only one would go on to actualize that dream. In the end, it was the Black Ferns who emerged victorious, squeaking past their resilient opponents 34-31 in an instantly iconic final.
Every single fan filling the packed-out Eden Park knew the occasion would be a special one. Lining up at one end of the field was a side riding a 30-game unbeaten run—the longest winning stretch of any test team—and on the opposite side of the field stood the reigning champions who had home advantage.
The Red Roses started the brighter of the two, taking an early lead when centre Emily Scarratt drifted right before lofting a pass to Ellie Kildunne who crossed the whitewash untouched.
They then began to fluster the New Zealand pack by constructing a trademark maul from a lineout, deep in enemy territory. The white monolith slowly trudged towards the line and the Black Ferns could do little to dispel it as Amy Cokayne leaped over to silence the home support.
And then the game turned on its head. In the 18th minute, England were reduced to 14 players as Lydia Thompson clashed heads with Portia Woodman while trying to take her to the ground.
Following a TMO referral, Thompson was shown red, much to her dismay. From the resulting penalty, New Zealand kicked to the corner and earned an instant retort as Georgia Ponsonby converted off a rolling maul.
If anyone assumed the Red Roses would quickly disintegrate, that doubt quickly dissipated when Marlie Packer scored off another driving maul which ripped apart the Black Ferns forward pack.
Despite being a player down, England displayed incredible fight, battling against wave after wave of New Zealand attack and with nine minutes left in the game, they still found themselves in front. But that accolade quickly fell apart when Ayesha Leti-I'iga darted over to put the home side back on top.
The drama didn't stop there. With the clock in the red, England had a lineout within meters of their opposition line. A score would swing the final in their favor, but the set piece was intercepted, sending the Black Ferns into rapturous celebration.
England players slumped to the floor as they had to stomach losing to New Zealand in a final for the fifth time. Their 30-game unbeaten run had come to a bitter end, at the worst time possible.
After the game, England captain Sarah Hunter put on a brave face as she explained the pride she felt for the entire squad.
"I'm gutted. I'm so proud of the team. We came out fighting. We had our backs against the wall for 60 minutes of that game but we never gave up, we kept coming out."
By comparison, New Zealand captain Ruahei Demant struggled to vocalize the joy she felt for what her team had just achieved.
"I can't even put it into words. All I can say is thank you - I am so proud of our team. It has been really challenging. Most people don't even know that last year we went on a northern tour and got pumped.
"We've sacrificed so much to get one chance in a lifetime, to win a world cup at home, and we did it."
The heartbeat of the @blackferns 💓

Ruahei Demant was an unstoppable force throughout #RWC2021 pic.twitter.com/UqRlUXCZEw

— Rugby World Cup (@rugbyworldcup) November 15, 2022
England began their pre-season in July and spent an intense seven-week period in New Zealand, hunting for a World Cup. Unfortunately for women in white, that dream was not fulfilled. But there are huge positives to be drawn from the tournament, regardless of their fortunes in the final.
Eden Park welcomed 42,579 spectators to the final—a record for a women's game—and many will hope this is the start of a revolution in the sport.
For too long women's rugby has been operating in the shadows. Many high-profile players still don't have full-time, professional contracts, while numerous top-tier leagues across the globe struggle to attract loyal, weekly followers that are willing to invest in a product getting better by the day.
In a column written for the BBC, England's Shaunagh Brown openly and honestly revealed how crushing the loss was, but explained why the final was about more than just winning. It was about securing the future of the women's game.
"I just felt empty," she writes.
"There were a lot of people crying and a lot of tears. We were at a sold-out Eden Park in Auckland so there were a lot of happy people around too. I stood there and just felt nothing.
"I do know there is a bigger picture and that we were involved in a special day for women's rugby. I have had so many messages - from people in rugby like ex-England player Ugo Monye, to people outside like athlete Dina Asher-Smith - just letting me know that no matter the result, we have inspired a generation.
"Regardless of the result, there is no denying the quality of that final. It showed people that investing in women's sport is worth it."
Brown hopes that one day the Red Roses will play in front of a sold-out Twickenham.
"We will host the next World Cup in 2025 and as players straight after the final we talked about what an incredible event that is going to be.
"After the match, we spoke about how much we cannot wait to see England play in a World Cup final at Twickenham in front of 80,000 people. Seeing Eden Park full yesterday, I truly believe that is going to happen."