2022 Scotland vs New Zealand All Blacks
Autumn Series Week 2 Recap: All Blacks Fight Battle To Avoid European Sweep
Autumn Series Week 2 Recap: All Blacks Fight Battle To Avoid European Sweep
The Autumn Nations Series delivered over the weekend, with gripping contests played out in Marseille, Florence, Cardiff and Edinburgh.
Nov 14, 2022
by Mariette Adams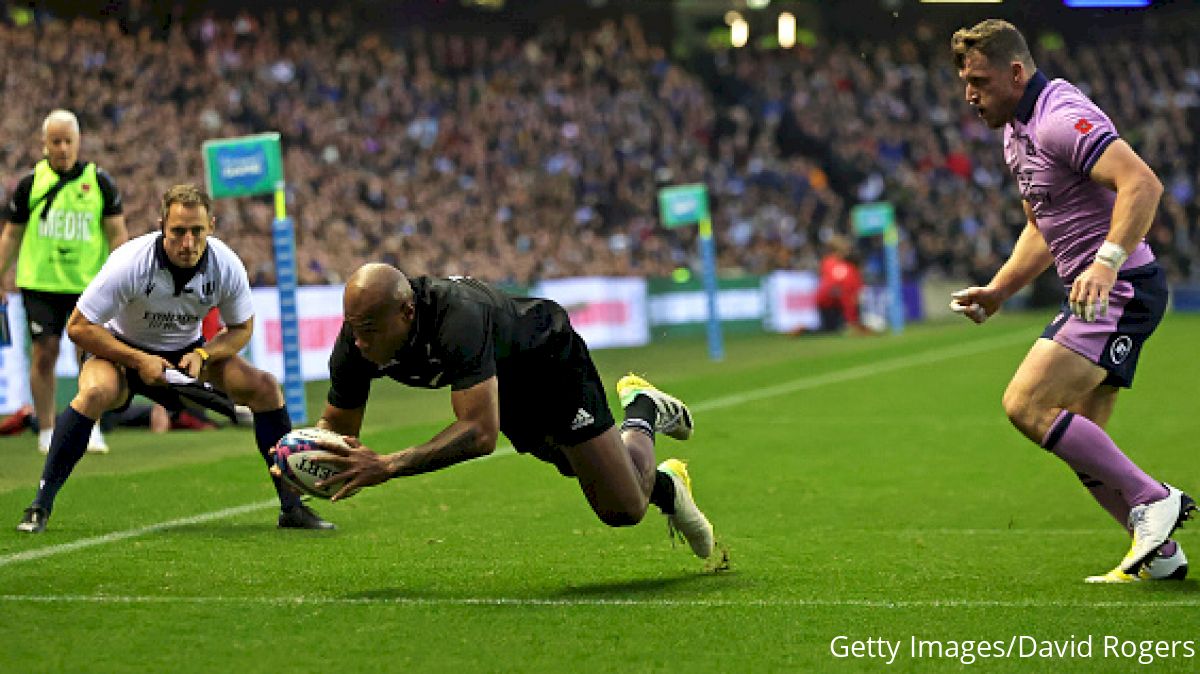 The Autumn Nations Series certainly delivered over the weekend, with gripping contests played out in Marseille, Florence, Cardiff and Edinburgh, as the month's action reached the midway stage.
But while the Week 2 action and subsequent results provided much-needed answers to some very important questions for most of the European nations, it generated more uncomfortable questions for teams from the Southern Hemisphere - bar New Zealand - in its quest for betterment and planning for next year's World Cup.
This round was filled with drama, twists and turns, theatrics, elation, heartbreak, controversy and, more importantly, high-quality rugby action.
Here's a look at what went down in the second week of the 2022 Autumn Nations Series. All competition is being streamed live on FloRugby.
Dazzling Italy Holds On To Claim Historic Win Over Australia
Alongside the Women's World Cup final between New Zealand and England, and the test between France and South Africa in Marseille, this was one of the three most enthralling matches of the weekend.
It certainly was the biggest upset of the week - A first win for the Azzurri over the Wallabies in the 19th installment of this fixture.
Italy was at its buoyant, boisterous, brilliant best, as the team sped out to a 17-3 lead, courtesy of two tries by Pierre Bruno and Ange Capuozzo.
Shell-shocked by Italy's fast start, the Wallabies had to wake from their slumber before the game slipped away entirely.
The visitors' launched a fightback with a try either side of the break to make it a two-point game, but Italy was in a destructive mood. Soon, Capuozzo grabbed his second, and his team's third, try to leave the Aussies reeling.
There was to be a late surge from the Wallabies, with a brace of tries, including an 80th-minute touchdown by Cadeyrn Neville to make it a one-point game at 28-27, with a conversion to come.
This @Federugby team can play! 🔥

A beauty 👌#AutumnNationsSeries | #ITAvAUS pic.twitter.com/Gb4zxxA7Up

— Autumn Nations Series (@autumnnations) November 12, 2022
Australia, which already had experienced heartbreak in the form of a last-gasp try by France last week, suffered more heartbreak this week, albeit in a different way this time around, as debutant Ben Donaldson missed the match-defining conversion that sent the Italians - players and fans alike - into rapturous celebrations.
Ireland Sees Off Fiji In Dire Affair
When a coach says "I thought we were awful, I thought we were poor," after a comfortable 37-17 win, you just know the game was of low-quality.
Well, those were the words of Ireland boss Andy Farrell, and his team's game against Fiji was indeed a low-quality encounter that left much to be desired.
A quick start saw Fiji score in the third minute, but that was only a temporary setback for Ireland, which bagged three first half-time tries, including a brace from Nick Timoney, to quash any hopes Fiji might have had about emulating Italy by pulling off a shock win.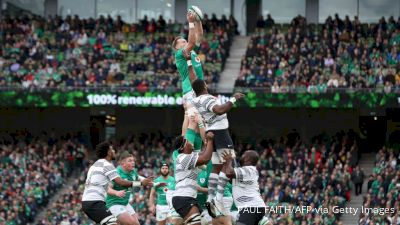 Fiji conceded two yellow cards and a red card, but showed great resilience to keep the Irish scoreless until the final quarter of the game. Despite Ireland's terrible attacking play, the dam wall eventually broke, and two scores settled the result in the hosts' favor.
That said, Ireland did not play up to its world No 1 status, much to Farrell's frustration.
England Rout Shows How Far Japan Has Fallen Behind
This was one of those games where neither the winning team, nor the losing team, turned in a performance that can be accurately measured, because one team was just outright useless.
In this case, that team was Japan. England made light work of any threat the Brave Blossoms might have posed, scoring eight as its way to a massive 52-13 victory.
This lackluster display best illustrated Japan's decline from Brave Blossoms in every sense of the word to wilting blossoms, who at the moment cannot buy a trick to reach the highs, nor replicate, its successes of the past.
Wales Shows Its Mettle, Argentina's Inconsistency Rears Ugly Head Again
After taking a beating a week ago, Wales needed a victory against the high-flying Argentinians to get its campaign back on track. It did so the hard way.
In hindsight, coach Wayne Pivac's surprise selection of Louis Rees-Zammit at fullback was a stroke of genius. Rees-Zammit - or Rees Lighting, as he is fondly known - is an electrifying winger, but the youngster lived up to his name and reputation by lighting up the Welsh attack from the back field, despite playing in an unfamiliar position.
Playing with great composure and cohesion, Wales surgically went about picking apart the Argentina defense and dominated the breakdown to secure a well-deserved 20-13 win at the Millennium Stadium.
You get the feeling with Argentina it's always one step forward and two steps back.
After a wonderful win over England last week, Argentina didn't offer much in the way of a threat to Wales this week.
There was no rhythm or fluency to its game, and its key players were anonymous for large parts of the match.
France Holds Off South Africa In Epic Encounter
What a game this was, and what a result for France.
All year, this match had been touted as the test clash of the season. In its entirety, the fixture lived up to its billing. It had a bit of everything.
There were two red cards, a yellow card, refereeing controversies, malfunctioning comms between the match officials and a contentious try that eventually determined the outcome.
South Africa suffered an early setback when flank Pieter-Steph du Toit was given his marching orders for a reckless and dangerous charge into a ruck, where he made contact with the head of France midfielder Jonathan Danty.
From there, Les Bleus seized control of the game to lead 13-3.
But the visitor, through its bruising forwards, worked its way back into the contest. When France suffered the same fate of being reduced to 14 men after captain Antoine Dupont was sent off for a careless challenge in the air on Cheslin Kolbe, it was game on.
The teams went blow for blow in their quest for supremacy, but just when South Africa thought it had done enough, replacement Deon Fourie was on the receiving end of a yellow card for a professional foul close to the tryline.
It was an incident that changed the complexion of the game, as France breached the 13-man South African defense to score the match-winning try.
Watch: The #Springboks put up a determined fight, but were pipped at the post by France in Marseille - highlights here: https://t.co/I8r1UYXyJp 🎦#StrongerTogether #StrongerForever #FRAvRSA #CastleOutgoingTour pic.twitter.com/dUhsS3w0NW

— Springboks (@Springboks) November 13, 2022
But there was another twist in the tail.
Replays appeared to show there potentially was a double movement in the act of scoring the try. Referee Wayne Barnes halted play and asked for a TMO review. Bizarrely, the TMO couldn't be reached, as the comms between him and the ref malfunctioned. The try was awarded without it even being checked.
The conversion was missed, but France still led by a point and would add a further penalty to drive home its points advantage.
All in all, it made for compelling viewing, and whatever gripes South Africa thinks it might have, the fact remains that France won and now is on a 12-match winning streak, a run that includes victories over every top-10 test side in the world.
Second-Half Surge Inspires New Zealand Past Wasteful Scots
New Zealand survived a big scare to maintain its undefeated record against Scotland.
Having gone behind 14-0 with just over five minutes played, Scotland appeared to be on its way to a record hiding, but it recovered well to rock the Kiwis with a 17-point turnaround via two converted tries and a penalty for a 17-14 lead at halftime.
During that period, New Zealand was absolutely nowhere, and its struggles continued into the second half, when Finn Russell knocked over two penalty kicks to extend the home side's tally to 23.
With the hour mark approaching and the All Blacks at sixes and sevens, suddenly a maiden win for Scotland over the men in black seemed like a real possibility.
The prospect of a first loss to Scotland didn't sit well with the All Blacks, but they still needed a spark from somewhere to help them avoid that outcome. It came in the form of a yellow card for Scottish flank Jack Dempsey, who was penalized for a deliberate knock on.
Playing with renewed vigor, the uncharacteristic mistakes and handling errors that blighted New Zealand's performance up to that point evaporated. They wrestled momentum at the set pieces and ran at the tiring Scottish defense at every opportunity, so much so that it seemed inevitable that the All Blacks would score.
And, they did, twice in the final 15 minutes to keep their proud record against Scotland intact.
Considering the effort, it was a particularly cruel result for Scotland, but the Scotsmen had a raft of chances and just couldn't put the game to bed.
Scotland played well, but in the second half, it had no cutting edge, and that is what allowed the All Blacks back into the game.