2022 Italy Men's vs Australia
Italy Beats Australia For First Time In Breathtaking Finale
Italy Beats Australia For First Time In Breathtaking Finale
Italy has been the perennial winner of the Six Nations wooden spoon but has struggled to build a truly competitive side. Slowly, the tide is turning.
Nov 13, 2022
by RugbyPass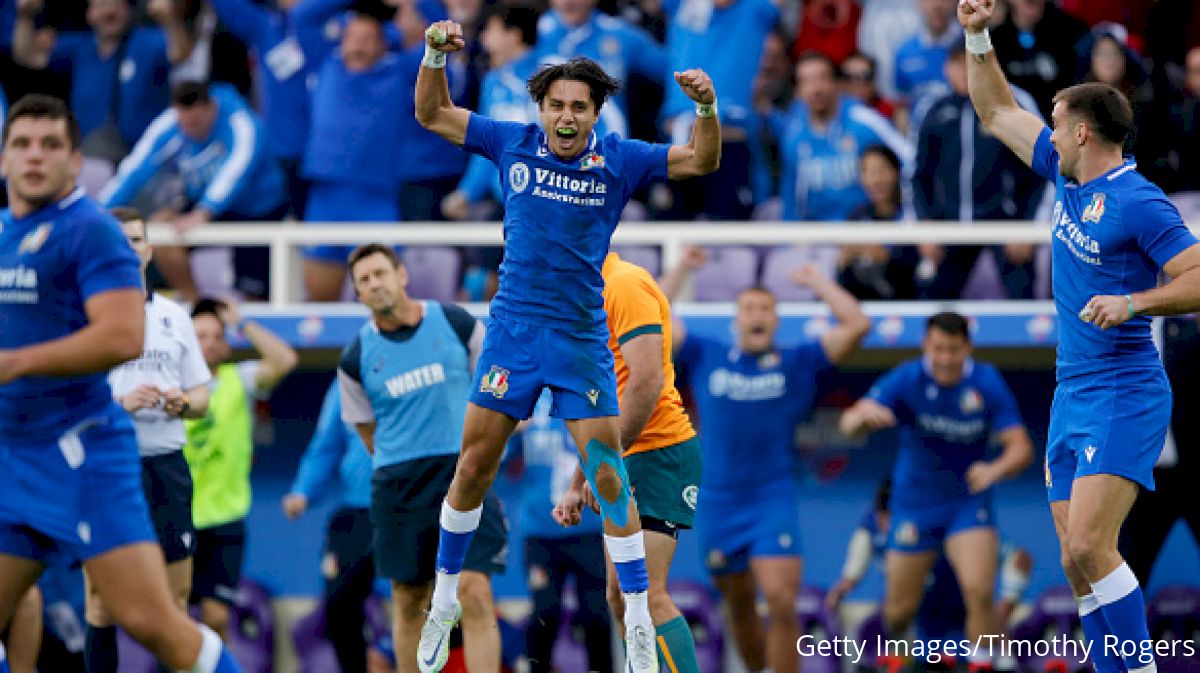 Increasingly, the chances of a smaller rugby nation beating the world's best is slimming by the year.
Teams at the top have a raft of players and resources at their disposal, which makes life challenging for countries like Italy, where rugby is very much a secondary sport. Football (soccer) is the primary focus - anything else is an afterthought.
For over a decade, the Azzurri have been the perennial winners of the Six Nations wooden spoon and have struggled to build a side genuinely capable of competing with their counterparts. But slowly, the tide seems to be turning.
Italy rewrote the script Saturday, beating Australia for the first time in history. The final score after a breathtaking finish was 28-27.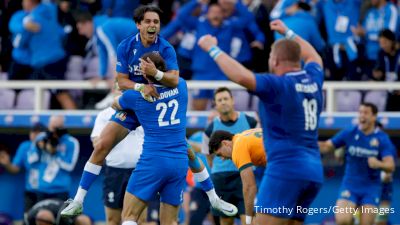 Months earlier, the men in blue claimed another famous win against Wales in the Six Nations. Both victories were spectacular in their own right and defined by late drama.
Wins of this ilk were unthinkable a few years ago, but now they are manifesting more frequently. Is this a sign of Italy revamping? Is Italy emerging from the ashes, enriching its international pedigree? Or is it an example of how far off the boil Australia is as of late?
It's likely a bit of both.
Beating Wales and Australia in the same year shows Italy mean business. These results were no fluke - they showed a fight and fire, carried in large part by their increasingly impressive cohort of young players. This Italy team has its eyes on the future.
Comparatively, the past seems to be haunting Australia. The two-time World Cup winners have become increasingly reliant upon a few select stars and look lost when they are unavailable for selection.
One of the first things to go as a result of this is the Wallabies' discipline. They gave up 16 penalties and conceded two tries when down to 14 men.
The loss worsened an already somber year for Australia, in which it now has lost eight test matches.
"I think you've just got to give credit to Italy," Wallabies captain Allan Alaalatoa said. "They came out firing in the first half, played with a lot of passion and put us under pressure on the scoreboard early.
"I was still proud of the effort from the boys to come close to coming away with the win, but we just weren't good enough at the back end there. Our discipline didn't allow us to get out of our own end. As players, we need to be better through our actions."
Full Time in Florence.

Match Report: https://t.co/973QgpLcnj#ITAvAUS #Wallabies @etoroAU

📺 @StanSportAU pic.twitter.com/PUDyGGOGlV

— Wallabies (@wallabies) November 12, 2022
Next up for Australia is an even bigger challenge, as the team travels to Dublin to face No. 1-ranked Ireland.
The Wallabies looked nervy right from the off in Florence, as numerous players failed to collect the aerial ball from kickoff. Italy recovered possession and transferred their early territory into points, with starting 10 Tommaso Allan slotting a straight-forward penalty.
The Wallabies replied with a penalty of their own, converted by the young Brumbies fly-half Noah Lolesio. The score remained level for just under 15 minutes, at which point Italy clicked into gear, first constructing an ominous rolling maul that came up just short of the line.
A phase later and they had their reward, as the ball was shifted through the hands to Pierre Bruno who leaped over in the corner to bring the Florentine crowd to its feet.
Things got even better for the Italians when a sumptuously executed attacking move gave them front-foot ball and got the Australian defense backpedaling. Crisp passing and deadly attacking precision meant superstar full-back Ange Capuozzo found himself armed with the ball, with space to drive into.
Needing no further incentive, Capuozzo dummied, confusing his defensive counterpart and accelerated over the line to extend his side's lead.
Australia responded with a well-executed try of its own.
Finding themselves in the opposition 22, Lolesio saw space out wide and flung an opportunistic miss-pass to Tom Wright. The winger dutifully received the looping ball and acrobatically finished off next to the corner flag.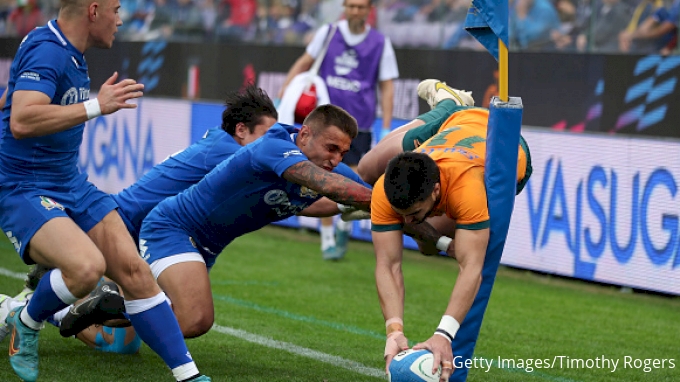 Italy trundled into the break with a 17-8 lead, but that was quickly cut down four minutes into the second period, when Fraser McReight charged over from close range.
Allan slotted another penalty to widen the gap, before some quick handling from the Italian backline created another flashy try, scored once more by Capuozzo. The Toulouse talent masked his trail run and burst into space after receiving an offload.
The Wallabies made a late surge with tries from prop Tom Robertson, who benefitted from an Italian handling error, and Cadeyrn Neville, who crossed over when the clock was in the red.
Australia still found itself trailing by a point and placed all their hopes on replacement fly-half Ben Donaldson, who stepped up to take the conversion.
He pushed his kick wide of the post, sealing a famous win for the Azzurri, which marked the first time in 10 years they have got back-to-back home wins.
If they are to make it three in a row, they will have to best a wounded South Africa next weekend.
Written by Stefan Frost