2022 England vs Argentina
Autumn Nations Series: Can Ireland Dethrone The World Champs?
Autumn Nations Series: Can Ireland Dethrone The World Champs?
The environment at the Autumn Nations Series - where the best tussle in a worldwide event - is the closest rugby fans will get to the World Cup until 2023.
Nov 1, 2022
by Briar Napier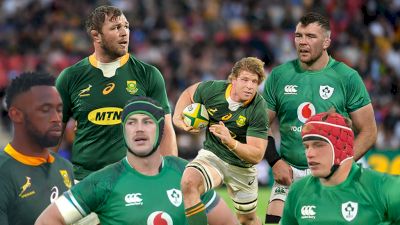 With less than a year to go before the 2023 Rugby World Cup in France, the world's best international rugby squads have come out to play.
Though there are several high-level tournaments to go before a new world champion is crowned next fall.
The environment at the Autumn Nations Series - where the best on various continents and regions will tussle in a truly worldwide event - is the closest rugby fans will get to the actual World Cup until next year.
The nations know this fact, too, and as the weeks tick down before they meet in France, they will continue to prepare for what's to come.
Results from the Autumn Nations Series over the next few weekends will show exactly how ready each country looks to be.
Here's a look at the Autumn Nations Series tests scheduled for the weekend ahead. All of the action will be streamed live on FloRugby.
NOTE: All kickoff times are listed in Eastern Time and are subject to change.
Italy Vs. Samoa
Of all the wins over Tier 1 rugby nations in its history, Samoa's last two against that group have come via victories over the Italians in 2013 and 2014, including a 15-0 shutout in Apia during the latter year.
Can the Manu repeat the feat in their lone match in this year's Autumn Nations Series? It's quite possible.
Samoa looked strong in tournament play this summer, taking part in the Pacific Nations Cup, where it won the event in unbeaten fashion over Australia's "A" team, Fiji and Tonga to solidify itself as arguably the top rugby team out of the Pacific island nations not named New Zealand.
Coach Seilala Mapusua's squad already has booked its spot in the Rugby World Cup next year and selected a 31-man side full of major experience and talent, such as former All Blacks prop Jeff Toomaga-Allen, who qualifies for the Manu due to family heritage and the fact over 36 months have passed since his 2013 international appearance.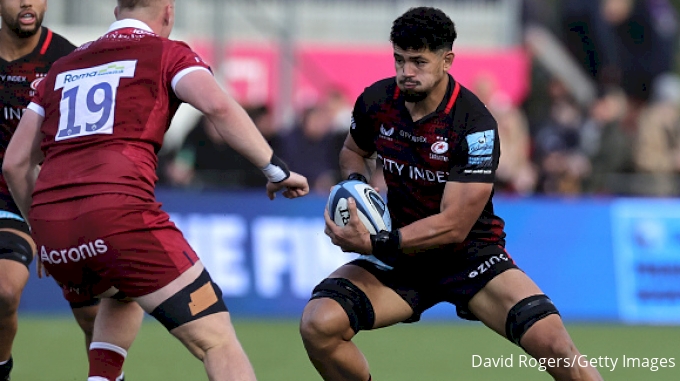 Additionally, there's Saracens lock Theo MacFarland, who was named Premiership Player of the Month for September in recognition of his play for the London side.
Italy, meanwhile, is trying to snag a win before SANZAAR powers Australia and New Zealand visit later in November, with many familiar names on coach Kieran Crowley's squad, including captain Michele Lamaro and stellar Harlequins fly-half Tommaso Allan.
Having pulled off a shock Six Nations win over Wales and test triumphs over Portugal and Romania in the summer, the Azzurri have had plenty to cheer about - and very well could add another victory to the result pile this year against the Samoans.
Scotland vs. Fiji
Unlike most teams in the Autumn Nations Series, Scotland has already had its opening match, kicking off the end-of-year tests with a match against Australia over the weekend.
That result ended up revealing more red flags for Gregor Townsend's men than green ones, however.
Scotland's Blair Kinghorn missed what would've been a go-ahead penalty kick in the final minute, giving the Wallabies a 16-15 win for their first victory over the Scots in four tries. The result was capped by 10 unanswered Australian points late in the second half.
If Townsend wanted to send a statement after controversially not picking star fly-half Finn Russell for the Autumn Nations Series, Scotland's result to start off its late-year tests sent just about as negative of a message as possible.
His team will try to pick up the pieces against Fiji, an opponent Scotland has only played eight times in its history but hasn't been immune to the upset loss against, as evidenced by the Flying Fijians' fairly recent and historic 27-22 win over the Scots in June 2017.
Kinghorn, Russell's replacement at No. 10 in the Scotland starting XV, did score a try and helped set up another against the Wallabies, but his effort likely will be remembered most for the penalty miss and the external context surrounding it.
Ready to do it all again next week 👊

🎟️ https://t.co/ZK0bZQFqKx pic.twitter.com/j3D3VI2BYZ

— Scottish Rugby (@Scotlandteam) October 30, 2022
A dominant team performance against Fiji, which finished third of four teams in the summer's Pacific Nations Cup, could help him shoo away some of those demons.
Still, arguably no rugby team in the world is more entertaining than the Flying Fijians in full gear, an attribute that almost always gives coach Vern Cotter's squad at least a fighting chance.
But, if Scotland controls the tempo early on and keeps the match in its control, it's hard to see Fiji recovering.
Wales Vs. New Zealand
Humans had yet to step foot on the moon the last time Wales defeated New Zealand in rugby (1953). So, surely decades of New Zealand domination in the series should continue because history says so, right?
In the current bizarre year that's taking place in international rugby, nothing is certain anymore, especially if it involves New Zealand.
The All Blacks' mostly miserable 2022 has been talked about plenty. They lost their first home test series since 1994 after back-to-back losses to Ireland, and then they let Argentina pull off an historic first win in New Zealand during this year's Rugby Championship.
But coach Ian Foster, for all the flack he was getting after the two aforementioned mishaps, deserves some praise for rallying the troops to win The Rugby Championship and retain the Bledisloe Cup over trans-Tasman rival Australia for the 20th consecutive year.
New Zealand isn't quite back to being the world-beating powerhouse it has been known to be for much of the past decade yet, but it was a step in the right direction for the rugby-mad nation after it disastrously dropped to as low as fifth in the World Rugby Rankings - its lowest mark since the ranking began in 2003.
"We've got to treasure this tour and the opportunities it presents." - Ian Foster.

— All Blacks (@AllBlacks) October 13, 2022
Wales should be a good test to see where the All Blacks' heads are at the moment.
Following an embarrassing loss to Italy in the Six Nations, coach Wayne Pivac's side won a match during its tour of South Africa in the summer and wasn't far away from completing the series win, especially considering the Springboks needed late heroics to avoid a draw in the first match.
There's reason for both countries to be confident, but for New Zealand in particular, its sustainability is demanded, especially less than 12 months out from a World Cup. Think of the All Blacks as favored here, but cautious favorites at that.
Ireland Vs. South Africa
Arguably the most hotly anticipated match of the first weekend of the Autumn Nations Series, the defending world champion Springboks potentially have no greater threat to their crown at the moment than Ireland, which has been riding high on momentum throughout much of the year.
Though a loss to France prevented the Irish from taking the Six Nations for the first time since 2018, their sweep over the home nations did result in a triple crown in the meantime.
Then, of course, came the monumental tour of New Zealand that saw Ireland pull off a historic series win, while largely dominating the All Blacks throughout much of the visit, rocketing coach Andy Farrell's men to a No. 1 world ranking they still hold today.
It makes this weekend's showdown that much more meaningful to Ireland.
If it truly wants to be the best (having never advanced past the quarterfinals of a World Cup), it must beat the best, and there is no better team to prove that against right now than South Africa.
The two nations will square off in Dublin for the first time since Ireland beat the Springboks there in November 2017, and after Wales proved during their summer visit there that South Africa can be exposed on the rugby pitch, it should make Ireland a confident bunch, as they kick off their end-of-year test campaign.
Still, the Springboks are much more battle-tested at the moment. They recently went through the gauntlet of The Rugby Championship against the rest of their fellow SANZAAR countries, while Ireland hasn't suited up as a unit since the New Zealand series win.
Perhaps those recent matches to refine its game will give South Africa a slight edge, but as Ireland is having the time of its life right now, maybe it's just playing too well to slow down at this point in time.
France Vs. Australia
Australia learned a lot about itself when it took down Scotland over the weekend, coming back from down double digits in the second half, to open its Autumn Nations Series campaign with a much-needed win.
The Wallabies have five matches in five weekends to close out the year, but if they want to show that injuries and other ailments truly did prevent them from being the best version of themselves over the course of the year (such as during the series loss to England and the third-place finish in The Rugby Championship), putting up a quality performance - or, who knows, maybe even a shocking win against the French - would be an explosive way to do it.
Still, France has a pressure on it to perform at home unlike any other country in this year's Autumn Nations Series because of its status as the host of next year's World Cup, giving Les Bleus a preview of a match that very well could take place in the knockout stages on French soil - and home support Saturday at the Stade de France that has high expectations for what they want to see.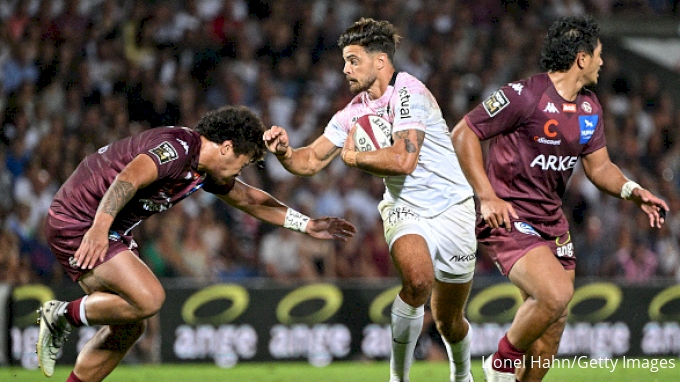 Fly-half Romain Ntamack was named to coach Fabien Galthie's squad despite a leg injury suffered on club duty recently and should be able to be a go, barring a setback, pairing with superstar scrum-half Antoine Dupont (the reigning World Rugby Player of the Year) to make up a major part of one of the most vicious attacks in the international rugby world today.
However, Australia does hold recent history, having beaten back Les Bleus 2-1 in the summer of 2021 when they visited the Land Down Under for a tour. France will be looking for revenge in its own backyard. With the pressure on it as a the at-home World Cup looms, expect a French side that's going to try and play loose to deal with the tension.
England Vs. Argentina
More known for their history as soccer rivals, England and Argentina's rugby history has been largely dominated by the Europeans, with the English having won 10 straight tests. They last lost to Los Pumas in 2009.
Changes of pace can do wonders for a rugby team, however, and that's exactly what has happened this year with Argentina, as it's hit the ground running with coach Michael Cheika.
After former sideline leader Mario Ledesma resigned in February, Cheika - the former Australia boss and 2015 World Rugby Coach of the Year with the Wallabies - was hired as replacement and merely won four of his first six matches, all against Tier 1 opposition.
Los Pumas' series win over visiting Scotland was their first home series triumph since 2007, while their Rugby Championship win over New Zealand on Aug. 27 in Christchurch was Argentina's first career win against the All Blacks on New Zealand soil. It has Los Pumas leading the competition at its halfway point.
Argentina went on to lose its remaining three tests in The Rugby Championship, but the point was made in that Cheika was ensuring his team was not going to be the same pushover it sometimes appeared to be in the past.
England should be wary of this fact, as well, even after a solid summer that saw coach Eddie Jones continue his dominance over his home country of Australia with a summer test series win in Oceania.
England will have to take down Los Pumas without former captain and near-centurion, Courtney Lawes, who was ruled out Monday for this weekend's test as he recovers from a head injury suffered on club duty with the Northampton Saints.
Argentina hasn't won at Twickenham since 2006, but if Cheika's streak of breaking barriers for Los Pumas is any indication, perhaps England should aim to take the South Americans out of the match early and remove the danger. Otherwise, Argentina could make things very, very interesting in London.