2022 Ireland vs Australia
Autumn Nations Series: Top-Ranked Ireland Ready For Challenge
Autumn Nations Series: Top-Ranked Ireland Ready For Challenge
At the moment, no men's team ranks higher in the current World Rugby Rankings than Ireland. That comes with a target on the back and plenty of pressure.
Oct 20, 2022
by Briar Napier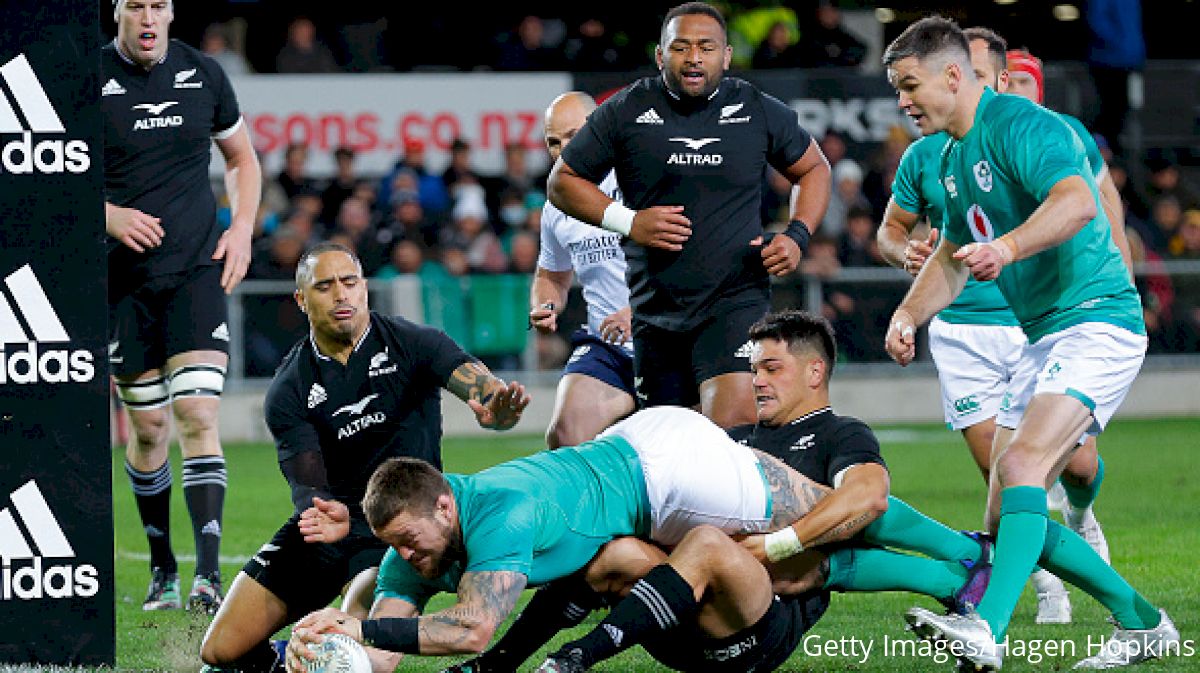 It's good to be king. For Ireland rugby, it can consider itself as such.
At the moment, no men's team on Earth ranks higher in the current World Rugby Rankings. However, that status comes with a target on the back and plenty of pressure - something the Irish historically haven't fared well against in recent years.
But after a red-hot calendar year that included a summer that sent shockwaves across the rugby world, no one is questioning whether or not Ireland is a squad worthy of elite status and recognition.
The challenge now is playing like it on a consistent basis, but unlike some Ireland teams of the past, the current iteration of its national side seems to know its mission and how to produce each match. With a Rugby World Cup less than a year away, that's a good trait to have.
Here's a look at what to expect from Ireland as FloRugby previews the teams in this year's Autumn Nations Series. All of the matches are being streamed live on FloRugby.
Green All Over Against The All Blacks
It took 117 years, or how much time has passed since Ireland played its first test match against New Zealand, for Ireland to defeat the All Blacks on New Zealand soil - and then Andy Farrell's men did it on consecutive weekends.
Ireland's series win over New Zealand in the South Pacific was the shock of the summer in the international rugby world, as it was just the fifth home-series loss in the storied history of the All Blacks, and the first since France did it in 1994.
But it was no fluke for the tourists.
Ireland had two tries from Andrew Porter and perfect (5-for-5) kicking from captain and fly-half Jonathan Sexton during their country's first win against the All Blacks in their country July 9, then stormed out to a 22-3 first-half lead in the series decider in Wellington, before holding off a late New Zealand charge to win that one, too.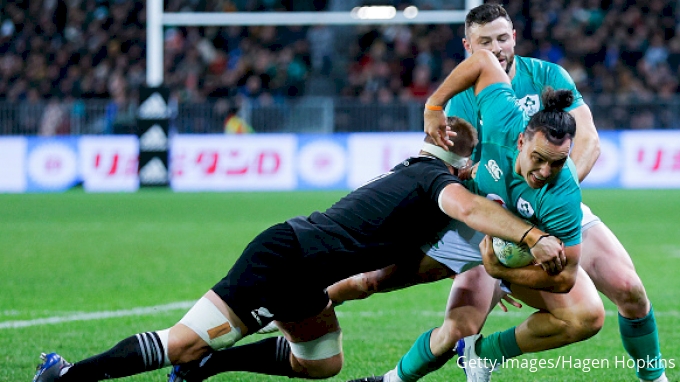 After over a century of heartbreak, in which Ireland never beat New Zealand from (1905-2016) in 28 tries, the Irish now have won five of the past eight matches.
That high is where Ireland left off coming into this season's Autumn Nations Series, and though that absence could hurt during the end-of-year internationals against two sides (Australia and South Africa) that just went through the gauntlet of SANZAAR's Rugby Championship - and the always dangerous Fiji to boot - Ireland has fully deserved its No. 1 world ranking and will be atop that perch until proven otherwise.
Sexton Captains As Six Uncapped Players Called Up
Many of the stars and difference makers from the historic series in New Zealand had their names called in Farrell's 37-man squad selected this week, perhaps none more critical than the national team's captain and former British & Irish Lion, Sexton, the 2018 World Rugby Player of the Year, is still going strong at age 37.
Sexton is battling back from a head injury he suffered during the All Blacks series win, where he scored his 1,000th point for his country in the process and led Ireland to just its second world No. 1 ranking in its history.
It's not broke for the moment for Ireland, so there's no reason to fix things unless necessary, such as by replacing center and former British & Irish Lion Bundee Aki, who scored a try in the summer's All Blacks series.
The New Zealand-born Connacht man is serving a suspension stemming from a red card he picked up on club duty, but in his absence, that's where an old friend comes in for Farrell's selection: Jacob Stockdale.
The 35-cap World Cup veteran for Ireland hasn't appeared for his country since July of last year due to an ankle injury, but he was picked to the squad and could return to the role in Aki's absence or be used as a wing or fullback.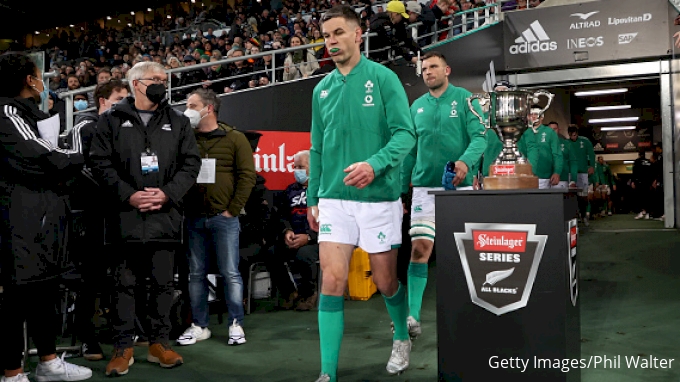 Six uncapped players also were picked by Farrell, five of whom spent time on the pitch for the Ireland XV against the Maori All Blacks this summer, while the senior team pulled off its historic triumph.
World No. 1: A Blessing Or A Curse?
The Ireland players and coaches likely relishes being considered one of the most feared international rugby sides in the world at the moment, and that's because they are.
There's a reason, after all, that no one could claim a home series win over New Zealand in nearly three decades, before the Irish tourists stepped in to blow the All Blacks away in their own backyard.
Ireland also has been designated the world's best team once before, and when that occurred, the pressure and status may have gotten to the team a little bit.
The No. 1 team heading into the 2019 Rugby World Cup in Japan, Ireland - picked by many as potential tournament winners - instead had its hoodoo at the biggest stage in international rugby continue, as it failed to advance past the quarterfinals, a round the Irish have never gotten past at a World Cup in their history, despite making it there on seven different occasions.
Ireland lost to the hosts in Pool A, then were decimated 46-14 by New Zealand with a trip to the semifinals on the line in the knockouts, sending the Irish packing with another trophyless World Cup on its resume.
Six uncapped players have been named in our squad for the @bankofireland Nations Series games against South Africa, Fiji and Australia! 🟢#TeamOfUs | #IrishRugby

— Irish Rugby (@IrishRugby) October 19, 2022
Now, with less than 12 months before Ireland gets another shot at World Cup glory in France, it may have found its man on the touchline in Farrell, who was appointed following the 2019 World Cup and won the Triple Crown for Ireland at this year's Six Nations.
Still, Ireland will be remembering its shortcomings of the past, as it hopes to finally play up to its potential.