Premiership Rugby
Try Count Exceeds Nine In Numerous Premiership Games
Try Count Exceeds Nine In Numerous Premiership Games
The trend of high-scoring contests has continued into Round 4 of the Premiership. Last weekend, 417 points were scored across six fixtures.
Oct 4, 2022
by RugbyPass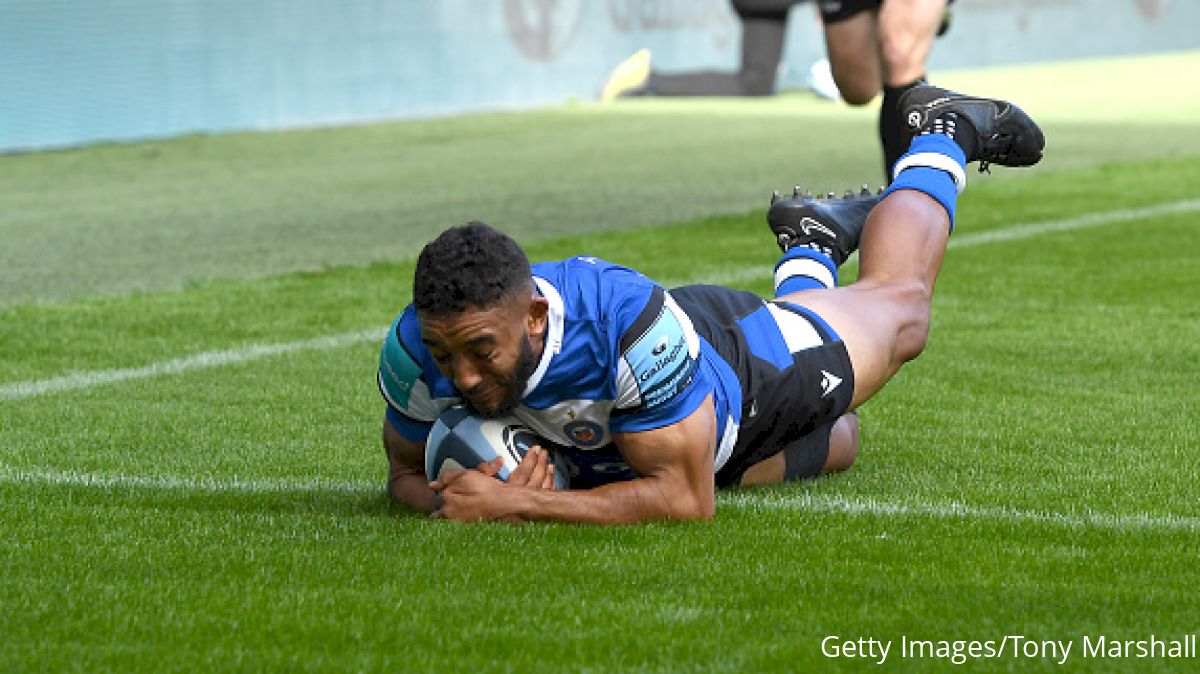 The trend of high-scoring contests has continued into Round 4 of the Premiership.
Last weekend, 417 points were scored across six fixtures, which is a truly stunning total, considering it's the second-highest tally ever recorded in the league. The highest came in the final round of the 1998-1999 season.
That figure was reached largely because a mouth-watering 56 tries were converted. That is the fourth-highest number ever recorded in a match-day weekend in the top flight of English club rugby.
Was this an anomaly? The action this weekend indicates otherwise.
Five games were played, and 42 tries were scored. That figure is made even more impressive by the very fact that one less game took place, after Worcester's fixture with Gloucester was called off as a result of the Warriors entering administration.
Of the games that still took place, three stood out for their exorbitant try tallies.
The pick of the bunch was the showdown between London Irish and Bath. Fans visiting the Gtech Community Stadium were dished up an encounter to remember, as the whitewash was breached a stunning 13 times. For large periods, it appeared defending was optional.
Irish led from the third minute and maintained their advantage right to the end, despite a second half Bath turnaround.
Winger Ollie Hassell-Collins and Ben Loader both bagged hat-tricks for the hosts, with the former becoming the first to do so for London Irish in the opening 40 minutes of a Premiership match.
Bath scored six of their own, with front-row replacement Niall Annett claiming a quick-fire double to earn the visitors a losing bonus-point in their 47-38 loss.
😮‍💨😮‍💨😮‍💨 https://t.co/JR6iZAwHIr

— London Irish (@londonirish) October 3, 2022
The helter-skelter nature of the game made it difficult for London Irish Director of Rugby Declan Kidney to digest. While his players sprang to life from the off, they dulled their attacking edge come the second half, which left him frustrated.
"We are inclined to entertain, but the second-half performance wasn't acceptable," Kidney said. "Fortunately, we were able to score at the right time to keep our noses in front, but we will have to learn some lessons from it, for on other days, we could be on the other end of a tonking.
Kidney had more to say about his team's slowdown.
"When you lose momentum, it's very hard to get it back, for if you concede a try it's probable that you are in danger of conceding more," he said. "We scored some good tries in the first half and were on our game for 36 of the 40 minutes. In the second half, we were only on it for 10 of the 40 minutes."
Bath head of rugby Johann van Graan was understandably disappointed after his side suffered a third successive loss in the Premiership.
Bath is rooted to the bottom of the table, but the way in which the blue and whites recovered from their first-half battering gave van Graan something to celebrate.
"It's another loss, so I'm not proud of the performance, but I am proud of the reaction to come back," he said. "It's incredibly frustrating to concede 35 first-half points and then win the second half 33-12, but we began by losing our first line-out, then two scrums, before giving away needless penalties."
In order to find the winning end of the matchups, Bath will need to play just as hard for the entire game.
"It's simply not good enough, and there are no excuses, as we have to learn to play for 80 minutes," van Graan said. "We are looking to bring in some bodies, as we've had a lot of big injuries in the first three weeks."
Fans visiting the StoneX were treated to an equally absorbing try-fest. In the buildup to Saracens hosting the Leicester Tigers, there was plenty of talk surrounding last season's finalists and how they would fare against one another.
Questions were raised, and the Londoners answered them in heady fashion, cementing their title credentials by crossing the whitewash seven times to blow apart the reigning champions.

Player of the match, Theo McFarland, was among the scorers and consistently used his aerial handling ability to disrupt the opposition's lineout, so often a reliable facet of the Tigers' game.
In previous years, Saracens took a more pragmatic approach to rugby, prioritizing time management over riskier attacking enterprise. This year, that seems to have shifted.
Mark McCall's men have become ruthless in their attacking intentions and flexed their skillset throughout yesterday's contest.
Freddie Steward did get one back for the visitors early in the second half, but Saracens responded in deadly fashion, scoring a further three tries in the final quarter to cruise to a 51-18 win.
"We played well and looked dangerous with the ball, we asked them some questions," Saracens Director of Rugby Mark McCall told the BBC after the game. "We actually gave away a lot of penalties in the first half, and sometimes, that can be game losing. We don't want to give that many penalties away, but our reaction is what pleased me most - we rolled our sleeves up.
"We didn't feel sorry for ourselves at all and almost took it on as a new challenge - bring it on kind of thing."
The final fixture of the weekend saw two free-flowing backlines butt heads, as Northampton Saints traveled to face Harlequins.
Hooker Jack Musk was the star of the first 40, crossing over twice to give the home side a points cushion come halftime.
Harlequins continued to rampage when play restarted and nabbed their fifth of the afternoon, when winger Cadan Murley expertly evaded the tackle of Tommy Freeman and acrobatically finished in the corner.
Then Harlequins eased off the accelerator and allowed the tide to turn.
The Northampton Saints soon found themselves with a shot at stealing the win late, after George Furbank and scrum-half replacement Tom James crossed over to give the visitors a try bonus point.
Harlequins managed to hold out, winning 35-29, in yet another high-scoring Premiership match.
We are still speechless @cadan_murley 🥵#COYQ pic.twitter.com/NeDsWo93pA

— Harlequins 🃏 (@Harlequins) October 3, 2022
"We knew it would be tough, and it certainly was, but it was amazing to get a victory as they butchered a few scores," Harlequins head coach Tabai Matson said. "It was a really good spectacle for the neutral, but the most pleasing aspect for me was the five minutes of defense at the end, as it takes a lot of discipline not to give penalties away in that situation."
Written by Stefan Frost