2022 New Zealand All Blacks vs Australia - Bledisloe Cup, Game 2
Bledisloe Cup Game 2 Recap: New Zealand Seals 20th Straight Bledisloe Title
Bledisloe Cup Game 2 Recap: New Zealand Seals 20th Straight Bledisloe Title
New Zealand men's rugby has been in control of the Bledisloe Cup for a long time. It pulled off a blowout win over Australia this weekend to claim it again.
Sep 26, 2022
by Briar Napier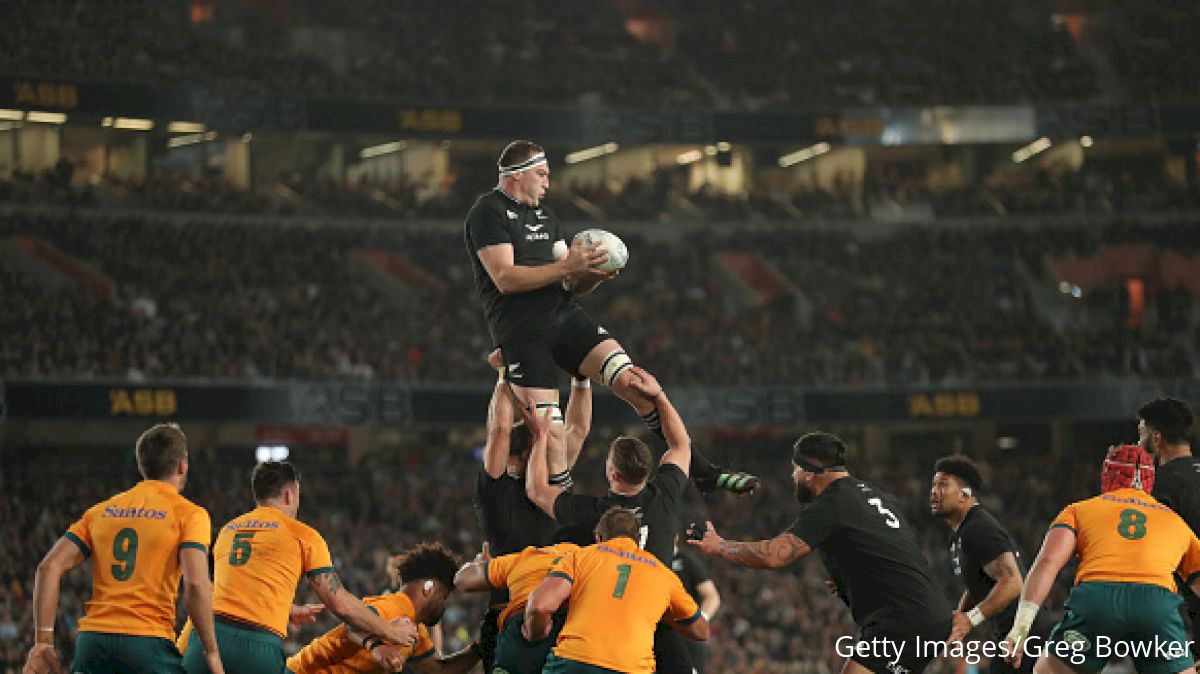 The more things change, the more things stay the same.
New Zealand men's rugby has been in control of the Bledisloe Cup for a long time, and when it pulled off a blowout win this weekend over its noisy neighbors across the Tasman Sea, Australia, to keep hold of their rivalry trophy for a 20th consecutive time, the almost-routine demolishing of the Wallabies by the All Blacks could go on for yet another year.
Not only did the win keep the Bledisloe Cup in New Zealand's hands, it also gave it a significant advantage in The Rugby Championship standings - and as proved later with South Africa's inability to overcome slim odds for a miraculous comeback in the table, it was all-important for the All Blacks to dominate against the Wallabies and nab not just one, but two trophies in quick fashion.
Here's a look at all that went down during a celebratory night for the All Blacks in Auckland, as the action from this year's Rugby Championship and Bledisloe Cup came to a close on FloRugby.
Two Decades Of Dominance
A generation of both New Zealander and Australian rugby players have only ever known in the Bledisloe Cup is the All Blacks' longstanding reign as the trophy's holders.
For at least another year, that distinction won't change.
New Zealand entered the final round of The Rugby Championship (and second test against its archrival) a point ahead of the rest of the field and stomped over Australia in a 40-14 romp at Eden Park that both clinched the Bledisloe Cup and put the extra pressure on South Africa, which not only needed to beat Argentina later in the day, but also secure a bonus point and have a more positive point differential than the All Blacks in order to win this year's Rugby Championship.
LipovitanD Rugby Championship winners for 2022 🏆

Thanks for all your support, whānau 🖤 pic.twitter.com/PLEfZWKq9k

— All Blacks (@AllBlacks) September 24, 2022
Arguably the All Blacks' best performance of 2022, in what largely has been a year to forget for the three-time world champions, coach Ian Foster's side was ruthless, clinical and held a stranglehold on the match in its entirety. It was a performance that looked most like the legendary All Blacks teams of old.
New Zealand took advantage of two Australia yellow cards in the first half, plus 26 missed tackles from the Wallabies during the game to cross over five times, the last of which came from hooker Samisoni Taukei'aho, who finished as this year's Rugby Championship try leader with four scores.
Held scoreless in the first half, Australia was down as much as 32-0 with a quarter of the game to go and only managed late tries that ended up being for naught. Scores came from Folau Fainga'a and Jordan Petaia, showing that even with New Zealand in a historic down year, the gap between the two trans-Tasman foes isn't shrinking by much, if at all.
Eden Park, The Fortress
New Zealand's six defeats thus far in 2022 is the worst yearly mark by an All Blacks team in rugby's professional era (since 1995), but even with the team's dismal recent form, losing at Eden Park would've been a new kind of disaster in the All Blacks camp.
Simply put, New Zealand does not lose at the Auckland-based bastion of the national team.
France was the last team to beat the All Blacks at the venue way back in 1994, whereas Australia has gone even longer since it pulled off a win there. That last happened in September 1986. The team's winless streak at the stadium stretched to 22 games following this weekend's result.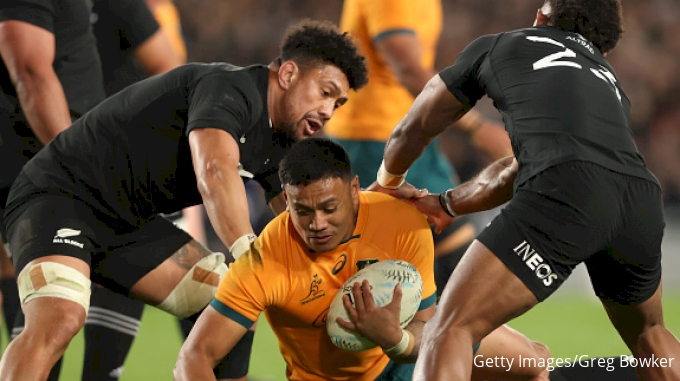 So, while on paper, it looked as if the Wallabies were set for a tense second round of this year's Bledisloe Cup after losing 39-37 in controversial fashion during the two teams' first meeting Sept. 15 in Melbourne, the reality is that Australia was faced with far more than just a two-point deficit, as it automatically will be at a disadvantage (until it proves otherwise) whenever it's scheduled to play New Zealand at Eden Park, as is the case for essentially every opponent the All Blacks schedule to play there.
Unfortunately for the Wallabies, if they want to finally get back the Bledisloe Cup after 20 years of trying, a win - or at the very least, a respectable performance - at Eden Park probably will have to come sooner or later.
Since its last win of the trophy in 2002, Australia has met New Zealand in Auckland in 16 of 20 possible years, all of which were All Blacks wins, most of which came comfortably.
A Total Turnaround
From nearly being sacked to winning two trophies in the span of three matches, it has been a whirlwind of a few weeks for All Blacks boss Ian Foster.
New Zealand sat four points back of The Rugby Championship lead after three matchweeks, and though Foster officially was backed by New Zealand Rugby until at least the end of the 2023 Rugby World Cup following his team's win over South Africa in Round 2, a first-time loss to Argentina in New Zealand the very next round immediately put nuclear heat right back on Foster's seat.
Thanks to a late burst of form (three straight wins) and a bit of good luck as both former points leaders following Round 3, Argentina and Australia, went on three-test losing runs, New Zealand's dominant win over Australia in the final round of both this year's Bledisloe Cup and The Rugby Championship officially clinched the former title and essentially clinched the latter, with the Springboks unable to secure the bonus point against Los Pumas needed to even have a chance of overtaking the All Blacks.
It's New Zealand's eighth Rugby Championship title in the decade since the addition of Argentina and a switch from the Tri Nations format.
For Foster, it's two very, very important notches on the resume that are concrete examples to satisfy New Zealand rugby's incessant demand for silverware, success and world domination.
It's a miraculous six-week turnaround for Foster, but with arguably the most demanding job in international rugby, the good vibes can't be a flash in the pan, but rather the start of a sustained pattern of rampant success, to keep his job secure without a doubt.