Premiership Rugby
Top 14 Five Takeaways From Round 3, A New Superstar Enters Pro Rugby?
Top 14 Five Takeaways From Round 3, A New Superstar Enters Pro Rugby?
Five major takeaways from Round 3 of the 2022 French Top 14.
Sep 19, 2022
by RugbyPass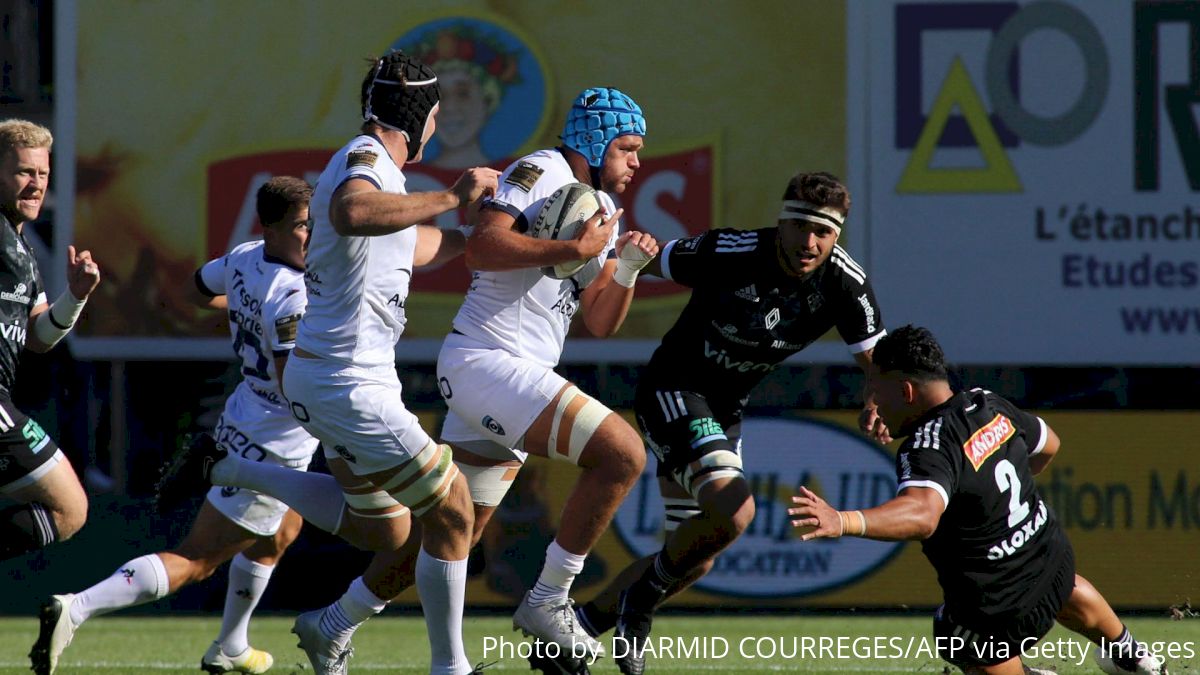 The recent round of Top 14 play offered some major takeaways and saw the emergence of a player expected to be the next superstar.
La Rochelle Current Kingpins
Clinical brutality is the only way to describe the La Rochelle performance as it swatted away Perpignan with ease.
Ronan O'Gara's side hit the ground running this season and now is the only undefeated side following Toulouse's defeat at the hands of Pau.
O'Gara also seems to have unearthed a gem in French-born Englishman, Harry Glynn, who was sublime as he scored two first half tries.
Next up is the daunting task of heading to the Stade Marcel Michelin to face a Clermont side, which will be smarting after a one-point loss at Toulon.
#TOP14 – J3
🎥 Découvre le classement des plus beaux essais de la journée !
5⃣ Max Spring | @racing92
4⃣ Xavier Mignot | @LeLOURugby
3⃣ Jiuta Wainikolo | @RCTofficiel
2⃣ Sekou Macalou | @SFParisRugby
1⃣ Romain Sazy | @staderochelais

Lequel préfères-tu ? pic.twitter.com/MoCaacODZN

— TOP 14 Rugby (@top14rugby) September 19, 2022
Another Tuilagi Enters The Professional Ranks
Rugby's first family has gifted the game yet another hulking potential superstar in the form of 6-foot-4 and 328-pound backrow Posolo Tuilagi.
Son of the legendary Henry, and nephew of current England star Manu, Posolo has been tipped for superstardom from a young age.
Making his debut for Perpignan in loss to La Rochelle was an underwhelming way to get your career underway, but it by no means is an indicator of what's to come.
His father and five uncles all have played international rugby and are most famously linked to English Premiership side Leicester Tigers.
Now 18 years old and representing a club his father played for, Posolo looks set to keep the family name alive in a major way.
Today the Tuilagi family sees it's 10th member to play pro rugby.

Fereti (b. 1971)
⎣ Brian (b. 1994)
⎣ Fred (b. 1997)
Henry (b. 1976)
⎣ Henry (b. 2000)
⎣ Posolo (b. 2004)
Alesana (b. 1981)
Anitele'a (b. 1986)
Vavae (b. 1988)
Manu (b. 1991)https://t.co/dIhuTPDolX

— Tier 2 Rugby (@T2Rugby) September 17, 2022
Bordeaux Begles Get Off The Mark With First Win
What a difference a week can make, as Bordeaux looked decidedly average in Round 2, only to rebound with a sensational thumping of Castres in Round 3.
Having narrowly lost their opening fixture at home to Toulouse, the pressure certainly was on Christophe Urios and his staff to turn things around.
Going from semifinalists last season to bottom of the league this season simply wouldn't do.
Matthieu Jalibert played a blinder, despite rumors he will be leaving the club at the end of the season (more on that in a minute).
The 23-year-old is one of the brightest young fly-half prospects in the international game, and Bordeaux certainly will be pushing to keep him at the club. Therefore, a successful season in which he is put in a position to push Romain Ntamack for the French No. 10 shirt could be a deciding factor in where he plays his rugby next season.
Finn Russell Playing For His Racing Future?
Reports emerged this week that Racing92 was in pursuit of not one, but two, new international quality fly-halves for next season.
Long linked to All Black superstar Beauden Barrett, reports surfaced that Racing would look to bring in Bordeaux playmaker Matthieu Jalibert, who originally is from St Germain, which is stone throw away from Racing's home ground.
Signing one or both of these players would render current incumbent, Finn Russell, redundant at the Parisian club.
Russell's contract is set to expire at the end of the season, and he previously has been linked with a big money move to Japanese side NEC Green Rockets.
Other options would be to either remain in France or make a move to the English Premiership. Due to his salary, a return to his home club of Glasgow is unlikely.
A strong season might help sway opinions at Racing, or at the very least, allow him to command his current wage at another club.
Zach Mercer Continues To Press His Case For England Inclusion
Montpellier No. 8 Zach Mercer has confirmed his return to the English Premiership next season. His departure will be a major blow for the Mediterranean club, as he has developed into one of the very best players in the league.
Since joining from Bath, his career renaissance has been fantastic to watch and has highlighted how mutually beneficial the relationship between the club and the player has been.
Scoring yet another try this weekend, Mercer again proved why Gloucester was so keen to secure his signature next season.
Rugby/Top 14 – Zach Mercer quittera Montpellier à la fin de saison pour Gloucester #rugby #TOP14 | Sport Business Mag https://t.co/ixJUCeaqQg

— Rugby-Addict FR (@RugbyAddictFR) September 18, 2022
His move back to the English Premiership makes him once again eligible for the national team. Should he continue this form with Montpellier, it will be very difficult for England head coach Eddie Jones not to select him.
Previously Mercer's style of play has seemed to count against him when it comes to international selection, however, his form is undeniable and could be the missing component in taking England's attacking game to the next level ahead of the World Cup.
Written by Philip Bendon