SANZAAR
United Rugby Championship Power Rankings - Round 1, Italians On The Rise
United Rugby Championship Power Rankings - Round 1, Italians On The Rise
It's good to be back! The United Rugby Championship returned to our screens this weekend with end-to-end action across all seven fixtures. See the rankings.
Sep 19, 2022
by RugbyPass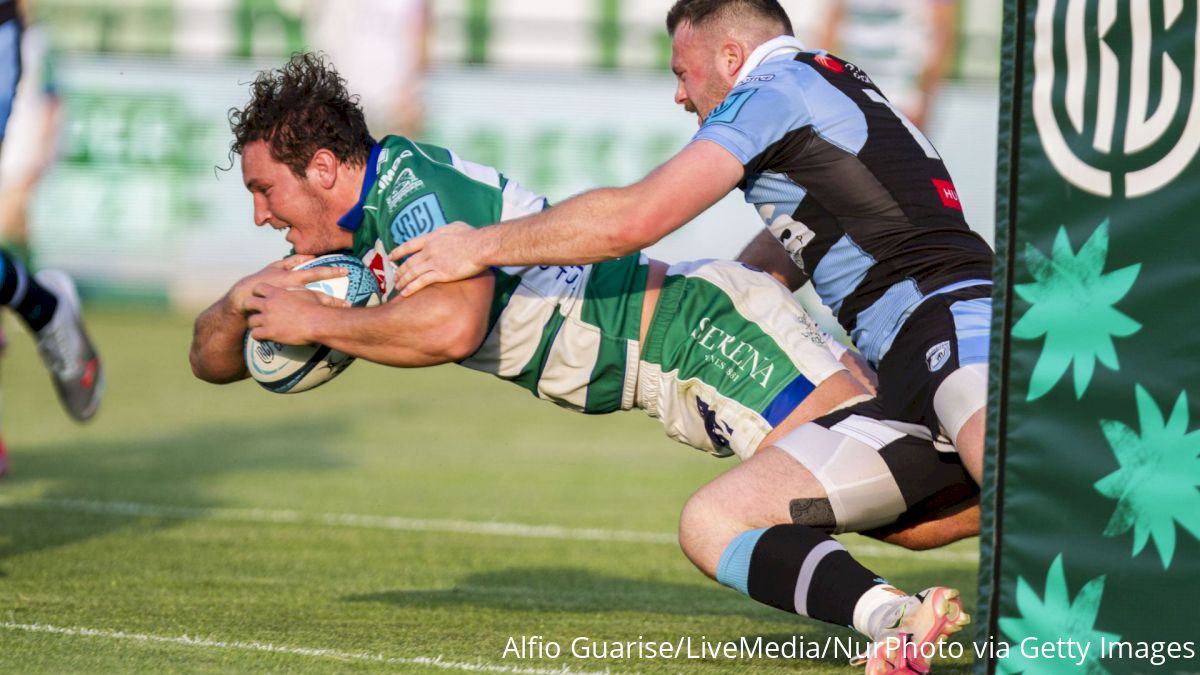 It's good to be back! The United Rugby Championship returned to our screens this weekend with end-to-end action across all seven fixtures.
Getting proceedings underway was an Italian renaissance of sorts, as Benetton thumped Glasgow to open its account on a positive note.
This set the scene for several perceived underdogs pushing their more fancied opponents all the way and, as such, saw plenty of movement on this rankings list.
Without further ado, let's get to it and see where the teams shake out after the round.
*Note the Sharks and Stormers both were on a bye, so they don't feature this week.
1. Leinster
Missing the bulk of its Irish internationals, Leinster was drawn into one heck of a battle with Zebre.
Starting strong and racing to a 21-0 lead, Leinster switched off. Ultimately, they scraped home courtesy of Ross Byrne's accuracy from the kicking tee, which proved to be the difference.
Had they not emerged with the win, they would've had a slip in the rankings, so this position is somewhat of projection in a way.
Leinster still won and has luxury of welcoming back a large number of international standard, and in some instance's, world-class players.
An interesting side note, this is the first time since 2017 Leinster does not have a trophy to defend, highlighting just how dominant the team has been in European rugby.
2. Ulster
Very much the 1B to Leinster's first position, simply put, Ulster was impeccable in Round 1, brushing Connacht aside with ease.
Dan McFarland has perhaps not gotten the credit he deserves for the progress Ulster has made under his tutelage.
Regularly overshadowed by the brilliance of Leinster, Ulster is building. Play like they did in Round 1, and few teams will be able to compete with them this season.
Sometimes, it takes something special to open a defence. Step forward, Stuart McCloskey 💥 #BKTURC #URC | #ULSvCON pic.twitter.com/8KWL5DHqh6

— BKT United Rugby Championship (URC) (@URCOfficial) September 17, 2022
3. Blue Bulls
Power personified was a statement on display inside the first three minutes as they pummeled the Lions en-route to their first try of the season.
The score came from a typical Bulls source, as they took a quick tap penalty and simply bulldozed the Lions defense.
Jake White's side plays with a distinct similarity to his Bok sides of the mid 2000s physical - dominance from a quick ruck game, with quick-strike runners coming onto the ball.
This style of play will keep the Bulls in just about every contest this season. The question is, how will they respond when matched at the gain line?
4. Edinburgh
Edinburgh's performance in Round 1 was a tale of two halves.
When viewed through a prism of looking at the final score, you could be forgiven for thinking it was a sensational performance.
Simply put, Edinburgh's opponents, the Dragons, are not title contenders.
Focusing on the positives for Edinburgh, its forward dominance was built on a brilliant combination of power and subtlety. The power game wore down the Dragons defense, but it was the quick feet before contact that made real inroads and created the momentum from which the attacking platform was laid.
A real challenge awaits next week, as they travel to Pretoria to take on a powerful Bulls side. Win there, and the league will be put on notice.
5. Munster
Yes, Munster lost its opening fixture, but that does not tell the tale of the tape.
This Munster side, like Leinster, is missing a huge chunk of its squad, due to senior players resting from their tour of New Zealand and the next batch of young stars being rotated ahead of Ireland's last-minute upcoming "A Team" tour to South Africa.
Munster showed plenty of fight against a far more experienced Cardiff side, but most importantly, showed sprouts of a new attacking mindset.
Shane Daly, take a bow 👏 #BKTURC #URC | #SCAvOSP pic.twitter.com/2WZos4HpXX

— BKT United Rugby Championship (URC) (@URCOfficial) September 17, 2022
Ben Healy continues to show he can be the man at fly-half for them going forward, further making his omission from the upcoming "A" tour a headscratcher.
Inexperience cost them in the final three minutes, something that will be rectified as the big names return over the coming weeks.
6. Scarlets
Firstly, an applause to the people of West Wales who created an electric atmosphere for the big derby fixture. A bustling stadium to see their sides do battle is exactly what Welsh provincial Rugby needs.
Turning attentions to the Scarlets, the biggest takeaway is the young fly-half Sam Costelow looks to be the real deal. Outside of a yellow card, he was flawless, scoring a try, three penalties and two conversions to bring in a haul of 18 points.
Johnny Williams solo try was sublimely taken and brought the home side right back into the contest. Overall, Dwayne Peel's fingerprints are all over this side, and they could be a surprise contender at the end of the season.
7. Cardiff Blues
A 20-13 win over Munster to open the season is just what the doctor ordered for Cardiff, as it emerged as the only victorious Welsh side in Round 1.
Admittedly, Munster was missing its Irish internationals, as well as several of its best young talent.
As the saying goes, you can only play what's in front of you, and a win over a weakened side is better than a loss.
Unfortunately for Cardiff, this win is overshadowed by the injury to star signing Liam Williams, who was forced off inside half an hour.
All in all, a win is a win, but the performance and inability to put an inexperienced Munster away decisively leaves question marks.
8. Ospreys
A last-minute conversion to grab a draw, after holding a strong lead, makes the Ospreys performance a tough one to assess.
Certainly, there were some strong moments, most notably the final try two minutes into overtime to seal the comeback. However, letting a solid lead slip in a derby match shows a slight fragility that is concerning.
Jack Walsh has ice in his veins 🧊

The final kick ends a dramatic Welsh derby in a draw 🏴󠁧󠁢󠁷󠁬󠁳󠁿
#BKTURC #URC | #SCAvOSP pic.twitter.com/uVYfTkkx9D

— BKT United Rugby Championship (URC) (@URCOfficial) September 17, 2022
What isn't concerning, however, is the gumption shown by American-born fly-half, Jack Walsh, who nailed the touchline conversion to seal the draw. The Florida-born 22-year-old has the rugby world at his feet heading into this season. Eligible for both Australia and the USA, his future will be an interesting one to track.
9. Benetton Treviso
What a start! Benetton was as good as we have seen since…. well, the beginning of time!
In tough conditions, with the rain switching on and off, Benetton was a class above Glasgow.
Young Argentinean Ignacio Mendy showed why many in the URC consider him to be a future star, as he scored a brace of tries.
The story of @BenettonRugby 🆚 @GlasgowWarriors ✨#BKTURC #URC | #BENvGLA pic.twitter.com/KfG1YoAIgu

— BKT United Rugby Championship (URC) (@URCOfficial) September 16, 2022
Former Cheetah's fullback Rhyno Smith was ever present as an attacking threat from fullback, whilst also being highly reliable from the kicking tee.
Benetton's forwards dominated their Glasgow counterparts and laid a great platform as they got former Italian head coach Franco Smith's Glasgow tenure off to the worst possible start.
10. Zebre Parma
Oh, what could have been!
Two missed conversions proved to be Zebre's downfall, despite going toe to toe with Leinster in Round 1.
In the loss, Zebre's fight back from 21-0 down, combined with the losing bonus points, make for a moral victory.
Many sides have stared down a hammering from Leinster when they fall behind, but Zebre showed guts to get back into the contest.
Performance-wise their attacking strike plays were sublime, in particular the first try, which sucked in the Leinster backs, before spreading wide to debutant fullback Richard Kriel, who went over unchallenged in the corner.
Their second try was a similar strike attack, with plenty of crossing runners and soft hands, before the ball got out wide.
All-in-all, an impressive outing from the Italians, who also have possibly the slickest kit this season.
11. Lions
Losing a derby match to the Bulls does not signal calamity for the Lions. Overpowered, yes. Outclassed, yes. But not as significantly as last season would be the summation of the fixture.
Fly-half Jordan Hendrikse showed he possesses the same cool head as his Springbok brother, Jaden, as he directed proceedings with authority.
Overall, the Lions grew into the contest, having appeared relatively rusty in the first half and should improve as the season goes on. They man remain the weakest of the four South African sides but certainly are competitive with the league as a whole.
12. Connacht
Abysmal - no point sugar coating it.
Connacht was awful and got beaten out of the gate by Ulster.
Now clearly behind the other three Irish provinces, Connacht does have the benefit of welcoming back Irish stars Bundee Aki and Mack Hansen, but their issues appear would indicate they are more than two players away from competing.
Ulster certainly look like title contenders, but Connacht's defense was soft, whilst its attack lacked any real bite or penetration.
It was really disappointing from Andy Friend's side, and to have any chance of pushing for a playoff berth, there would need to be a seismic shift in the Galway side's performances.
Next week will be the defending champions in Cape Town. The main hope for Friend and company will be that the Stormers are rusty having had their bye in the opening week.
13. Glasgow Warriors
If Connacht was abysmal, Glasgow was right there, too.
Getting blown out by Benetton would've been unthinkable for the club a few seasons ago.
Now, under the guidance of the former Italian coach, Glasgow looked to lack any semblance of a game plan.
Clearly behind Edinburgh now, fixing the Warriors is not a one-season job, so patience will need to be shown for Smith and his staff.
14. Dragons
Fears that they might be the worst side in the league were put on hold for the first half in Edinburgh, as they battled hard.
JJ Hanrahan showed glimpses of what made him special at times for Munster, Northampton and Clermont, but now at the tale end of his career, he doesn't look capable of dragging up those around him.
Simply put, the second half was ugly, and the Dragons are in for a long season that could see them cut or combined with another Welsh region in the next offseason.
Written by Philip Bendon