French Top 14
Top 14 Five Takeaways From Round Two
Top 14 Five Takeaways From Round Two
French Rugby's top league returned for round two of twenty-six for this season. we take a look back on five key takeaways from round two.
Sep 12, 2022
by RugbyPass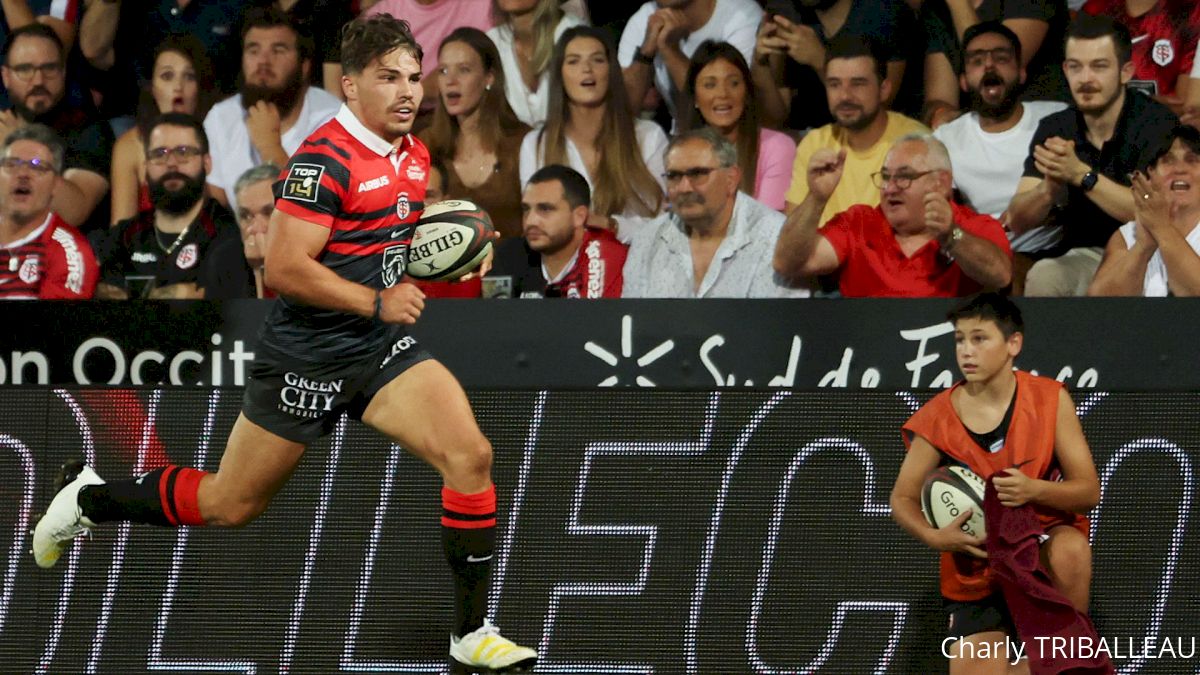 French Rugby's top league returned for round two of twenty-six for this season.
With just two undefeated teams remaining after the first two rounds, the Top14 once again highlighted just why it is such a fascinating watch.
As the players get back to training for round three, we take a look back on five key takeaways from round two.
The Top14 Remains Rugby's Biggest League
Sold out crowds, regional rivalries and superstar players, The Top14 has it all and clearly remains the closest thing Rugby has to the English Football Premier League. For the French national side, the ability for their players to mix it up week in, week out with high quality internationals from around the world has been invaluable. As the league continues it's development as the premier club competition in the world, it is easy to see why France are tipped as one of the heavy favourites for next year's World Cup.
Nos joueurs sont arrivés chez eux 🔥

Quelle ambiance 🤩 #STRCT pic.twitter.com/JvDoQkvZYv

— Stade Toulousain (@StadeToulousain) September 11, 2022
La Rochelle And Toulouse Set the Pace
As they say form is temporary whilst class is permanent, La Rochelle and Toulouse have been two of the very best sides in Europe for the past three seasons. Having each won a Heineken Champions Cup in the past two seasons with Toulouse also picking up a Top14 title, the two sides are the early pacesetters this season. As the only two remaining undefeated sides, both look poised for deep runs in both Europe and the Top14 this season. Next up both sides have infinitely winnable contests as La Rochelle welcome a struggling Perpignan to the Stade Marcel Deflandre whilst Toulouse travel to an inconsistent Pau.
Antoine Dupont Remains A Class Above
Superstar scrumhalf Antoine Dupont reminded rugby fans why many consider him to be the very best player in the game. His rate of play against Toulon was so quick that their defence simply could not settle into a routine, whether it was around the ruck or in open play Dupont was simply sublime. Whilst he can certainly be considered a one-man band it is worth remembering just how potent his combination with Romain Ntamack is. The flyhalf is no slouch either as a constant running threat. For NFL fans the RPO concept comes to mind when discussing Ntamack, whether it is a quick dart at the line, a slick pass or a clever kick behind the defence France's first flyhhalf has it all. Both men will be crucial to the Toulouse and French causes this season as the country gets set to be gripped by World Cup fever with the tournament now just under a year away from kick-off.
Clermont Are Lurking
Having been roundly beaten out of both the Heineken Champions Cup and French Top14 last season, the hulking presence of Clermont Auvergne once again hangs over the league. Having lost their opening round fixture away to Stade Francais, Clermont returned home to the Parc des Sports Marcel Michelin for round two. Rightly regarded as one of the very toughest grounds for opposition teams due to its coliseum like atmosphere, the men in blue and yellow remain a tough nut to crack at home. For a struggling Pau side this proved to be the case as they fell victim to another Clermont home victory. Leading the way was the lethal back three combination of Alivereti Raka, Damian Penaud and Alex Newsome. All three players are physical specimens who come in at over 6ft and around 100kg making them a nightmare for opposition defences. For Clermont to once again rise as title challengers they will need to address their away form which was certainly their Achilles heel last season. Of their 12 losses in the Top14 last season 11 came on the road, highlighting just how much of a role their supporters play. If they can tidy up their away record they will prove to be a real threat this season.
#TOP14 - L'image de la J2 : Le renard des surfaces

Hey @ClermontFoot pas mal cet attaquant ? 😅

Conduite de balle et finition impeccables de @PenaudD ! Le renard des surfaces de l'@ASMOfficiel a encore frappé🦊⚽️ pic.twitter.com/29pcvD5nmL

— TOP 14 Rugby (@top14rugby) September 10, 2022
Winning On The Road Remains A Top14 Hoodoo
Unlike any other league in the World, home advantage is a huge factor in the Top14. As proven by Clermont's record last season this infliction certainly affects a number of teams in the league. Across the first two rounds, of the 14 fixtures so far there has been 4 road wins. Of these four wins, two were by Toulouse and La Rochelle who are as mentioned appear once again to be the pacesetters. Due the tribal nature of the league winning on the road has become a increasingly daunting prospect and often times appears to provide that extra 10% the home side needs to get on top.
#TOP14 - J2
Le @staderochelais remporte le choc des champions d'Europe 🇪🇺 Le @CABCLRUGBY réalise le gros coup de ce weekend 👀Le @StadeToulousain enchaine avec un deuxième succès en autant de journées ✌️ pic.twitter.com/HZbebB6cvx

— TOP 14 Rugby (@top14rugby) September 11, 2022
Written by Philip Bendon