2022 Australia vs New Zealand All Blacks - Bledisloe Cup, Game 1
New Zealand Vs. Australia Preview: Stakes High For Bledisloe Cup
New Zealand Vs. Australia Preview: Stakes High For Bledisloe Cup
Due to some recent missteps by the All Blacks, Australia may have it's best chance in decades to bring home the Bledisloe Cup.
Sep 7, 2022
by Briar Napier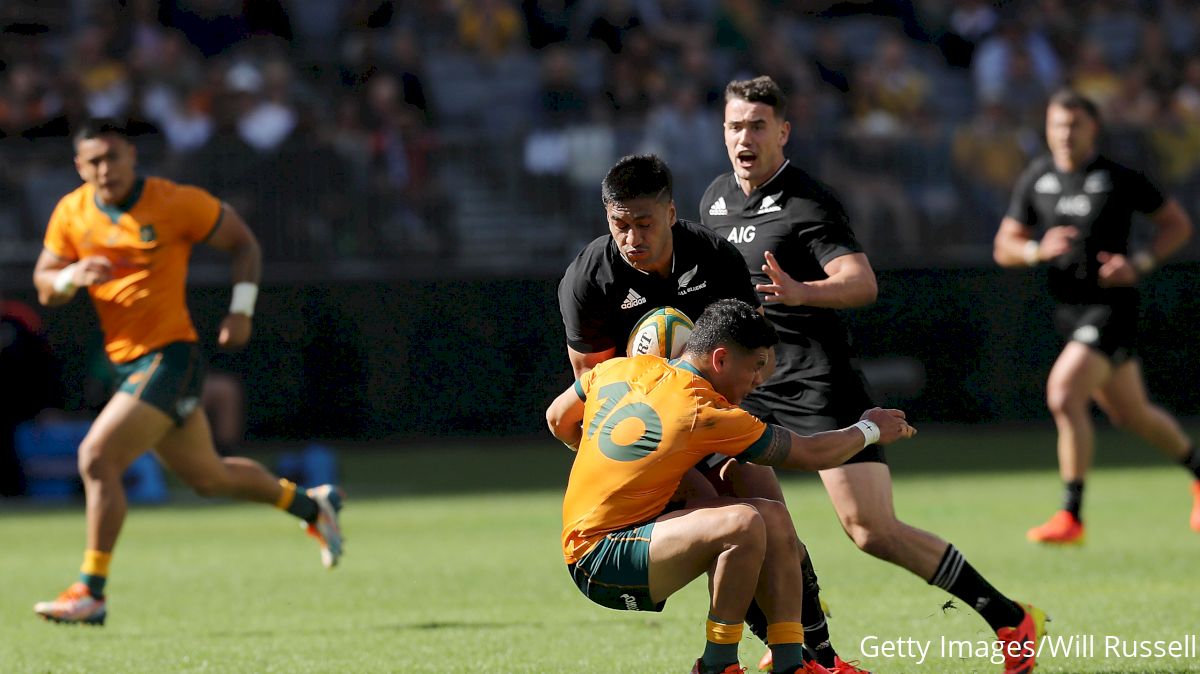 There's little better in international rugby than a high-pressure rivalry test.
For this year's edition of the Bledisloe Cup—the annual showdown between rugby powers New Zealand and Australia—the factors at hand can't really be much bigger.
With the All Blacks and the Wallabies deadlocked (along with the other two Rugby Championship teams, South Africa and Argentina) at two wins and two losses apiece headed into the final two rounds of this year's competition, truly any national team can push forward and win the 2022 edition the annual tournament.
But for New Zealand and Australia, their matchups will go deeper than trophies.
There's a wealth of history in the most-played rivalry in international rugby, and even if neither team ends up holding The Rugby Championship title later this month, there will still be plenty of bragging rights to go around.
Here's a peek at what to expect in this year's Bledisloe Cup, held across two tests in Melbourne (on September 15) and Auckland (on September 24) and streamed live on FloRugby.
Bledisloe Cup: Overview
Named after Lord Bledisloe, the England-born former Governor-General of New Zealand, who donated the trophy to mark the official start to the competition in 1932. The honor is contested yearly between bitter Trans-Tasman rivals Australia and New Zealand in what's usually a three-test series, shortened to two tests in Rugby World Cup years.
The All Blacks won that original three-test series in 1932 in the Land Down Under and have largely reigned supreme since, winning 49 of a possible 62 series played since then (the competition wasn't played on an annual basis until 1982) including the past 19 times, with the Wallabies not triumphing over their neighbors in the competition since 2002.
Some of the finest players to grace a rugby pitch have made icons of themselves in New Zealand-Australia matches, such as in 2000 when late All Blacks legend Jonah Lomu scored a match-winning try in injury time in Sydney to cap off what some media members and journalists later dubbed "the greatest Test ever played."
Still, a generation of Australian rugby players have grown up without knowing what it's like to experience a Bledisloe Cup triumph—who has won two World Cup titles since the Wallabies last won a series against the All Blacks—as New Zealand has proven itself to largely be the dominant force of international rugby over the past two decades.
However, due to some recent and well-publicized cracks in the Kiwis armor, 2022's edition of the competition could be Australia's best chance in years, maybe even decades, to finally get over the hump once again against its noisy neighbor.
New Zealand
Current world rank: Fourth
Rugby Championship position: First
The lowdown: Things are starting to look up for New Zealand rugby right now. Of course, that sentence is very much relative—the All Blacks are still amid one of the worst runs of form in their history. They have not won consecutive matches since November of last year while on a slide of six defeats in nine tests, a shocking stretch for the national team.
New Zealand's current position of fourth in the World Rugby Rankings would've been the worst in its history a month ago, until Argentina shockingly beat the All Blacks last month on their own turf for the first time ever to send them down to fifth temporarily. Still, even after all of that adversity, and with a coach in Ian Foster that has critics breathing down his neck following just about every match, New Zealand is exactly where it wants to be right now in The Rugby Championship.
The All Blacks responded to the shock defeat to Los Pumas by pummeling the visitors in 53-3 bonus-point rout this past weekend, a result that—combined with Australia's defeat to South Africa—saw New Zealand somehow stand alone at the top of the competition standings at 10 points through four games.
The Rugby Championship will now be won by a two-loss team this year for the first time ever (since Argentina joined the then-Tri Nations in 2012) and the All Blacks are in the driver's seat to win their fifth title in six appearances, with a hated foe standing in their way of repeating their 2021 championship.
Embattled captain Sam Cane scored a try in Round 4 in a strong performance under the pressure of potentially losing his armband, while No. 8 Ardie Savea and fly-half Richie Mo'unga each remain two of the best at their positions in the world. The All Blacks still have all sorts of problems to sort out, but at the end of the day, New Zealand will always have the talent on-hand to shift it into a higher gear.
Australia
Current world rank: Eighth
Rugby Championship position: Second
The lowdown: Here's a trivia question: When was the last time that Australia won both the Bledisloe Cup and the Tri Nations/Rugby Championship in the same year?
The answer to that is 2001, when World Cup-winning Wallaby fullback Matt Burke scored 32 of his country's combined 52 points across the two tests to help Australia snatch both titles in a 29-26 thriller in September of that year. Twenty-one years later, the Wallabies have a massive opportunity to repeat the feat, but they must remind themselves not to let critical point-scoring chances slip when they have them.
A prime example of that came just this past matchweek in the second test against South Africa, where the Wallabies were manhandled in a 24-8 Springboks win just a week after Australia pulled off a 25-17 victory of its own in Adelaide.
Wallabies come out swinging early!@wallabies 10, @Springboks 0.

📺 https://t.co/KcgeQMGVq1 pic.twitter.com/UCh0uAh6De

— FloRugby (@FloRugby) August 27, 2022
A second win over the Boks would've seen the Wallabies at least three points clear of New Zealand with two matches against it to play, but alas, Australia will now have to bring the All Blacks down the hard way—by beating them directly.
The Wallabies, like they have been for the entirety of The Rugby Championship, are still hampered by the injury bug. Numerous key players will be inactive due to various ailments, while captain Michael Hooper—who hasn't played in the competition as he focuses on his mental health—was announced by coach Dave Rennie to be out for the Bledisloe Cup, as well.
However, numerous names have made their mark on the senior team in this year's Rugby Championship, and if they can put up key performances against the All Blacks, it may drag Australia to glory.
Watch for Hooper's replacement, Fraser McReight (who has a competition-best three tries), and the heavy work rate of winger Marika Koroibete, two players that have been integral in keeping the Wallabies in the hunt for their first Rugby Championship crown since 2015.