2022 Canterbury vs Northland
Bunnings NPC Round 6 Games Of The Week: Can Northland Sustain Dream Run?
Bunnings NPC Round 6 Games Of The Week: Can Northland Sustain Dream Run?
It's fair to say this year's Bunnings NPC is starting to heat up, and the home stretch of the annual provincial rugby competition is on the horizon.
Sep 7, 2022
by Briar Napier
It's fair to say that this year's Bunnings NPC really is beginning to heat up.
The home stretch of New Zealand's annual provincial rugby competition is on the horizon, and as postseason places are decided and the contenders are separated from the pretenders, there's sure to be plenty of action and positioning as the weeks tick down.
Even though there are some old favorites in the mix for titles yet again, there are some upstarts in the mix that have been emboldened by the competition's format switch this year from promotion and relegation to two separate conferences.
Time will tell if those runs are sustainable or not, so it's best to just sit back and admire the chaos that will occur if they do.
What is there to look out for in Round 5 of the Bunnings NPC this week?
Here's a peek at a selection of three games to check out. Competition is being streamed live all season on FloRugby.
NOTE: All kickoff times are listed in Eastern Time and are subject to change.
Waikato Vs. Auckland
Waikato is the only unbeaten team in this year's Bunnings NPC.
Minus an opening-week draw to Hawke's Bay, Waikato has kept an unblemished record throughout its 2022 campaign, keeping up its Premiership Division title defense in style in the revamped no-relegation Bunnings NPC.
The Mooloos one knock, though, is perhaps that they haven't seen much proper competition since drawing with the Magpies to start the season. Besides a 16-10 victory over Northland in Round 2, Waikato hasn't played another side currently in their respective conference's playoff places since.
As it's slated to play a hungry Auckland side to kick off Round 6, the Mooloos will get a proper chance to prove once and for all to the rest of the competition that they belong in the title picture.
Auckland' loss to Northland over the weekend was one of historic proportions (more on why down below), but the point is that coach Alama Ieremia's side now has a five-point gap to make up between it and the Evens Conference's leader, Canterbury, a unit that especially looks like it has no signs of slowing down.
Auckland likely would love nothing more than to take down a different conference leader to give itself a boost of confidence after such a stunning defeat, but it'll also need to break down a Waikato defense that is of similar standard to the Northland one it just faced - both teams have allowed a Bunnings NPC-low 74 points on the year, after all.
Wellington Vs. Otago
With Round 5 over, and the official halfway point of the Bunnings NPC season now in the rear-view mirror, it's time to talk about playoff pictures and which teams are in the hunt for postseason play.
With Wellington and Otago's meeting set for Saturday night, talk about some perfect timing, then.
Both teams sit (as of Monday night) on 15 points in the Odds Conference, though Otago holds the tiebreaker for the fourth, and final, playoff spot in the conference on point differential - with the caveat being that it only holds a 12-point cushion over the charging Lions, who sit in fifth and notched a 41-28 win over basement-dwelling Southland over the weekend.
Those positions could change prior to the game, as Wellington is on a double matchweek for Round 5 (it plays Tasman on Wednesday to close out the round), but considering the teams below them - Counties Manukau and Southland - look more and more like they're falling off the pace, it very well could be Wellington and Otago squarely battling in the hunt for the final playoff spot from the Odds Conference at season's end.
That makes their upcoming meeting that much more important.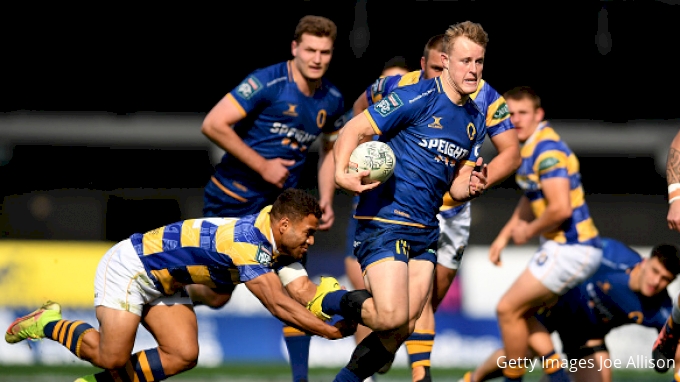 Otago plays an all-or-nothing style that allows it to score a solid number of points (146 thus far) but also give up a large amount (155).
Wellington has seemed to find its footing on the attack, as well, scoring at least 30 points in two straight matchweeks, both of which resulted in wins.
Expect fireworks at Sky Stadium in Wellington in a midseason meeting with a lot on the line.
Northland Vs. Canterbury
Just how long can Northland's incredible start to the Bunnings NPC season keep going?
The Taniwha, who finished at the very bottom of the second-tier Championship Division in 2021 (not counting North Harbour and Counties Manukau, which both had to end their seasons early due to COVID-19-related travel restrictions), is on a 4-1 tear to start this year's competition and just acquired its biggest win yet in Round 5, a 23-22 triumph over Auckland that marked Northland's first win over Auckland in Whangarei in 46 years.
There's plenty of personnel and good stories to come from the recent run of form. For instance, hooker (and recent Major League Rugby signee with the San Diego Legion) Matt Moulds, who got through some terrible years as a former captain with the Taniwha from 2013-2018 in his first run with the provincial side, is seeing some newfound success in his return, proving to be an integral part of the win over Auckland after he crossed over for a try in the 16th minute.
SCENES. ABSOLUTE SCENES 🐉🐉@RugbyNorthland | @skysportnz | #BunningsNPC pic.twitter.com/Wd4nfuCKsb

— Bunnings NPC (@BunningsNPC) September 4, 2022
However, Canterbury is the team of which most opponent's dreams quickly disappear.
The Crusaders' Super Rugby affiliate picked up a big win over Ranfurly Shield holder and Odds Conference contender, Hawke's Bay, in Round 5, putting their total at a league-high 26 points through six games, as Canterbury remains by far the highest-scoring team in the Bunnings NPC with 234 points scored.
A win over Northland would make playoff qualification a near-certainty with three regular-season matchweeks still left to play. It gives Canterbury a chance to rest some key players ahead of a deep postseason run, but Northland, by its usual standards, already is playing above its weight.
Why not topple the big dog while it's at it?