2022 Australia vs South Africa
South Africans Incensed By Refereeing Calls During Loss To Australia
South Africans Incensed By Refereeing Calls During Loss To Australia
A few controversial calls during the 'Boks loss to Australia had South African fans and media shaking their heads.
Aug 29, 2022
by RugbyPass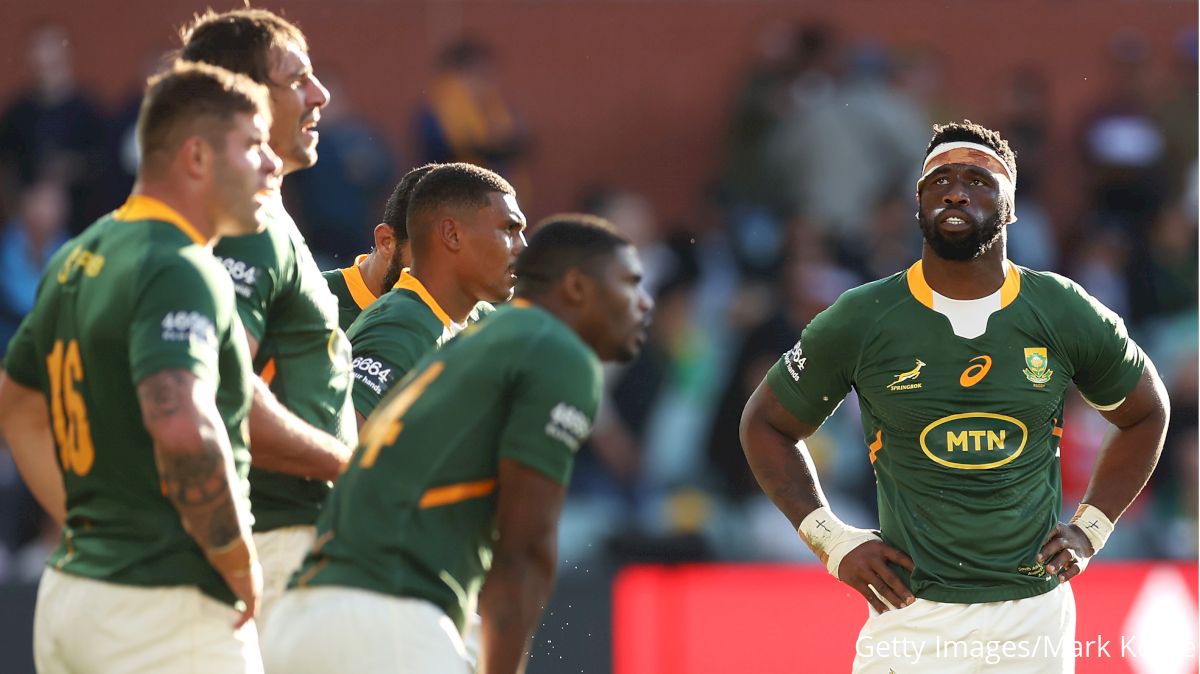 Some Springbok fans and a few pockets of the South African media have been left incensed by decisions made in their nation's 25-17 loss to Australia in Adelaide.
The result came as a surprise to many, with the world champions firmly favored ahead of the Wallabies, who had suffered a record loss to Argentina just two weeks ago.
The hosts are also in the midst of an injury crisis and have been without captain and talisman Michael Hooper for the length of the 2022 Rugby Championship so far. And yet, with all forces seemingly against them, the Wallabies managed to produce over the weekend when the going got tough.
No-one typified their gutsy display more than flanker Fraser McReight, who scored two decisive tries, having only broken into the starting line-up following the impromptu departure of Hooper.
But since coming into the fore, McReight has looked right at home and helped dismantle South Africa on Saturday, not only using his penchant for sniffing out tries, but also exhibiting his defensive prowess when securing a crucial breakdown turnover near his own try-line.
By comparison, South Africa struggled for fluidity throughout and came up short for the second game in a row, only two weeks removed from a loss to New Zealand at Ellis Park.
Even with the sub-par performance, post-match analysis quickly turned to the decision-making of referee Paul Williams, rather than the on-field performance of the visitors.
The first moment of contention which enraged the South African contingent was a try-saving tackle made by Wallabies winger Marika Koroibete, who charged towards the touchline and clattered Makazole Mapimpi – who otherwise would have scored in the left corner – into touch.
On first inspection the tackle appeared physical and was duly given a look-over by the TMO. The match officials inspected the collision and judged Koroibete to have attempted to wrap an arm in the hit, and therefore did not punish the Australian winger.
Rayder Media co-owner Derek Alberts was not impressed by the call and took to Twitter to voice his frustration: "No arms shoulder charge on Mapimpi doesn't get looked at."
His view was shared by James Richardson of the South African who launched a brutal attack on the officiating, calling it incompetent and biased.
"Marike Koroibete should have been carded for the flying shoulder charge that denied Makazole Mapimpi a try," he wrote.
Alberts and Richardson were not alone in thinking a yellow card and penalty try should have been issued, although their opinions did seem to overlook the mitigating factor that Mapimpi jumped into the tackle, thereby endangering himself.
Richardson, distinctly enraged by what he had seen, then went so far as to demand governing bodies ban the New Zealand official from refereeing any further test matches.
It was not just the Koroibete tackle which led him down this path, but another additional incident involving Springboks scrum-half Faf de Klerk, who received a yellow card in the 39th minute for slapping his opposite number Nic White's moustache.
After getting hit, White fell to the floor rather theatrically, which Richardson believed brought rugby's reputation into disrepute.
"Perhaps the worst incident in the first half was one that brings shame onto the game of rugby. Williams bought into play-acting from Australia scrum half Nic White whose actions have no place in the sport at all.
"This referee has no place taking charge of big games and should be banished to the bush leagues for the rest of his days," he said.
Once more his opinions aligned with Alberts who wrote on social media: "Nic White auditions for the Socceroos and Faf gets yellow. Laughable."
In agreement with the pair was South African sports pundit Mark Keohane, who argued White should have been sent off in place of de Klerk.
"Nic White should have been carded for that Oscar… his most embarrassing moment as a professional."
Others, like former Scotland international Jim Hamilton, saw the funnier side of the incident.
"Some men would rather be stripped naked in -40 degree temperatures live on tv than have their moustache slapped off," he wrote on Twitter.
Rugby analyst Squidge Rugby is known for commenting on the gamesmanship of White and, like Hamilton, saw the amusing forces at play.
"That's an all-time bit of scrum-half play by Nic White. Turns an absolutely nothing moment into a yellow card by milking it so vigorously they now serve that moment in vegan cafes," he wrote on Twitter.
Regardless of whether two yellow cards went amiss for Australian players, the performance from the Springboks was still underwhelming and not solely the result of White's theatrics.
But there may still be some who question the overall celebration of Koroibete, who went on to win the player of the match award. He received the accolade not only for his try-saving tackle, but also a converted score in the second half which involved him stepping Springbok fly-half Handre Pollard before dotting over.
After the match, Koroibete spoke about the motivation he had to represent Australia and gave a little more insight into the thought-process behind his controversial tackle.
"The tackle had to be made–we got a man in the bin and I have to cover his side and make that cover tackle," he said.
"I was just running and I knew he wasn't going to step. He was going to go for the corner so I put my head there and hoped for the best.
"We spoke this week about effort and working for each other. The forwards do their job, ruck, mauling and those sort of things and backs we have to do our job."
Written by Stefan Frost