FloSports Reaches US Media Deal With Three Leading Rugby Properties
FloSports Reaches US Media Deal With Three Leading Rugby Properties
European Professional Club Rugby, TOP 14 Rugby and United Rugby Championship will be exclusively available in the United States on FloSports.
Aug 31, 2022
by FloRugby Staff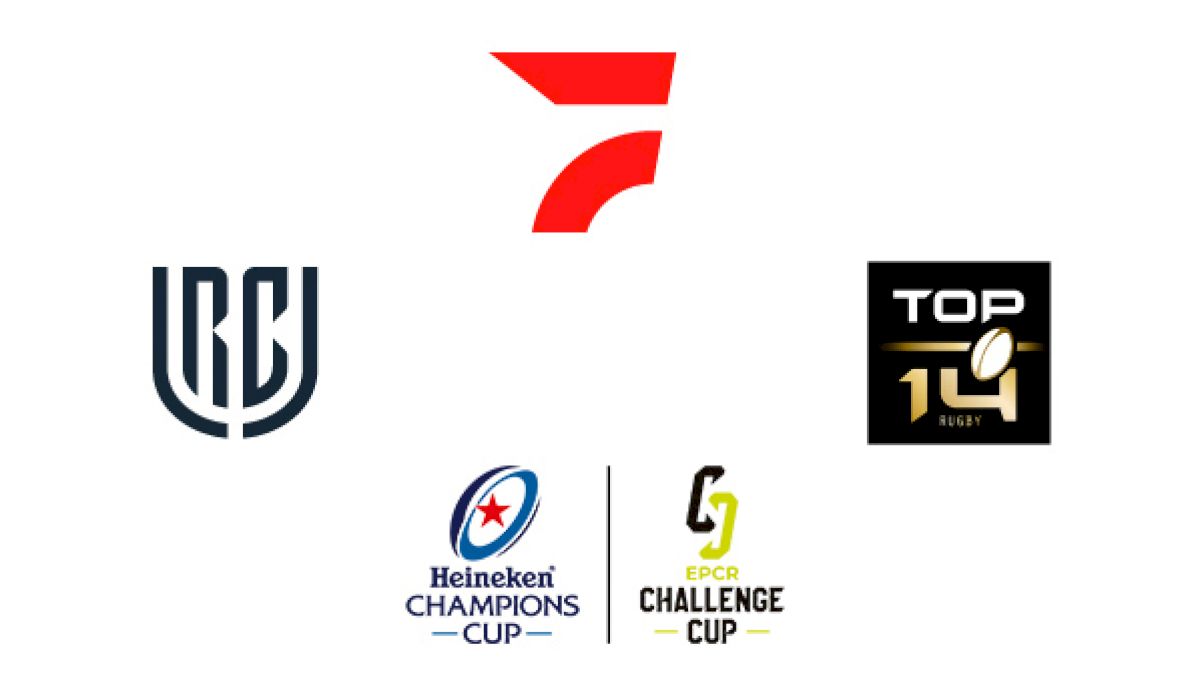 In a historic deal, three leading international rugby union properties have bundled their U.S. media rights and will distribute them exclusively in the United States through FloSports, a leading sports streaming platform. European Professional Club Rugby (EPCR), TOP 14 Rugby and United Rugby Championship (URC) have formed an unprecedented alliance to bring together the best in international club rugby competition under one robust digital platform allowing for easier access to the sport in the United States. Across all three properties, FloSports will stream nearly 450 matches representing over 600 hours of live rugby annually. The 3-year partnership begins on September 3, 2022, with the start of the TOP 14 Rugby season and will run through the 2024-2025 season.
EPCR operates two tournaments: the Heineken Champions Cup and the EPCR Challenge Cup. The Heineken Champions Cup is an annual professional rugby union club tournament featuring the best clubs from the UK, Ireland, France, Italy and South Africa. Clubs qualify via their final positions in their respective domestic leagues (the English Premiership, TOP 14 Rugby, and United Rugby Championship) or via winning the EPCR Challenge Cup. The EPCR Challenge Cup is also an annual professional rugby union club competition, the second-tier competition for clubs finishing in their respective leagues behind those in the Heineken Champions Cup. The TOP 14 is the top-level professional rugby union club competition played in France where the country's fourteen best teams compete for the national title. These TOP 14 clubs are at the apex of the league system created by the French National Rugby League (LNR). URC is an annual professional rugby union club competition involving the best sixteen professional teams from Ireland, Italy, Scotland, South Africa, and Wales. The competition includes the four best teams from Ireland, two of the best teams from both Scotland and Italy as well as the four best teams from both South Africa and Wales.
"The Heineken Champions Cup is the pinnacle of international club rugby, and we are delighted to enhance the global reach of this competition, and the EPCR Challenge Cup, through this exciting partnership with FloSports alongside two of our leagues – the URC and Top 14," said Dominic McKay, Chairman, EPCR. "The US market is a key strategic priority for EPCR as we build the audiences and awareness of our world-class competitions in new markets. With the Heineken Champions Cup, EPCR Challenge Cup, URC and Top 14 available from this season at the home of US rugby, more rugby fans than ever will be able watch the very best of international club rugby. This is our first foray into collaborating on international media rights deals with our leagues and it is great to announce this partnership with FloSports today."
"This is a major step forward in supporting the growth of rugby union in the United States. Combining the rights to the United Rugby Championship alongside the Top 14 and EPCR competitions helps position FloSports as the destination for international club rugby in the US and that audience will be of a great benefit to all of our competitions," said Martin Anayi, CEO of United Rugby Championship. "There is a major Celtic, Italian and South African diaspora in the United States and rugby's passion and excitement is a great to connect to their heritage and identity. Collaborating on an international rights deal across our three tournament bodies is also an historic move and its success will help foster more opportunities for work together and grow the game of rugby union across the world."
"We are delighted to partner with EPCR and URC to bring the best of European rugby to the American public and this collaboration calls for others. As an innovative player in the audiovisual market, FloSports is the right partner to develop rugby in a booming country that will host the Rugby World Cup in 2031," said René Bouscatel, President of the LNR.
"We are thrilled to be working alongside these three world-class rugby properties to create a historic sports alliance with a mission of supporting the overall growth of the rugby union in the US," said Ryan Fenton, Director, Global Rights Acquisition, FloSports. "The partnerships with EPCR, URC and TOP 14 fit perfectly into our vision to elevate rugby in the US through ongoing investments in media rights that delivers unparalleled live programming and creates compelling news and analysis while building an essential destination for fans of the sport."
Rugby continues to surge in popularity in the United States and the recent announcement of the 2031 Men's and 2033 Women's World Cup tournaments being hosted in major US cities is further evidence that audiences are ready to embrace this globally popular sport. Recent research conducted by Nielsen suggests that rugby is already the fastest growing sport in the US.
The addition of EPCR, URC and TOP 14 matches significantly bolster FloSports' live rugby programming throughout the calendar year and represents the ongoing investment by FloSports to enhance the visibility of the sport in the United States. Earlier this year, FloSports announced a partnership with SANZAAR (South Africa, New Zealand, Australia, and Argentina Rugby) to exclusively live stream their matches in the U.S. Coverage, which runs through 2025, includes club tournaments such as Super Rugby Pacific, Bunnings NPC and Currie Cup, as well as international competitions including the Rugby Championship and Bledisloe Cup. Additionally, test matches between SANZAAR teams and other international teams will be available on FloRugby, including highly anticipated showdowns with rugby powerhouses England, Scotland, Ireland, and Wales.
In October 2021, FloSports announced the acquisition of the exclusive streaming rights of the Autumn Nations Series domestically, with Women's Six Nations Championships and the Men's Under-20 Six Nations Championships starting in 2022 through 2024, respectively. FloSports will also exclusively broadcast Rugby Europe programming in North America through 2023 including the Men's and Women's Championship and 7's Championship as well as the Men's Super Cup. Combined, every major pro rugby union league including Gallagher Premiership, Super Rugby, TOP 14 and URC along with all USA Eagles matches can now be experienced by US rugby fans exclusively on FloSports. The company is dedicated to delivering world class rugby competition events to fans through its partnership with USA Rugby and through ongoing investments in rugby media rights both in the United States and around the world.
The addition of EPCR, TOP 14 and UCR programming to the company's FloRugby platform provides rugby fans a streamlined option to experience elite competition from the global stage right at home or on their favorite device - live or on-demand. FloSports has boosted its coverage of rugby recently through a formal content partnership with RugbyPass, the world's leading destination for rugby news and analysis. Through this partnership, RugbyPass and FloRugby's staff collaborate to provide authentic editorial and creative content that engages fans and enhances FloRugby's coverage of major leagues and matches.
To access live and on-demand rugby coverage, fans can visit FloRugby to become a monthly or annual PRO subscriber. FloRugby subscribers also receive complete access to the entire network of FloSports verticals ranging from motorsports, hockey, cycling, wrestling, football, baseball, softball, grappling and more. Watch the live events across all screens by downloading the FloSports app on iOS, Android, Apple TV, Roku, Amazon Fire and Chromecast.