2022 Canterbury vs North Harbour
Bunnings NPC Round 4 Games Of The Week: Auckland, Otago To Meet
Bunnings NPC Round 4 Games Of The Week: Auckland, Otago To Meet
The New Zealand provincial rugby season is heating up in the thick of the Southern Hemisphere's winter, and there are some great matchups on the horizon.
Aug 23, 2022
by Briar Napier
The New Zealand provincial rugby season is heating up right in the thick of the Southern Hemisphere's winter.
With the Bunnings NPC now three rounds into its 2022 campaign, it's safe to say the contenders and pretenders of the league are falling into place now that the competition officially is a third of the way through its season.
🔥 Things are heating up!
#BunningsNPC #FarahPalmerCup pic.twitter.com/ZxlB8JRydH

— Bunnings NPC (@BunningsNPC) August 21, 2022
Still, there's plenty of table and playoff positioning to play for, as nothing in the table is for certain.
And with no unbeaten team remaining in the competition, the Bunnings NPC's restructured format is providing the week-in, week-out type of competition that will make the rest of the season full of tension and elite rugby.
What is there to look out for in Round 4 of the Bunnings NPC this weekend?
Here's a peek at a selection of games to check out. The competition is being streamed live all season on FloRugby.
Canterbury Vs. Tasman
Stuck playing in brutal winter conditions in New Plymouth, Canterbury, which scored 62 and 43 points in its first two matches of the Bunnings NPC season, had its potent offense neutralized in the weather in Round 3, as defending Championship Division winner, Taranaki, came back from consecutive defeats to start the year for the upset.
Canterbury entered the round with the look of the competition's biggest buzzsaw fell in a 16-10 slog.
Bulls star Stephen Perofeta returned from All Blacks duty in The Rugby Championship to supply some strong kicking (three penalties, one conversion) as the visitors were just unable to string together some consistent offense, only scoring twice late in the final 11 minutes through George Bridge and George Bell, after Canterbury as a whole scored a blistering 15 tries in the first two rounds.
The pressure is now on Canterbury, which has plenty of talent on the roster and crossover stars from the Crusaders' Super Rugby win earlier this year to respond and get back to the forefront of the playoff conversation, though potential rain Friday in Christchurch may throw a wrench in those plans.
The recent play of Tasman, which itself is reeling off a Round 3 loss to North Harbour, gives Canterbury an opponent it'll be favored against at home, but it certainly won't be easy.
Otago Vs. Auckland
No team in the Bunnings NPC had a better week than Otago.
The Dunedin-based side was slated in Round 3 to have a mid-week contest on top of its normal weekend game, and coach Tom Donnelly's squad responded to the challenge with flying colors.
Otago took care of Hawke's Bay and Southland in successive matches to find itself atop the Odds Conference (with a game in hand over each team in the conference besides Hawke's Bay, albeit) after three rounds.
What better way to prove it belongs than by squaring off against the top team in the Evens Conference?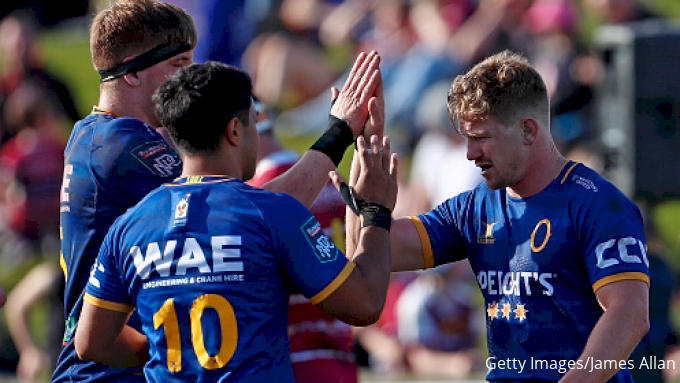 Auckland, which also holds a game in hand over much of the rest of the Evens Conference, remained at the top of its division, despite falling to Bay of Plenty in Round 3, 21-17.
It was a rare defeat at Eden Park for the Blues affiliates that was especially sour, considering the home side had led 10-0 with less than 10 minutes gone.
Depending on how the rest of the competition shakes out, this match could be a preview of what's to come in the playoffs, especially because Auckland as its loaded squad features several current and former All Blacks stars, including center Rieko Ioane and Caleb Clarke.
Otago star Josh Ioane, who scored a try against Hawke's Bay before following it with a 7-for-8 kicking effort against Southland, marked himself down as one of the competition's best players last week and will be looking to keep that trend going in a best-on-best showdown.
North Harbour Vs. Canterbury
That's right, it's Canterbury's turn to have two matches in one round, and the latter matchup arguably is the tougher one of the bunch.
North Harbour may sit third in the Evens Conference at only three matches played thus far, but the Auckland-based club still is the highest-scoring team in the competition with 125 points to its name.
A large portion of that total has been thanks to the stellar play of five-eighth Bryn Gatland, the top scorer in the Bunnings NPC at 40 points, with the Chiefs man and former New Zealand Barbarians player adding to his total with some spectacular 9-for-9 kicking (seven penalties, two conversions) in North Harbour's 35-27 win over Tasman in Round 3.
Though North Harbour will have two games itself this matchweek, as it awaits a tussle this weekend against Hawke's Bay, its matchup with Canterbury should be particularly motivating, as it aims to upset a title favorite in its own backyard.
However, downing Canterbury at the Orangetheory Stadium is no small task.
Wellington found that out the hard way after Canterbury blitzed the Lions by a 43-10 margin in Round 2. Plus, it's worth remembering that the hosts are the most successful union in the Bunnings NPC era (having won the competition nine times since 2008) and definitely have gotten through the two-match round in stride before.
If North Harbour really wants to announce itself as a force to be reckoned with, getting a positive result against an opponent like Canterbury to close out Round 4 would be a surefire way to do it.