2022 Hawke's Bay vs Counties Manukau
Bunnings NPC Round 2 Games of the Week: Waikato Hopes To Bounce Back
Bunnings NPC Round 2 Games of the Week: Waikato Hopes To Bounce Back
Round 1 of the 2022 Bunnings NPC season didn't disappoint. The clubs gave off some early indication of where they'll stand as the season goes along.
Aug 9, 2022
by Briar Napier
Round 1 of the 2022 Bunnings NPC season didn't disappoint.
New Zealand's longstanding provincial rugby competition, which switched up its format from two divisions to one for this year's campaign, had its share of thrills and upsets in the first matchweek.
The clubs involved gave off some early indication of where they'll stand as the season goes along.
Four matches were decided by a try or less this past weekend, and there's little expectation that the tension is going to be wearing off anytime soon. For now, there's much left to play for, and not much is set in stone for what's sure to be an exciting season ahead.
What's there to look out for in Round 2 of the Bunnings NPC this weekend?
Another MASSIVE week of provincial code coming at you! 👊
#BunningsNPC #FarahPalmerCup pic.twitter.com/vbjh2Sus05

— Bunnings NPC (@BunningsNPC) August 9, 2022
Here's a peek at a selection of three games to check out this weekend. All competition is being streamed live on FloRugby.
NOTE: All kickoff times are listed in Eastern Time and are subject to change.
Counties Manukau Vs. Hawke's Bay
There was much attention going into Round 1 about two of the three Auckland-based squads - Auckland and North Harbour - tussling in a local derby after having their 2021 Bunnings NPC campaigns cut short due to area COVID-19 restrictions.
However, it was the other Auckland club, Counties Manukau, that stole the show for the city on the competition's opening matchweek.
The Steelers shocked a Championship finalist from last season, Otago, for a 23-22 win, thanks to a game-winning drop goal in the 82nd minute from fly-half Riley Hohepa, capping off a thrilling comeback, in which Counties Manukau stormed back from nine points down with 15 minutes to play.
It was the club's seventh win in the Mitre 10 Cup/Bunnings NPC since 2018 and a rampant start to the campaign for coach Reon Graham's side. Now, the trick is to repeat the feat against one of the most storied clubs in New Zealand provincial rugby.
Hawke's Bay's opening match of the 2022 competition didn't go as well - a 32-all draw against defending champions Waikato - but the three-time title winners should be favored in their Round 2 matchup with a lineup featuring the likes of Brad Evans and Danny Toala, who each have been capped internationally by New Zealand and Samoa, respectively.
Magpies lock Isaia Walker-Leawere also earned some credentials with a strong performance against the Mooloos, with the 25-year-old Maori All Black scoring a try in the sixth minute and putting up a man-of-the-match outing in the tie.
Northland Vs. Waikato
Results like the draw against Hawke's Bay may come back to rue Waikato.
Down 10-0 after 10 minutes, the Mooloos fought back to take a 24-20 lead at the intermission through a trio of first-half tries, but there were some crucial moments that occurred in the final 40 minutes that Waikato likely wished that it had back.
Fullback Damian McKenzie crucially missed a conversion and two penalties throughout the course of the match, including one miskick in extra time that would've given the defending champions a late lead, that left points on the table and could have Mooloos coach Ross Filipo questioning who he wants taking his team's spot kicks moving forward.
Waikato's Round 2 opponent, Northland, likely will be a bit easier to handle on paper, but the Hamiltonians must be careful.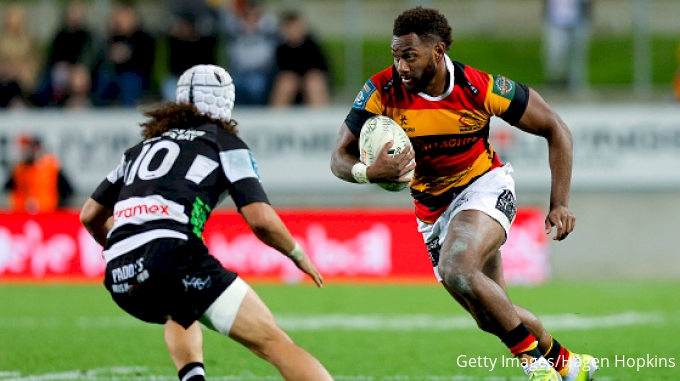 Despite recording just one win a year ago, the Taniwha upset the reigning Championship title holders, Taranaki, in each teams' season opener as part of a tightly-contested defensive affair that ended 13-11.
Fijian winger Jone Macilai-Tori was the hero in New Plymouth with a 75th-minute go-ahead try, and Northland surely will be surging with confidence heading into the second matchweek.
For Waikato, Round 2 will be more about trying to bounce back from the first week's disappointing result and continue its push toward back-to-back Bunnings NPC titles.
Alarm bells aren't (and shouldn't) be ringing for the Mooloos quite yet, but if Northland keeps up with the pace late into Saturday contest, then maybe they should be.
Canterbury Vs. Wellington
Yes, there only has been one week of play thus far this season, but when the top teams in each conference square off, it's always sure to be an entertaining affair.
Evens Conference leader, Canterbury, was awesome and unquestionably the team of the round in the first matchweek, with there seeming to be little evidence that the nine-time champions were missing a selection of players that were on All Blacks duty in The Rugby Championship.
Three players (Fergus Burke, Brodie McAlister and George Bridge) scored two tries, as Canterbury crossed over a total of nine times on the day in its Round 1 stomping of Manawatu, storming out to a 29-3 lead and never looking back as the Christchurch club - which features many names that played for the Super Rugby-winning Crusaders - rolled to victory.
Canterbury should be a serious title challenger as the season goes along, but a better way to tell how it stands will be from playing some of the other clubs expected to be at or near the top of the competition, such as Wellington.
The Lions' 37-35 squeaker of a win over Bay of Plenty in Round 1 wasn't perfect, but thanks to two tries each from Julian Savea and Riley Higgins, Wellington was able to just narrowly skate past the Steamers and nab the top spot in the Odds Conference for now.
Getting another win against Canterbury, which had a look closer to a Super Rugby side than a provincial one this past weekend, would make for a seismic shift in the Bunnings NPC hierarchy. The hard part is actually pulling it off.