2022 Argentina vs Australia
10 Players To Watch In The Rugby Championship
10 Players To Watch In The Rugby Championship
Every team in The Rugby Championship wants to win it, but the personnel required makes it a tall task. The action is about to get underway.
Aug 3, 2022
by Briar Napier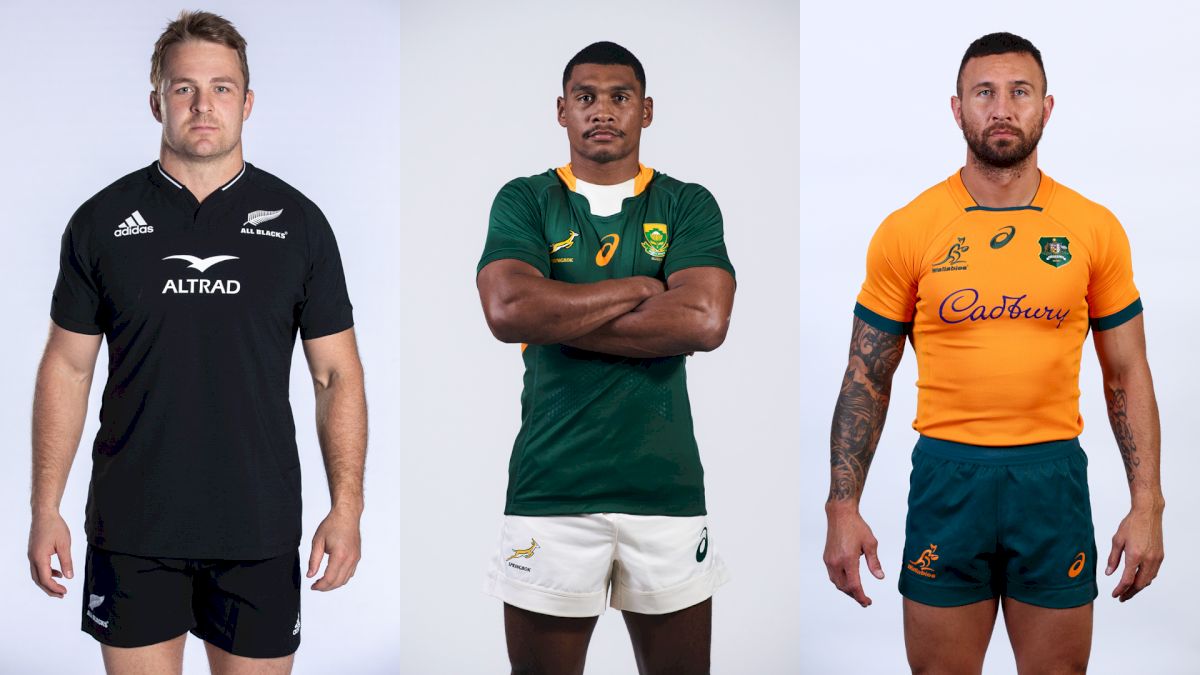 Every team in The Rugby Championship wants to win it, but the personnel required makes it a tall task.
Some of the finest rugby players on the planet will take each other on as part of the two-month, four-team competition between - South Africa, New Zealand, Australia and Argentina - in what should be a key point of preparation for the looming Rugby World Cup next fall.
There are 10 players in particular within this year's field who could make a major difference.
Whether it's because they have pressure mounting, a point to prove or they're just really, really good, these are the names to watch in The Rugby Championship as it streams live on FloRugby:
Sam Cane, Flanker (New Zealand)
Much of the flack for New Zealand's recent poor performances has been directed toward coach Ian Foster, but in terms of player representatives, blame usually falls onto the captain by default.
There have been many calls over the past couple of weeks for Cane, who succeeded the legendary Kieran Read as the man to wear the armband for the All Blacks following his retirement after the 2019 Rugby World Cup, to be stripped of the captaincy following New Zealand's historic home test series defeat to Ireland last month - the All Blacks' first back-to-back losses on home soil since 1998.
Nonetheless, Foster has decided to keep Cane on as captain for the first two rounds of The Rugby Championship, giving the World Cup-winning Chiefs man an additional opportunity to prove himself and respond to adversity.
Considering that the All Blacks have a brutal start to the tournament by playing the first of the "mini tours" in South Africa, New Zealand (and Cane specifically) must be ready and show more of the elite rugby nation it is known to be. Otherwise, heads may start rolling.
Damian Willemse, Fullback (South Africa)
One of the standouts of the Springboks' series win over Wales last month, the 24-year-old Stormers star burst onto the scene by kicking through the go-ahead penalty to win the first test in Pretoria, before proving to be an unmissable component of South Africa's strategy throughout the remaining two matches.
Things in his position could be a bit complicated with the return of two-time World Cup winner Francois Steyn from injury, but Willemse's play has been so solid as of late, that it still makes it a tough choice for coach Jacques Nienaber to make in his first XV of The Rugby Championship this weekend.
There are upsides and downsides to both picks.
On one hand, Steyn is a proven winner with 74 caps to his name, but he also may not be 100% healthy. And, at the age of 35, he could be subjected to harder time recovering.
With Willemse, he's in red-hot form and could be in Nienaber's plans for being a critical component of next year's World Cup squad, leaving there to be an incentive for Willemse to get experience in as many big moments as he can. There aren't many opportunities bigger than a South Africa-New Zealand rivalry match.
Quade Cooper, Fly-Half (Australia)
The oldest player in the Wallabies squad, Cooper likely felt all of 34 years old after he picked up a calf injury in warmups of the first of three tests against England last month, eventually missing the entire series because of it.
Cooper also has seen a lot of things across his 75 caps in an Australia jersey, and in what could be an emotionally charged match this weekend, that could prove to be particularly beneficial.
Australia kicks off this year's Rugby Championship campaign against Argentina and its former head coach, Michael Cheika, who was hired earlier this year to lead Los Pumas, and he took the team to a thrilling win in a recent test series against Scotland.
Cooper and Chieka have some noted beef between them, with one flashpoint being Cheika's decision not to select Cooper for the plane ride to Japan for the 2019 World Cup - which proved to be Cheika's last foray as the Wallabies' head coach.
Expected to be inserted right back into the fly-half role post-injury by current Australia boss Dave Rennie, Cooper has a chance to stick it to his former coach on a grand stage. Get your popcorn ready.
Emiliano Boffelli, Fullback (Argentina)
There were a lot of unknowns headed into Cheika's debut test series with Los Pumas, but if Boffelli keeps playing at the level he did against Scotland, then things might be OK.
The Edinburgh man was excellent all series, but his most notable play undoubtedly was his winning try in the third test that secured Argentina its first win in a home test series since 2007 that stuck it to a national team featuring many of his club teammates.
Los Pumas have consistently been basement-dwellers in The Rugby Championship, since joining the field in 2012, only avoiding the Wooden Spoon once in nine tournaments.
However, with the added confidence of coming off a series win, and Cheika's aforementioned history with his former coaching stop, perhaps Argentina could shock a few teams in this go-round. If it does, it's possible Boffelli will have something to do with it.
Fletcher Newell, Prop (New Zealand)
When you're a national team with as deep of a talent pool as New Zealand has, just making it to an All Blacks camp is a rarity, while sticking around is a privilege only given to a select few elites.
For Newell, his selection very well could show whether he'll sink or swim for future call-ups.
The Crusaders and Canterbury big man is uncapped and one of just two players born in the 2000s selected to Foster's squad for its South Africa trip, but Newell found himself on the roster in the first place as a replacement for Ofa Tu'ungafasi, who picked up a neck injury in the test series defeat to Ireland.
There are no guarantees that Newell will even see the pitch this time around, but considering the All Blacks are on a downward slide of form and are banged up with injuries anyway - fellow prop Nepo Laulala is on the injured list in Newell's position, too - New Zealand could go through a lot of rotation over the next two games, potentially granting Newell his moment to shine in the South African sun.
Eben Etzebeth, Lock (South Africa)
South Africa's new youngest centurion (he set the mark in the final match of the test series win against Wales last month), the 6-foot-8, 269-pound behemoth literally lives large, but even into his 30s is putting up some of the best performances of his career.
His brute strength and carrying acumen resulted in a man-of-the-match performance in the series-clinching win over Wales, and as Etzebeth prepares for what almost certainly should be his third Rugby World Cup selection next year, he has added pressure in being one of the leaders behind defending the Springboks' World Cup title.
Before he can etch himself as one of the legends in the decorated history of South African rugby, there's another trophy to win - The Rugby Championship - in a tournament in which the Springboks have the same number of first-place trophies (one) as Wooden Spoons in the past decade.
South Africa wants to exercise some demons this year, and Etzebeth will be a colossal figure (literally and figuratively) in its push to do so.
Santiago Cordero, Wing (Argentina)
Perhaps the most impressive thing about Cheika's test debut for Los Pumas was that he managed to pull off the win against Scotland with a severely depleted squad that was chock-full of injuries.
Captain Julian Montoya was ruled out of the third test with a back injury, for instance, while two of Argentina's most-capped active players (Tomas Cubelli and Nicolas Sanchez) each missed significant portions of time with ailments of their own. Nevertheless, Los Pumas persisted and picked up a long-awaited series success.
But, another name that'll return from injury for the two upcoming tests against Australia is Cordero, perhaps known best for lighting up the 2015 Rugby World Cup with electric, highlight-reel tries against the likes of Georgia and Tonga as an integral part of Los Pumas' run to the semifinals and eventually fourth place.
Currently playing club rugby with Bordeaux in France's Top 14 league, it'll be Cordero's first experience in the squad with Cheika leading the charge as national team coach, giving Cordero an opportunity to show off what he can do in front of his new boss.
Ardie Savea, No. 8 (New Zealand)
Savea was one of the few All Blacks whose reputation was left mostly unscathed from the now-infamous series defeat to Ireland, and for good reason.
His two tries in the first test (New Zealand's only win) were impressive enough, but when Ireland played a near-perfect first half in the deciding test to take a stunning 22-3 lead at the intermission, Savea attempted to stage a furious All Blacks rally seemingly by himself at some points, barging over for a try at 43 minutes before being part of the setup for Will Jordan's try that cut the deficit to as little as three points prior to Ireland eventually pulling away.
Considering that Foster was widely criticized after subbing out Savea in the first half of the second test - which New Zealand eventually lost 23-12 for its first loss on home soil to Ireland - Savea's value as a vital part of anything the All Blacks do, in addition to being one of the finest players at his position on the planet, now is abundantly clear.
It will be the same against South Africa over the next two weekends. Whether Savea gets some help around him is another issue all together.
Jock Campbell, Fullback (Australia)
Though the Australia senior team would've likely preferred to have not been beaten by England on home soil this past month, at least the second team had something to cheer about.
Australia A finished second on 12 points for its joint-highest finish ever at the Pacific Nations Cup last month in Fiji, proving themselves against the senior teams of several island powerhouses including the host, Tonga and Samoa.
👊 #TRC2022. Let's get it!#Wallabies @eToroAU #ARGvAUS pic.twitter.com/YzWeQ50gQ5

— Wallabies (@wallabies) July 31, 2022
Rennie rewarded their efforts by calling up a quartet of players that starred in the South Pacific, a group that includes Campbell, an uncapped 27-year-old who plays his club rugby for Super Rugby side Queensland Reds.
He could be the kick in the side the Wallabies need - especially considering that they've lost five of their past six matches - in a thin position, as the only other natural fullback on the roster is Melbourne Rebels man Reece Hodge.
The added motivation in the fact that Cheika never selected Campbell when the now-Argentina coach was Australia's boss could play a role, as well.
Duane Vermeulen, Loose Forward (South Africa)
Considering Vermeulen already is a made man with South African rugby fans, following a man-of-the-match performance in a World Cup final the Springboks won, yes, it's safe to say they'll be welcoming the 36-year-old back from injury at The Rugby Championship.
Having recovered from knee surgery following the United Rugby Championship campaign with Ulster in Ireland, Vermeulen likely is part of a select group of Boks preparing for what could be their final World Cup next year, and he'll want to make the most of whatever time is left in the national side.
Even better for Vermeulen is that the opening test against the All Blacks this weekend will be a bit of a homecoming, with the Mbombela-born player getting to play in front of a home crowd at the Mbombela Stadium, and in one of the world's finest international rugby rivalries, no less.
South Africa lost its previous No. 1 world ranking following a test defeat to Wales that resulted in the Boks being unseated by both Ireland and France in the meantime. Two wins against the All Blacks in The Rugby Championship wouldn't be a bad way to get back into the swing of things.