D1A Rugby
Could Golden Bears' Sam Golla Be MLR's Top Pick?
Could Golden Bears' Sam Golla Be MLR's Top Pick?
Golla captained the Golden Bears through an undefeated regular season in 2022, and finished the year as one of three finalists for the Rudy Scholz Award.
Jul 22, 2022
by Andrew Newman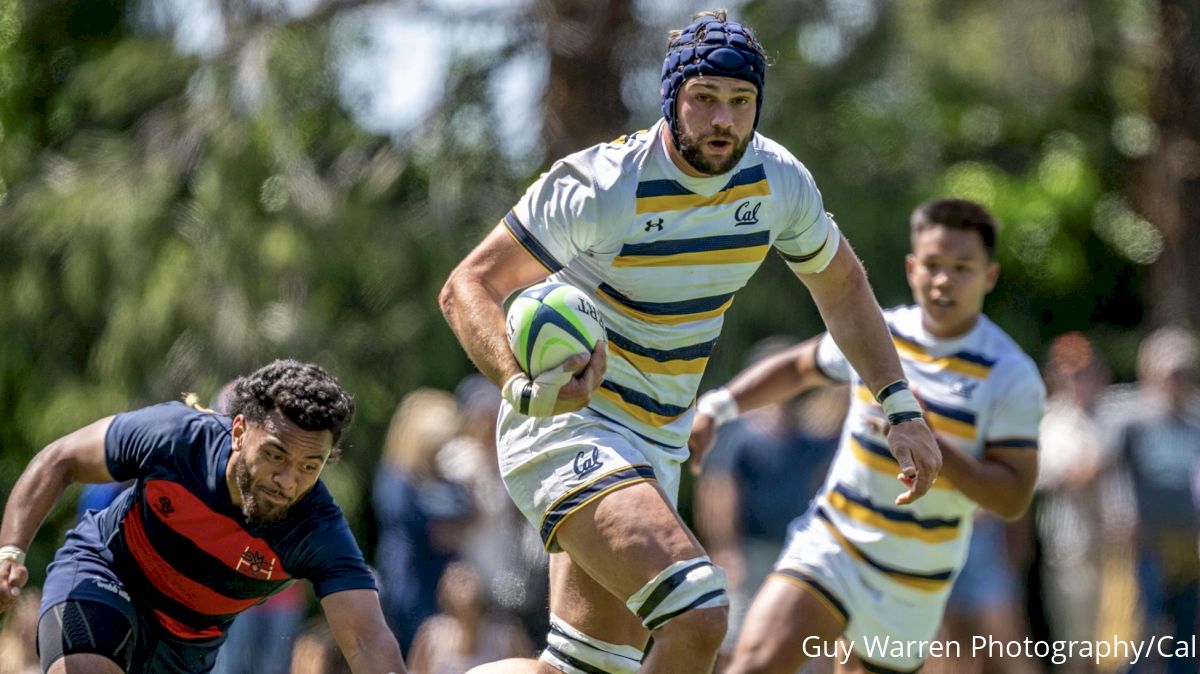 With the 2022 Major League Rugby Draft just weeks away, there are a few highly anticipated top prospects ready to enter North America's professional rugby competition. One name that all MLR fans should grow accustomed to is Sam Golla, the lock/flanker out of the University of California.
Golla (6'4", 245 lbs.) was a standout at Cal, and possesses both the traits and the pedigree to transition to a standout MLR player with USA-international potential.
Not a bad ceiling. While he lacks the prototypical size for professional and international locks, his experience in the back row over the past five years should lend itself to an easy transition to the pros.
Before arriving in Berkeley, Golla was a three-year starter at Denver East High School, winning a state championship as a sophomore. After captaining the team as a senior, he committed to the Golden Bears as a part of their loaded fall 2017 recruiting class.
As a true freshman in the spring 2018 season, Golla fought for playing time in a stacked Cal forward pack that featured All-Americans in Nic Mirhashem and Thomas Robles.
Despite the bevy of talent around him, Golla made starts against Stanford, the University of British Columbia, and UCLA while appearing off the bench in wins over Dartmouth and Utah.
He worked his way into the Bears' top-23 as a sophomore in 2019, starting seven games in his 12 appearances. He was the No. 8 in Cal's national semifinal victory over Saint Mary's before moving into the second row for the national championship game the following week, a three-point loss to Life University.
As a junior in 2020, he found a home in the back row, starting five games at blindside flanker and one at openside before the season was canceled. Even with a truncated season, Golla earned a first team All-Pac-12 selection and was named one of the Pac-12 Co-Players of the Year.
BIG BEAR 🐻 at the park 🍯 @CalVarsityRugby Sam Golla is not an easy guy to bring down 👌👌- We see you Elliot Webb 🦢 #7sLife pic.twitter.com/o5vSB4CATQ

— RUGBY 7s MAGAZINE (@Rugby7sMagazine) March 24, 2020
Golla and the California Bears only played three games in the spring of 2021. The then-senior shifted back to the second row, and started in wins over BYU and Arizona with a loss to Saint Mary's.
The Denver-native returned for his final year of eligibility as a super senior in 2022. After two irregular seasons, Golla returned and was one of the best collegiate rugby players in the country this past spring.
He captained the Golden Bears through an undefeated regular season before falling just short against Saint Mary's in collegiate rugby's Western Conference Finals. He finished the year as one of three finalists for the Rudy Scholz Award, given annually to the best college player in the nation. It's the Heisman of college rugby.
Golla could very well be the first overall pick in the upcoming MLR Draft. Products of the Cal rugby system have a certain je ne sais quoi, a pedigree that sets them apart from other programs.
Take a look at nearly every roster in the league and you'll find some Golden Bears. Christian Dyer and Jack Iscaro are just two of the more recent graduates to follow that route. Dyer recently scored in back-to-back games for the Eagles while Iscaro earned an Honorable Mention for All-MLR team.
The Golden Bears treat their program with the same amount of professionalism as many MLR franchises. Additionally, they have a track record of producing elite MLR players that oftentimes end up matriculating in the national team setup.
All that's to say, don't be shocked if Golla is the latest Cal product to make a name for himself in Major League Rugby. The young player has the prestige and traits to make a splash in the ever-growing North American rugby scene.