SANZAAR
Bunnings NPC Season Preview: New Twist Adds Surprises For Provincial Rugby
Bunnings NPC Season Preview: New Twist Adds Surprises For Provincial Rugby
Bunnings NPC is preparing for a triumphant return to normalcy, when supporters will be welcomed back to see elite New Zealand club rugby in early August.
Jul 21, 2022
by Briar Napier
When the Super Rugby season finishes, New Zealand's original club rugby competition finally gets under way.
And there's always plenty to offer within it, too.
There's a high level of competition in Bunnings NPC—New Zealand's second-highest level of professional rugby behind Super Rugby—with teams claiming some of the world's finest players, while the league also acts as a proving ground for international team selection. For most players, that's the All Blacks.
However, there's also a slight adjustment to the Bunnings NPC schedule for this upcoming season, and with fans being welcomed back in droves to support their teams, the campaign ahead is sure to be as high-energy as it's ever been.
Looking to check out the 2022 Bunnings NPC and don't know where to start? Here's a guide to have you covered with matches streamed all season on FloRugby starting Aug. 5.
New Format & Return To Form
This year's Bunnings NPC format is a bit different from past campaigns. For the first time in 12 years, all 14 provincial unions in the league will be playing for one Bunnings NPC title rather than playing in two separate competitions.
Instead of prior years' Premiership and Championship divisions in which teams could be relegated and promoted between them, two conferences (Odds and Evens) have been formed in which team placement is based on the previous season's finish.
For instance, 2021 first-place side Waikato will be playing in the Odds Conference, runner-up Tasman will face off against the likes of the Evens Conference and so on and so forth for all of the squads. Each team will play a total of 10 round-robin games—six against those in the same conference along with four crossover matches—over nine weeks, with the top four from each conference during the regular season making the playoffs.
Got all that?
The fresh feel will make for a triumphant return to semi-normalcy for the Bunnings NPC. The competition's schedule was heavily impacted over the past two seasons due to COVID-19 while fan attendance restrictions were in place all the while.
Currently, there are no limits placed by New Zealand's government on outdoor gathering sizes, meaning it's a long-awaited time for provincial rugby to go full speed ahead once again.
Waikato Pushes For Repeat
When the National Provincial Championship launched in its current form (with a two-division setup) in 2006, the first team that found itself on top was a loaded Waikato side that featured the likes of All Blacks Mils Muliaina, Sitiveni Sivivatu and Byron Kelleher, among others.
Fifteen years later, the Mooloos finally got their second title. The Premiership Division runners-up had to beat 14-time provincial champion Canterbury in the semifinal followed by Tasman in the final to clinch a historic victory.
The championship came in coach Ross Filipo's first season in charge, with the former All Black having successfully transitioned from player to coach in his first full season on a professional touchline.
Affiliated with the Chiefs in Super Rugby—the two sides even share the same ground, FMG Stadium Waikato in Hamilton—Waikato's squad for the upcoming season is full of internationally-capped players, including several that have made appearances for the All Blacks on giant stages.
Center Anton Leinert-Brown is entering the prime of his career at age 27 after already having made over 50 appearances for his country, having made New Zealand's squad for the Rugby World Cup three years ago in Japan. After suffering a shoulder injury at the beginning of this past Super Rugby season with the Chiefs, Leinert-Brown will have some extra motivation to return to form for his provincial team.
Wing Liam Coombes-Fabling, who tied for second among all Bunnings NPC players with seven tries last season, will also look to make an impact again after a stellar 2021 campaign.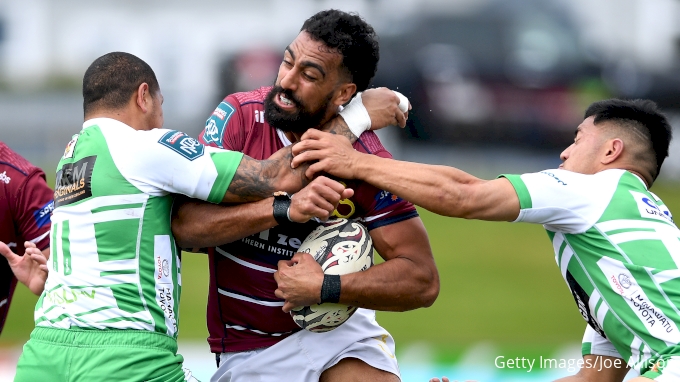 New Stars Rise
The Bunnings NPC is often a place where breakout stars come alive, and the competition on offer for this coming season doesn't indicate any changes to that trend.
Two-time World Rugby Player of the Year Beauden Barrett first came onto the scene as a spry 19-year-old for Taranaki in 2010, while fullback Will Jordan was a revelation for Tasman in 2017 with five tries scored at the same age.
Which players will follow in the now-All Blacks' footsteps this season remains to be seen, but there are certainly a few different names to watch out for.
Wellington center Riley Higgins, who'll turn 20 in September, is worth keeping an eye on after making multiple appearances for New Zealand's under-20 team and debuting in Super Rugby play this past season with the Hurricanes.
Though Taranaki lock Josh Lord has already had two senior-level caps with the All Blacks, the 6-foot-8, 234-pound tower of power will surely be closely monitored as he goes into his fourth year with the Bulls.
The next Ardie Savea, Sam Whitelock or Rieko Ioane is out there somewhere in the Bunnings NPC, but the fun part is finding out who that is and simultaneously watching them shine in front of home crowds before entertaining the world at an international tournament one day