2022 Chile vs USA
USA Vs. Chile Recap: Chile's Upset Complicates Eagles' WC Path
USA Vs. Chile Recap: Chile's Upset Complicates Eagles' WC Path
Despite playing at home and needing just a win or a draw to qualify for next fall's World Cup in France, the U.S. lost to Chile in a major upset Saturday.
Jul 18, 2022
by Briar Napier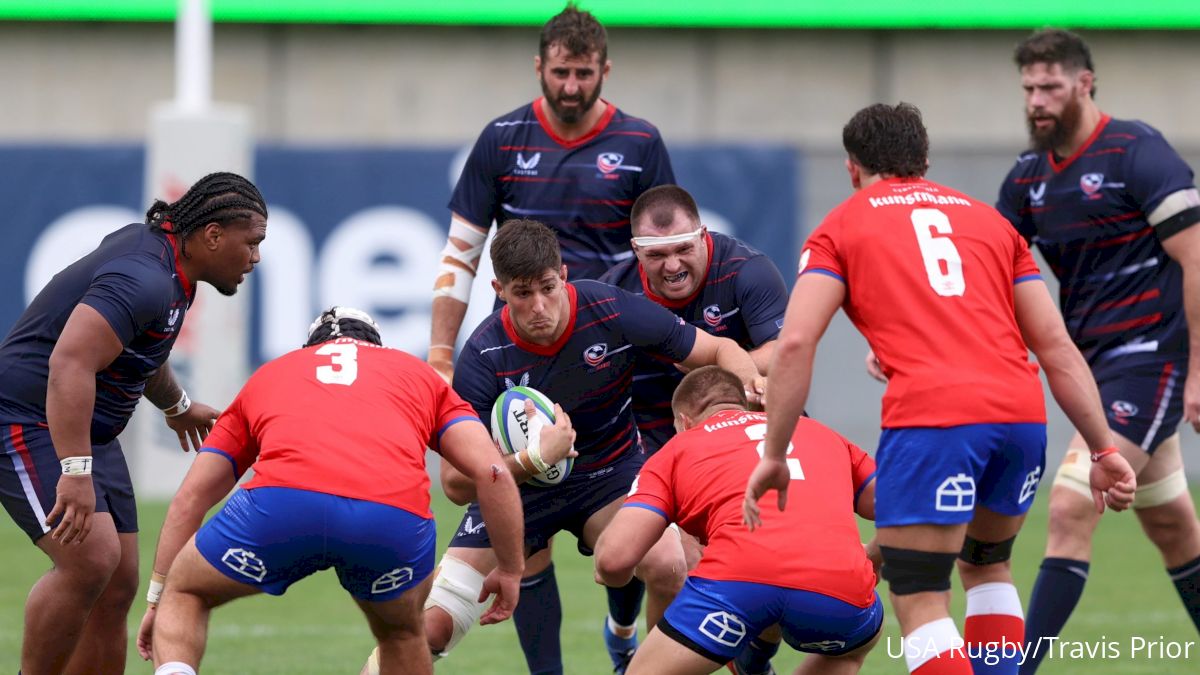 Sitting 80 minutes from another Rugby World Cup, the United States men's national rugby team hoped to celebrate its achievement with home supporters this past weekend.
Chile had other ideas.
Despite playing on American soil and needing just a win or a draw to qualify for next fall's World Cup in France, the U.S. lost to Chile in a major upset Saturday that gave the visitors their first-ever World Cup berth and first win overall against the Americans since 2002 in the most brutal of ways.
Now, the Eagles' status for their ninth World Cup appearance has gone from being near-certain to suddenly precarious, with the team needing to win a qualifying tournament over three other nations—some of which may provide bigger challenges than Chile—later this year to book their flights to France.
It's not the spot the U.S. wanted to find itself in, but it's now a hole that it needs to find its way out of. Fast.
Here's a rundown of the loss to Chile, along with what's to come as the Eagles continue to push toward World Cup qualification.
The Disaster In Suburban Denver
The goal was simple and the conditions were ideal: all the U.S. had to do to make it back to the Rugby World Cup was not lose against Chile in front of a home crowd.
Seems simple enough, right? And when the Eagles got ahead 19-0 within the opening half-hour at Infinity Park in Glendale, Colorado—putting themselves up 20 points on Chile on aggregate—it looked as if it would be smooth sailing for the U.S. the rest of the way.
But 14 unanswered points in the final 10 minutes of the first half gave Los Condores some life, while Chile's second-half run from being down 29-21 with under 20 minutes to play proved to be the one that sent it to its first-ever World Cup.
Final from Glendale. pic.twitter.com/yJV2OQ50Hh

— USA Rugby (@USARugby) July 16, 2022
Prop Matias Dittus got over the line in the 63rd minute while Santiago Videla's kicking that followed (via a subsequent conversion and a 75th-minute penalty) gave the Chileans the 31-29 lead they would hold until the final siren sounded—a two-point margin that gave them a one-point win on aggregate.
Chile next year will now be the first Rugby World Cup debutant since Russia in 2011, capping off a magical run in the qualifying stages in which coach Pablo Lemoine's side eliminated World Cup stalwart Canada and sent the U.S. to the Final Qualification Tournament in successive rounds with its back to the wall.
Though it was a dream day for the Chileans, it was a nightmare for the Americans, who now can't ease up, as their status for the top stage in international rugby still hangs in the balance.
Back To The Drawing Board
Now in clear danger of missing their first Rugby World Cup since 1995, coach Gary Gold must rejuvenate the Eagles in time for the Final Qualification Tournament later on this year—a bracket which, on paper, sees the U.S. as far from favorite.
A failure to make next year's tournament would be a disaster for the development of the sport in America, especially considering the growing popularity of Major League Rugby and the country being awarded the right to host both the men's and women's World Cups in 2031 and 2033, respectively.
Though the U.S. often looked like the stronger team in both legs against Chile, there were short periods of both matches in which the Eagles seemed to fall apart, with that inconsistency proving to be one of the defining factors as to why the U.S. didn't clinch a World Cup slot this past weekend.
A last-minute Chilean try in Santiago, for instance, prevented the Eagles from holding a more commanding eight-point lead for their home leg versus the one-point cushion they actually had, while Santiago Videla's kicking throughout the two legs (9 for 10) compared to the kicking of America's A.J. MacGinty (7 for 10) additionally helped in giving Los Condores the slight edge on aggregate.
Grítalo si eres chileno!!! pic.twitter.com/AW8u4HN5nH

— ☆ CHILE RUGBY (@chilerugby) July 16, 2022
A full 80 minutes must be the expectation, not the hope, for the U.S. if it hopes to nail down a place in France—without it, the Eagles could very well be watching the next World Cup from home.
Final Qualification Tournament
If there's a silver lining from the shock loss to Chile, it's that the absolute worst-case scenario happened for the U.S. and it still has a chance to qualify for the next Rugby World Cup.
However, the path ahead now is far from easy. The Eagles will be the Americas representative at November's Final Qualification Tournament, a neutral-site, round-robin event in Dubai in which the team at the top of the table after all games completed secures a spot in Pool C with Wales, Australia, Fiji and Georgia.
First introduced for the 2019 World Cup, the Final Qualification Tournament (which was won then by Samoa) will determine the last remaining place up for grabs for next year in France with all other teams going home empty-handed. Schedules, times and dates are to be announced following the completion of the Asia/Pacific Play-off later this month between Tonga and Hong Kong.
With that in mind, here's a quick peek at the opponents (both confirmed and possible) the Americans will be up against in the United Arab Emirates this autumn.
Portugal (Europe 3)
World ranking (as of 7/11): 19th
Rugby World Cup appearance: 2007
The lowdown: Portugal became one of the darlings of the rugby world in 2007 when the then-amateur Lobos punched a spot to the Rugby World Cup in France, scoring in all four games against monstrous competition and even flirting with an upset victory over Romania in the process.
Sixteen years later, will history repeat itself? Based on the current form of coach Patrice Lagisquet's squad, there's a good chance it might. Portugal hosted a Tier 1 nation (Italy) for the first time since 1996 last month and were leading with under 10 minutes remaining before a late Italian comeback, then this past weekend looked strong at times on the road in a 23-14 defeat to six-time World Cup qualifiers Georgia.
When you beat Canada for the first time in your history!

What a day for Portugal 👏🙌 pic.twitter.com/Zn82WkE4wh

— World Rugby (@WorldRugby) November 7, 2021
That exposure to tough competition a few months before its final chance at qualifying for next fall's World Cup could be a decision that pays dividends for Portugal, and Os Lobos' performances in the process make them a team that no nation in the Final Qualification Tournament wants to play right now.
Additionally, 24 players named to Lagisquet's most recent squad play club rugby at Lisbon-based side Lusitanos, which recently finished runner-up in the inaugural Rugby Europe Super Cup competition—a pan-European tournament featuring clubs from non-Six Nations countries.
As a rugby nation that only looks to be improving rapidly, Portugal is the team to beat in the Final Qualification Tournament, even with the likes of the United States and possibly Tonga playing alongside it.
Hong Kong/Tonga (Asia/Pacific Play-Off Runner-Up)
World rankings (as of 7/11): 18th (Tonga), 21st (Hong Kong)
Rugby World Cup appearances:
Tonga: 1987, 1995, 1999, 2003, 2007, 2011, 2015, 2019
Hong Kong: Never
The lowdown: Tonga and Hong Kong will play for a spot in the next Rugby World Cup on Saturday at the Sunshine Coast Stadium in neutral-site Australia, with the loser being demoted to having to play in the Final Qualification Tournament for a place next fall in France.
Tonga should be heavy favorites to advance to its ninth World Cup, but as the Chile-United States playoff proved, just about anything is possible in Rugby World Cup qualifying. If Tonga is upset by Hong Kong later this month, however, the Sea Eagles would likely become immediate favorites to win the Final Qualification Tournament.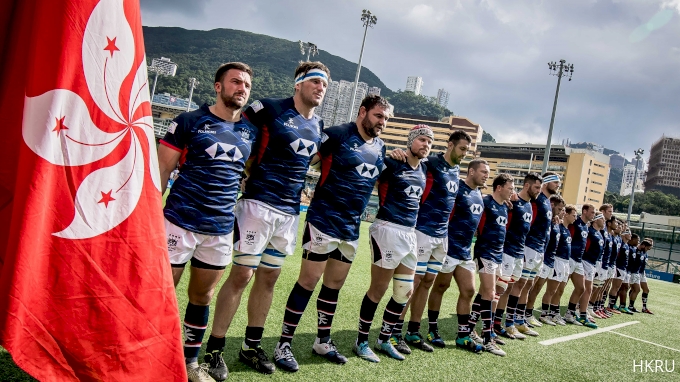 They have a roster full of players in top leagues and with prior World Cup experience, such as prop Ben Tameifuna (who stands at a giant 322 pounds) and captain and scrum-half Sonatane Takulua.
But, don't sleep on Hong Kong, the Dragons heavily improved their standing on the world stage over the past decade with an emerging domestic scene and three straight Asia Rugby Championship wins, taking Japan's place as the top team on the continent.
South Africa-born fly-half Matthew Rosslee was Hong Kong's top scorer during two of those Asia Rugby Championship victories and is still a force for the Dragons at 35 years old—though a trip to the Rugby World Cup would undoubtedly be a crowning career achievement for the former Griquas and Western Province player.
Kenya (2021 Rugby Africa Cup Runner-Up)
World ranking (as of 7/11): 33rd
Rugby World Cup appearances: Never
The lowdown: Likely the biggest underdog in the Final Qualification Tournament, Kenya has nonetheless had a impressive amount of success on its continent, winning two Rugby Africa Cups in 2011 and 2013 and making it to the repechage round in qualification for the 2019 Rugby World Cup.
However, no African nation (besides South Africa and Namibia) has qualified for the World Cup since Ivory Coast in 1995, and it doesn't appear on paper that the streak is going to be broken any time soon.
Still, the Simbas have plenty of professional pedigree, with many national team players taking part in the squad of the same name that plays in South Africa's Currie Cup First Division.
Kenyan rugby is most well-known for its status as a core team in sevens, with several stars from that team making the crossover to 15s for the Africa Cup including Collins Injera (one of the all-time try leaders on the World Rugby Sevens Series) and team captain Jacob Ojee.
But Kenya has an uphill battle ahead in the Final Qualification Tournament, especially considering that Namibia—who currently holds a similar world ranking to the rest of the bracket of 23rd—beat the Simbas 36-0 in this year's Africa Cup final with a spot in the World Cup on the line.