2022 USA vs Chile
Eagles Roster Named For World Cup Qualifier Against Chile
Eagles Roster Named For World Cup Qualifier Against Chile
Facing off with Chile for the first time since the 2019 Americas Rugby Championship, the Eagles made a few roster changes as they prepare in South America.
Jul 7, 2022
by FloRugby Staff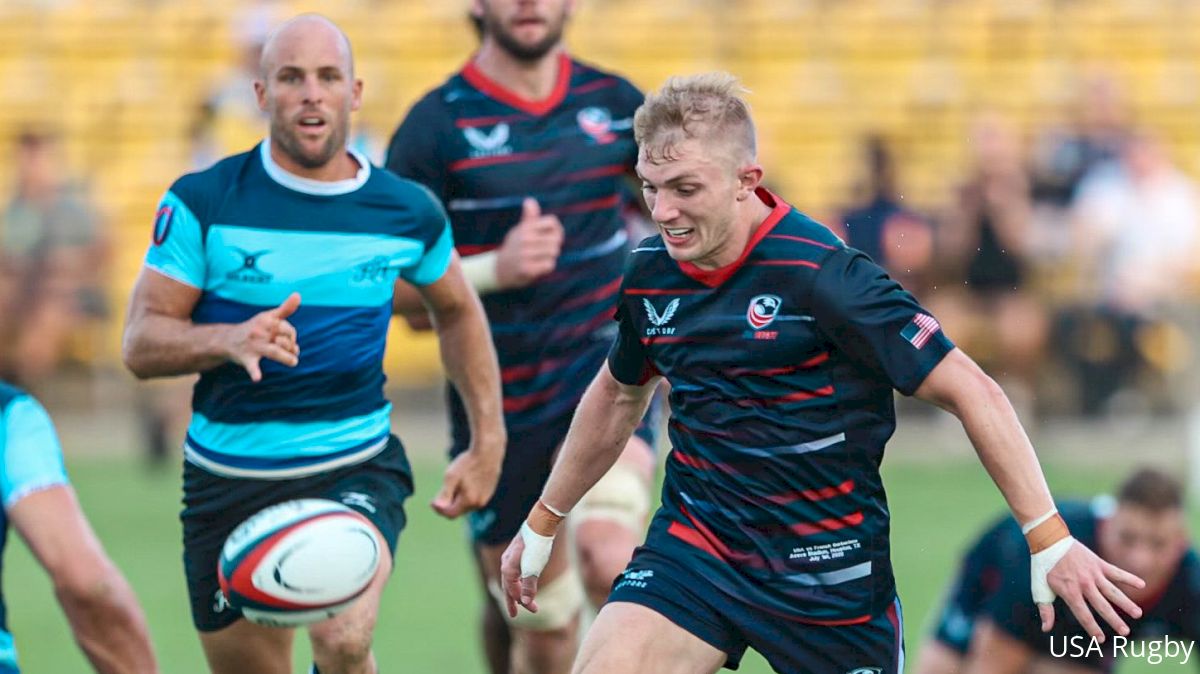 Coming off a nail-biting win against the French Barbarians in Houston, the USA Men's Eagles are warmed up and eager to begin their second venture for Rugby World Cup 2023 qualification against Chile; this Saturday, July 9 at 6:00PM EDT in Santiago.
Facing off with Los Condores for the first time since the 2019 Americas Rugby Championship, the United States made a few roster changes as they prepare in South America. Saturday's match is the first of a two-match, home and away series where win total or points aggregate will determine who officially qualifies for next fall's Rugby World Cup in France. The second fixture on home soil will be at Infinity Park in Glendale, CO - a match that has since sold out and awaits its home team. Both matches will be streamed live on FloRugby.
Match Preview
While the USA have won five of their six previous meetings with Chile, the last four by an average of more than 50 points, this much improved South American side cannot be discounted. Los Condores have shown some notable improvement over the last two years, competing with Scotland A, Russia and fine tuning young talent through the Americas Pacific Challenge and Superliga Americana de Rugby club play. In test match rugby, Chile most recently defeated Canada in the fall Rugby World Cup 2023 qualifiers, bumping the Canadians from qualification. Most notably however, Chile will be vying for the nation's first invite to the Rugby World Cup, a motivating factor the USA are prepared to counter.
The Eagles played well defensively in Houston, containing the high-flying potential of the French Barbarians, and will look to parlay that pressure in Santiago as Chile play in front of home field energy. Martin Iosefo, Joe Taufete'e and Ben Bonasso step into the starting fifteen from last week's roster, with Hanco Germishuys moving from left to right flanker. Nick Civtta and Greg Peterson will similarly swap lock positions as Tavite Tamileau joins the match day 23. Utah Warriors Prop, Angus MacLellan also joins the traveling roster in Santiago, following an exit from injured Paul Lasike. MacLellan has five caps and last played with the Eagles in 2018. Lastly, Jason Damm earns his spot as a reserve, and the chance to make his USA debut.
Head Coach Gary Gold noted on the away qualifier:
"I am incredibly proud of the performance we put out in Houston. It was a short assembly period with the full squad, so I'm pleased with our early defensive effort and expect to see the same this Saturday. We allowed the French Barbarian's back in the game as time went on last week - with a few corrections needed at our set piece - but I'm confident we can play our game as we need to on the road.
South America is always a challenging arena to play in on the road, so setting the pace early as we did last week, will be important against this hungry Chilean side."
USA Men's Eagles Roster
| | | |
| --- | --- | --- |
| Position | Name | Club |
| 1 | David Ainu'u | Toulouse (FRA) |
| 2 | Joe Taufete'e | LA Giltinis |
| 3 | Paul Mullen | Utah Warriors |
| 4 | Greg Peterson | Newcastle Falcons (ENG) |
| 5 | Nick Civetta | Rugby New York |
| 6 | Ben Bonasso | Rugby New York |
| 7 | Hanco Germishuys | LA Giltinis |
| 8 | Cam Dolan | NOLA Gold |
| 9 | Ruben de Haas | Saracens (ENG) |
| 10 | AJ MacGinty (C) | Sale Sharks (ENG) |
| 11 | Martin Iosefo | Seattle Seawolves |
| 12 | Bryce Campbell | Austin Gilgronis |
| 13 | Tavite Lopeti | Seattle Seawolves |
| 14 | Christian Dyer | Houston SaberCats |
| 15 | Marcel Brache | Austin Gilgronis |
| 16 | Kapeli Pifeleti | Saracens (ENG) |
| 17 | Chance Wenglewski | Rugby New York |
| 18 | Angus MacLellan | Utah Warriors |
| 19 | Siaosi Mahoni | Houston SaberCats |
| 20 | Jason Damm | Rugby ATL |
| 21 | Tavita Tameilau | San Diego Legion |
| 22 | Nate Augspurger | San Diego Legion |
| 23 | Luke Carty | LA Giltinis |
USA Men's Eagles Traveling Staff
Head Coach | Gary Gold
Asst Coach | Stephen Brett
Asst Coach | Shawn Pittman
Asst Coach | Scott Lawrence
Head of Strength & Conditioning | Huw Bevan
Strength & Conditioning | Calvin Morriss
Performance Analyst | Jimmy Harrison
Team Doctor | Mark Sakr
Head Physiotherapist | Kristen Douhan
Athletic Trainer | Ron Klingensmith
Sports Massage Therapist | Daliah Hurwitz
Team Manager | Oscar Alvarez
USA Men's Eagles 2022 Summer Series Match Schedule
USA vs French Barbarians | (W) 26-21
July 1, 2022 7:30 PM CT at Aveva Stadium
Chile vs USA | Santiago, Chile | Rugby World Cup Qualifier
July 9, 2022 Time 6:00 PM ET at Estadio Santa Laura Universidad
USA vs Chile | Glendale, CO | Rugby World Cup Qualifier
July 16, 2022 1:00 PM MT at Infinity Park