2022 NAI 7s
Co-Ed Performance Training Helping Popularity Of Rugby At Youth Level
Co-Ed Performance Training Helping Popularity Of Rugby At Youth Level
As more youth programs recognize the importance of athletic development for both boys and girls, co-ed performance training is gaining traction.
Jul 5, 2022
by Stephen Kerr
In an ideal world, young male and female athletes train side by side in the same setting, each learning the skills necessary to compete at a higher level of their respective sports.
As more youth programs recognize the importance of athletic development for both boys and girls, the concept of co-ed performance training is slowly gaining traction in North America.
Thanks to Upright Rugby Canada and the Rogues Rugby 7s Performance Program, rugby can be enjoyed by children of all ages, including girls.
Based in Oakville, Ontario, and established in 2010, Upright Rugby Canada trains athletes to compete at premier tournaments in Canada and the United States. Male and female athletes from U10 to U18 train together in a positive culture that teaches the skills necessary for their individual development and enjoyment of the sport.
"It's something we've always done," said Tyler Leggatt, President and Lead Director of Upright Rugby Canada. "Anybody male or female being in a concentrated training environment is going to really enhance their skills and bring them along much more quickly. Out of those first early days, it was a concept we rolled with. It makes for a positive environment, especially in 7s."
A native of Burlington, Ontario, Leggatt played travel soccer and basketball as a child. Like many Canadians, he didn't discover rugby until high school. After receiving his undergraduate degree with a double major in anthropology and philosophy and a minor in English from McMaster University, Leggatt earned a teaching degree from the University of Western Sydney in Australia.
While teaching, he established Upright Rugby Canada as a summer camp program. A parent encouraged him to expand into an offseason training program.
"In creating that and running these camps, I came across some talented young players who just really wanted to improve," Leggatt said. "Within two years, we had the top 15 rugby players in Ontario, (but) we didn't have any way to showcase them."
Leggatt collaborated with the Dog River Howlers, an invitational rugby club founded by Karl Fix in 2007. Like Leggatt, Fix had a background in travel basketball and established a similar model for rugby 7s. Leggatt funneled numerous players to Fix, who eventually asked him to coach on a trip the club was making.
It was then Leggatt realized he could develop a similar concept on a small scale.
"That's when the light bulb came on," Leggatt recalled. "You don't need 25 to 30 (players) to go on tour. You need 12. It's so much more manageable."
In 2013, Leggatt formed a team called the Rogues and began showcasing players throughout North America, the Caribbean and other parts of the world. Unlike other sports, rugby offers a unique sense of empowerment for athletes during play.
"If you think about any of the territory possession sports, whether it's basketball, soccer, hockey or water polo, you fundamentally are relinquishing possession as you move the ball forward," Leggatt explained. "You have to dribble the basketball with your hands. That's a highly contestable movement skill. So is stick handling in hockey and dribbling the ball forward in soccer. You get the ball in your hands in rugby and just hold it, run and go where you want to."
Oakville is a mecca for rugby in southern Ontario. It's home to the Crusaders, the largest club in that region and one Leggatt played on for a number of years. It's also a hotbed for him to recruit talented young players for training during the offseason. He has developed a network of contacts through Upright summer camps.
"I coach at the high school level," Leggatt said. "If they're on my high school team, or if we play against others, I try and recruit and bring them in. We work through a network of colleagues, coaches and friends we trust to provide us with good athletes."
While talent plays a big part in development, character also is important. Leggatt recruits players according to their integrity, background and how well they would fit in with other athletes.
"We try to put high standards on character," Leggatt explained. "We know that makes for a quality athlete."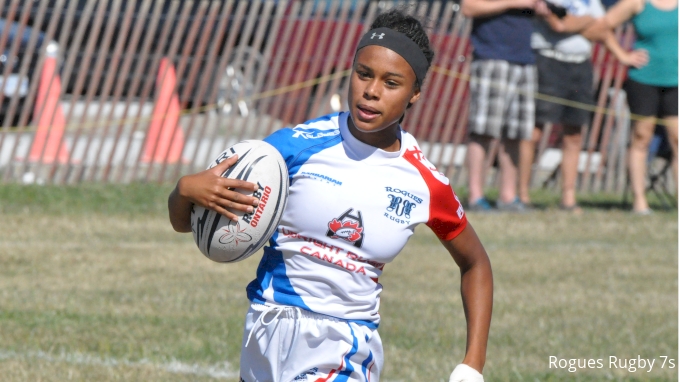 During the summer, players train every other weekend until September, then increase to once a week until April. Youth as far as 100 kilometers (60 miles) away travel to train with the Upright program.
As athletes gain confidence, their chances of remaining in the sport increase, too. One might start out as a winger because he or she is fast, but may move to flanker because a coach sees they can tackle. They might then find themselves playing outside centre and eventually develop as a fly-half and team captain.
Even a raw athlete has a chance to thrive through expert coaching and detailed instruction. The hope is to get as many players as possible to the varsity, provincial and national levels.
"The majority of the athletes who get involved already demonstrate certain physical attributes that are going to be advantageous for them," Leggatt said. "They're going to be faster than the average Joe or a little quicker, potentially. Bigger and stronger always is better, of course, (because) you're playing a contact sport."
At the U12 and U14 levels, the top 14 are selected to go on tour. By the time a player gets to the U19 level, invitations are given to the top 16 in the program.
"It's so competitive at the U18 and U19 levels, and the athlete profile is so different by then," Leggatt explained. "They're legitimately bigger, faster, stronger and more skilled with better game sense. You really need kids who can not only handle themselves but handle the pressures and expectations of playing at that level."
The program has seen numerous success stories of male and female athletes getting to the national level over the years. David Richard, Josiah Morra and Alex Russell played for Upright and currently represent Canada's Men's 7s program.
Women's 7s players who have come through the program include Olivia Apps, Chloe Daniels and Asia Hogan-Rochester. Taylor Perry is a fly-half for the National Senior Women's program.
The benefits of participating in programs like Upright go beyond physical development.
Players learn to come out of their comfort zones and bond with others, often forging lasting friendships. Opportunities to travel with a team create experiences they'll never forget, even after they stop playing.
For Leggatt, nothing compares to the thrill of developing athletes in a sport he has been passionate about since his high school days.
"I love it," Leggatt said. "I absolutely enjoy the opportunity to meet these young people and watch them grow, watch their confidence grow and watch it translate to their on-field performances. I see them struggle and fail, then continue to work at it and be committed to their own personal success. All of that is what moves me and lifts me up. It fills my bucket."