2022 New Zealand All Blacks vs Ireland
Ireland Rugby Preview: Is The Hype Real In Irish Rugby?
Ireland Rugby Preview: Is The Hype Real In Irish Rugby?
If you've been following men's international rugby for some time now, you know Ireland's rise to among the best in the sport hasn't been a lucky fluke.
Jun 23, 2022
by Briar Napier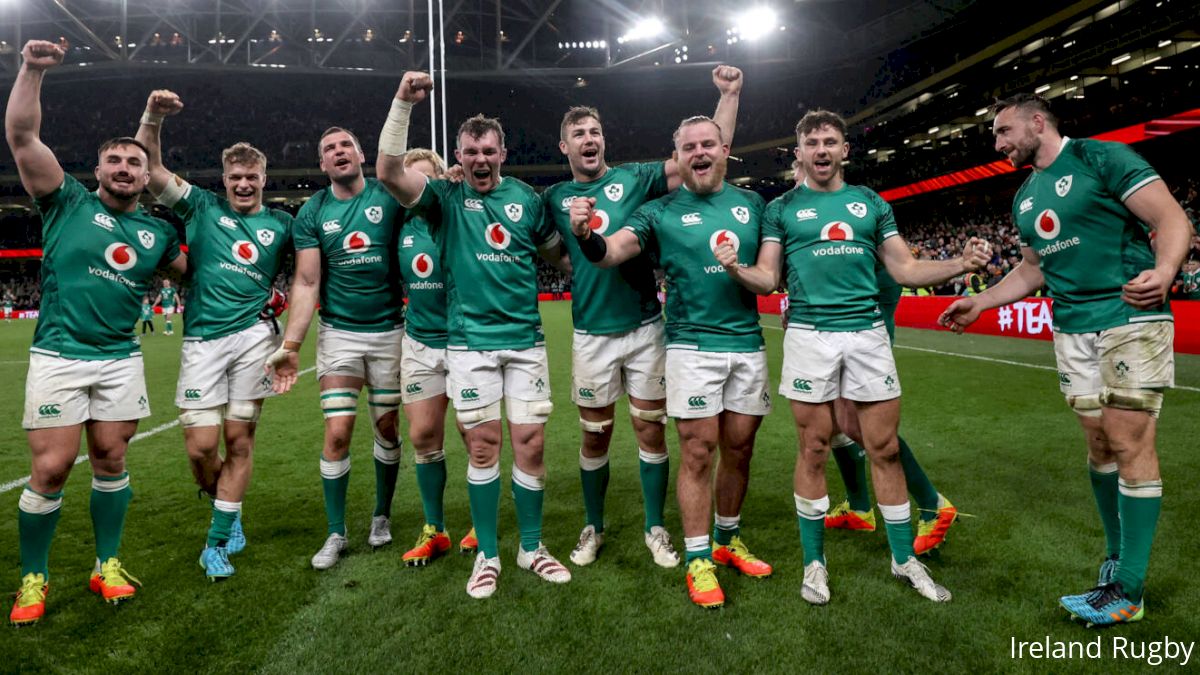 If you've been following men's international rugby for some time now, you know Ireland's rise to among the best in the sport hasn't been a lucky fluke.
Experienced, full of impressive recent victories and with plenty of excitement to cheer about, Irish rugby is in one of the best places it ever has been, though it's never quite blossomed on a world tournament yet. That all could change very quickly, however, especially as the 2023 Rugby World Cup looms.
The summer will be an important time in Ireland rugby's history as it aims to finally cement its place as a full-time powerhouse in the sport. With some of the upcoming fixtures ahead, there's plenty of opportunity to make sure others in rugby are forced to pay attention.
What's the outlook for Ireland as it preps for its first tour of New Zealand in a decade for three senior matches against the mighty All Blacks?
Below is a lowdown of what's happening in Irish rugby before its upcoming tests are streamed live on FloRugby:
What's Ireland's Ceiling?
Has Irish rugby ever truly reached its full potential? It's hard to say.
Ireland internationally has gone through sort of a renaissance in the sport over the past decade, one that began with the appointment of coach Joe Schmidt in 2013 as he took the country to three Six Nations titles and the country's first No. 1 world ranking in September 2019.
When Schmidt stepped down following the 2019 Rugby World Cup to spend more time with family, Englishman Andy Farrell - the father of England captain Owen Farrell - took the reins and has followed up well so far, winning 75% of his matches and nabbing the Triple Crown in this year's Six Nations.
Still, Ireland has never made it past the quarterfinals of the Rugby World Cup, a distinction that has stung since the country failed to make the semifinals three years ago in Japan after entering the tournament as the official top team on the planet.
Make no mistake about it, though, few teams want to play Ireland right now.
The Irish have only lost once in the past year (to France in this year's Six Nations) and are one of just four countries with over 88 points in the Rugby World Rankings, putting them squarely in fourth as part of an elite category of red-hot rugby nations.
With a great summer, that point total could go even higher and build Irish confidence even more ahead of the 2023 Rugby World Cup in France.
The All Blacks' Bogey Team?
Generations of Irish rugby fans only knew one result anytime their country had a test scheduled against New Zealand: defeat.
Across 28 matches from 1905 to 2016, Ireland's record against the All Blacks stood at zero wins, one draw, and 27 losses - a record that included thrashings, such as a 59-6 drubbing in 1992 and a 60-0 goose egg in 2012.
On Nov. 5, 2016, in front of a pro-Irish crowd at Soldier Field in Chicago, Ireland beat the All Blacks for the first time in a historic 40-29 win that took 111 years to pull off.
The key dates and times to pencil into your calendar! ✏️📆#TeamOfUs | #NZTour2022

— Irish Rugby (@IrishRugby) June 22, 2022
What has Ireland gone and done against New Zealand since then? Won three of its past five against the All Blacks in a run featuring two thrilling wins in Dublin in 2018 and 2021.
Though Ireland certainly has earned the right to feel more confident than usual against the All Blacks, the hard part facing the Irish now is to replicate the magic on New Zealand soil.
The senior team will play a three-match series across successive July weekends in Aotearoa, having never won against the All Blacks in New Zealand, while the hosts haven't lost at home overall since September 2018.
It's rather fitting that Ireland now will be testing its luck in the South Pacific after showing that the All Blacks are indeed mortal multiple times, but if the Irish can head back to Europe with another win, it's probably safe to say (if it isn't already) that Ireland isn't just getting lucky anymore.
Chemistry At Forefront Of Squad Selection
There's always a bit of obvious natural cohesion within national team squads, but Ireland has taken that to the extreme ahead of its trip to New Zealand.
The entirety of Farrell's 40-man squad plays club rugby on just four different teams in the United Rugby Championship, applying their trades with the Irish sides (Leinster, Munster, Ulster and Connacht) of the division.
Everyone on the roster has at least either played with, or against, each other before at elite club level, and many already have been capped many times by their country, too, making for a type of chemistry that has few equals in world rugby.
It's a squad full of talent that's held up over the years, as well.
Ireland last toured New Zealand in 2012, of which five players - including captain Jonathan Sexton - were named to that squad a decade ago and Farrell's most recent one. However, judging by the 17 players listed with 10 caps or less, it's clear Farrell also is scouting the rising stars he has at his disposal ahead of what's sure to be a crucial 18 months on the international stage.
Leinster hooker Dan Sheehan is one of them, with seven caps to his name at age 23. In being the club's reigning Men's Young Player of the Year, he has plenty of firepower at his disposal to boot.