2022 Blues vs Crusaders
Super Rugby Final Preview: Blues, Crusaders Collide For Title
Super Rugby Final Preview: Blues, Crusaders Collide For Title
After a sensational season, it all comes down to the Super Rugby final. Blues are hoping to make history while Crusaders aim to rule once again.
Jun 15, 2022
by Briar Napier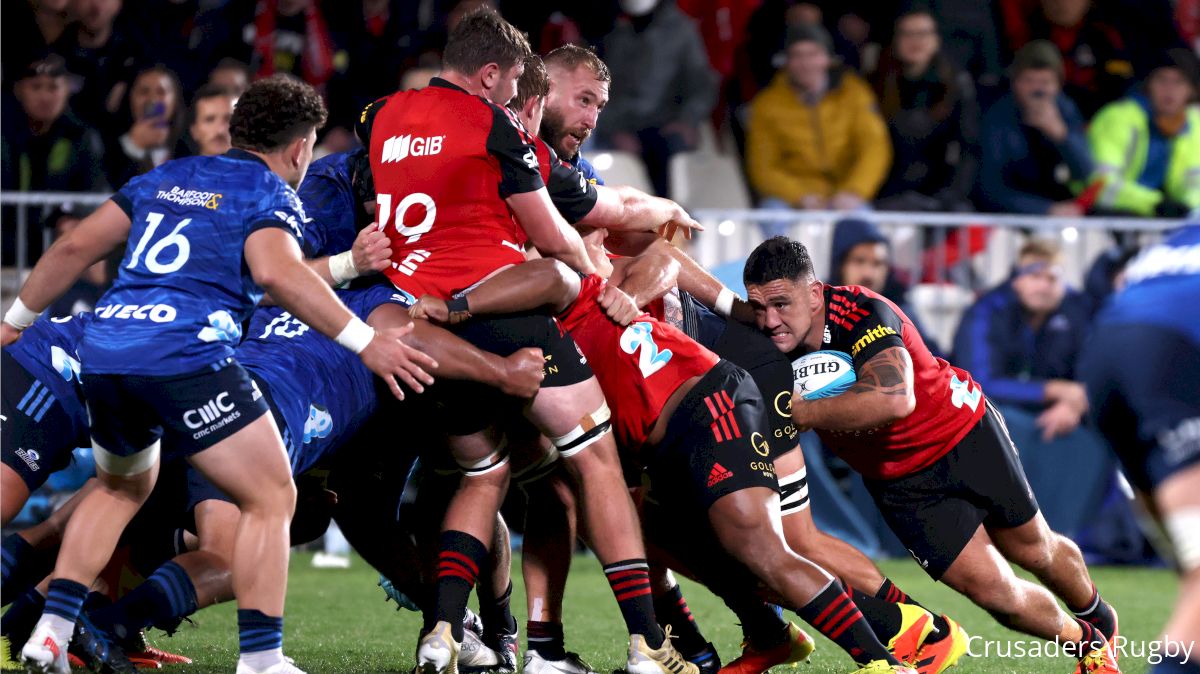 It's the fairytale team against the competition's old guard. Auckland against Christchurch. Blues against Crusaders.
The anxieties are different for each team heading into this week's Super Rugby Pacific final, but neither fanbase can feel particularly at ease.
For Blues supporters, some adults weren't even alive the last time their team won the competition. For Crusaders supporters, success in Super Rugby is just part of the standard.
For what's sure to be a titanic matchup at Auckland's Eden Park, Super Rugby's return this year from schedule havoc is set for a thrilling conclusion. Though both teams are worthy, there's only one that has the right to be crowned Super Rugby champion.
Here's a look at the players and performances that stand out heading into the final on FloRugby.
Blues (Auckland, New Zealand)
Regular season: 13-1, 58 points (First)
Playoffs: Defeated Highlanders 35-6 in quarterfinals, defeated Brumbies 20-19 in semifinals
Super Rugby titles: 1996, 1997, 2003
The lowdown: When SANZAAR revolutionized the world's club rugby scene with the creation of the Super 12 the precursor to Super Rugby—in 1995, its first champion and first dominant force was none other than the Blues.
Auckland's team repeated for titles in 1996 and 1997, with that latter season seeing the Blues win 12 straight matches, a then-Super Rugby record that wasn't broken until the Lions won 14 in a row in 2017. But hard times hit the Blues in the past decade—with the team finishing no better than ninth in Super Rugby each season since 2011—and the side's past glory seemed long gone.
Now, In 2022, following a first-place regular season finish and a record-setting campaign, this may be the best Blues team ever assembled. Super Rugby's highest-scoring team this year, the Blues lost their first match back in Round 2 and haven't been beaten since, going an astounding 16 games without a loss (the second-longest streak in Super Rugby history) as the clear class of the competition this season.
Five-eighth Stephen Perofeta is Super Rugby's points leader this season as a two-way leader—he's come up huge in stopping several near-certain tries this year on defense—while All Blacks center Rieko Ioane might be the most electric man in the competition as one of the world's fastest players.
Both have come alive on the pitch under the coaching tutelage of Leon MacDonald, who after being hired at the end of the 2019 season has finally had a proper crack at Super Rugby following two years of COVID-induced regional competitions. The former All Black fullback and Crusaders assistant will now have a chance to beat his former team on one of the grandest stages in club rugby—an achievement that would put a shiny bow on a historic season and likely increase the calls for MacDonald to be installed as All Blacks coach with pressure mounting on current leader Ian Foster.
Even better for the Blues, they'll get to compete for silverware in front of what's sure to be a raucous home crowd at Eden Park (the team has not lost there in 2022) and already have a win over their final opponent in Round 9.
Will Auckland host a party nearly two decades in the making this weekend, or will misery reign in devastating fashion as Blues' missteps since then continue?
Crusaders (Christchurch, New Zealand)
Regular season: 11-3, 52 points (Second)
Playoffs: Defeated Queensland Reds 37-15 in quarterfinals, defeated Chiefs 20-7 in semifinals
Super Rugby titles: 1998, 1999, 2000, 2002, 2005, 2006, 2008, 2017, 2018, 2019, 2020*, 2021* (*denotes regional competition wins)
The lowdown: While it took the Blues almost 20 years to be within sight of the Super Rugby mountaintop once again, the Crusaders have seldom lost their position upon it.
They're the competition's version of the New York Yankees, Boston Celtics or Green Bay Packers—a club that's been around since the beginning, has a rabid and loyal fanbase, and, most importantly, wins a lot.
Super Rugby's most successful team, with 10 titles (12 if you count both of the regional competition titles over the past two years), the Crusaders have a standard and reputation to uphold every time they set foot on a rugby pitch. With a core that knows what it's like to compete in the sport's most high-pressure situations—whether that's in a Super Rugby final, a Rugby World Cup or both—there's no team in the competition better engineered to be on top of Super Rugby once again.
Before the pandemic rocked its format, Crusaders were amid a dynasty of three consecutive Super Rugby titles and expect to pick up where they left off. Paced by a lethal attack featuring the league's joint-try leaders in Leicester Fainga'anuku and Will Jordan (10 tries each), the defense is additionally nasty—and the competition's best in points allowed—behind captain Scott Barrett, a world-class lock that had a stunning 25 tackles in the Crusaders' dismantling of the Chiefs in their playoff semifinal meeting.
While their opponents in the final are being led by an upstart coach, Crusaders head man Scott Robertson, appointed in 2017, is a multi-time Super Rugby winner as both a player and coach and one of the rugby world's finest leaders of men.
However, there have been some clear differences between the Crusaders teams from 2017-19—when the club had just five defeats across three seasons—and the one seen this season, leading to surprising defeats to the Chiefs and New South Wales Waratahs in the regular season along with a loss to the Blues.
Though never in danger of missing the postseason entirely, the Crusaders have felt closer to a dark horse than a favorite for much of the season. The Blues and Brumbies were perched upon the top of the Super Rugby table for much of the matchweeks, with the Crusaders looming close behind in a top-half position.
But, after two postseason wins there were smooth-sailing, perhaps Crusaders have benefitted from not having the weight of being favorites. Whether it results in Super Rugby title No. 11, however, remains to be seen.