2022 NSW Waratahs vs Moana Pasifika
Super Rugby Pacific: Moana Pasifika's Long Journey To Debut
Super Rugby Pacific: Moana Pasifika's Long Journey To Debut
Moana Pasifika's road to Super Rugby Pacific has been long and winding, but the payoff is Pacific island representation in a beloved sport on a huge stage.
May 6, 2022
by Briar Napier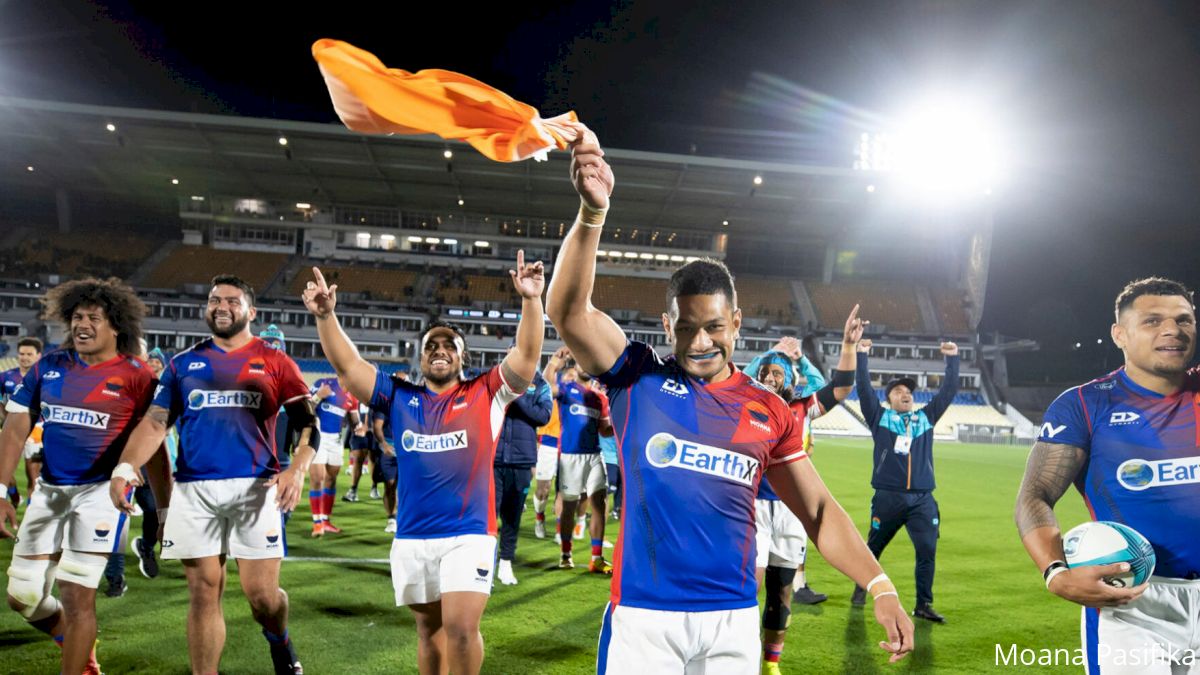 The groundwork for Moana Pasifika's debut season in Super Rugby Pacific was officially set during a historic encounter in Hamilton, New Zealand two years ago.
But the battle to get a team for the Pacific islands (including Samoa, Fiji, Tonga and more) in the competition stretches back much longer than that.
In December 2020, several months before the squad earned a license to compete in one of the world's top rugby competitions, Moana Pasifika a unit of players either hailing from or with heritage from Pacific island nations—played the Maori All Blacks, a subset of the New Zealand national side in which all players must be of Maori descent.
Moana Pasifika lost that match 28-21, but waves were made that night. The Pacific, a rugby hotbed for decades and producer of some of the world's best players, needed something like Moana Pasifika on a more permanent basis.
For years, that team never existed at the sport's highest levels.
"It probably should've happened 25 years ago," Sir Bryan Williams, an All Blacks legend of Samoan heritage, said at a press conference last year announcing Moana Pasifika and Fijian Drua as new members of Super Rugby.
"It was hugely disappointing at the time, but here we are, and I'm very thankful."
PRE-MATCH HYMNS 🧡💙 pic.twitter.com/IaSjEeiUdn

— Moana Pasifika Rugby (@MoanaPasifika_) March 19, 2022
Williams, the former coach of the Samoan national team, was referring to the formation of the Super 12—the precursor to Super Rugby—following the 1995 Rugby World Cup in South Africa. SANZAR (now SANZAAR following the 2016 addition of Argentina) kicked off the competition in 1996 with clubs from the parent nations of South Africa, New Zealand and Australia, with Williams noting that the Pacific nations were left "out in the cold."
Two-and-a-half decades later, the Moana Pasifika addition was finalized, giving the islands the green light for a team to compete in its first-ever Super Rugby season. It's been a historic—and tumultuous—affair.
Led by coach Aaron Mauger (a former All Black of Samoan, Tahitian and Cook Islander descent), Moana Pasifika didn't play its Super Rugby opener until Round 3 due to COVID-19-related postponements. Crusaders handled business in that match, but three weeks later came Moana Pasifika's maiden Super Rugby win, a historic 24-19 victory over the Hurricanes in Auckland.
WE DID IT!!!!! pic.twitter.com/bnjvy9nvFh

— Moana Pasifika Rugby (@MoanaPasifika_) March 25, 2022
The emotions were real and raw from the Moana Pasifika camp following the match, particularly from midfield back Danny Toala, who scored a thrilling extra-time try to get the party started on the sidelines.
"It's hard to explain," Toala said after the match.
"Especially in a rugby game, it's something I've never felt before. It's pretty surreal. Playing for my family, it just hits different, I'm speechless really."
Although Moana Pasifika's addition to the Super Rugby slate has been a welcome one, it's still a brutally-competitive schedule.
The team is currently last in the Super Rugby table with five points through nine matches, stuck with a league-worst defense (350 points allowed) and having been through the most virus-related turmoil of any squad this season with four matches postponed.
But beyond rugby itself, there's an identity for Pacific pride, finally, in the competition. Super Rugby's tagline on its website may read "The Power of the Pacific," but in prior seasons with the teams on board before, it couldn't really be proven true.
And as prop, captain and Australian national team legend Sekope Kepu put it during his captaincy announcement earlier this year, it means more than just the sport itself. It's for the people and islands he represents.
"Being a new Captain is a blessing and honored position and I'm truly humbled to hold it very close to my heart," Kepu said, who plays his former team, the New South Wales Waratahs, for the first time since departing this weekend.
"Our people deserve this, it's up to us to inspire the next generation. Together, we are going to unearth something very special."