2022 France vs England - Women's
Women's Six Nations Preview: England, France Collide For Grand Slam Honors
Women's Six Nations Preview: England, France Collide For Grand Slam Honors
As expected, France and England have come down to the wire for top honors at this year's Women's Six Nations.
Apr 27, 2022
by Briar Napier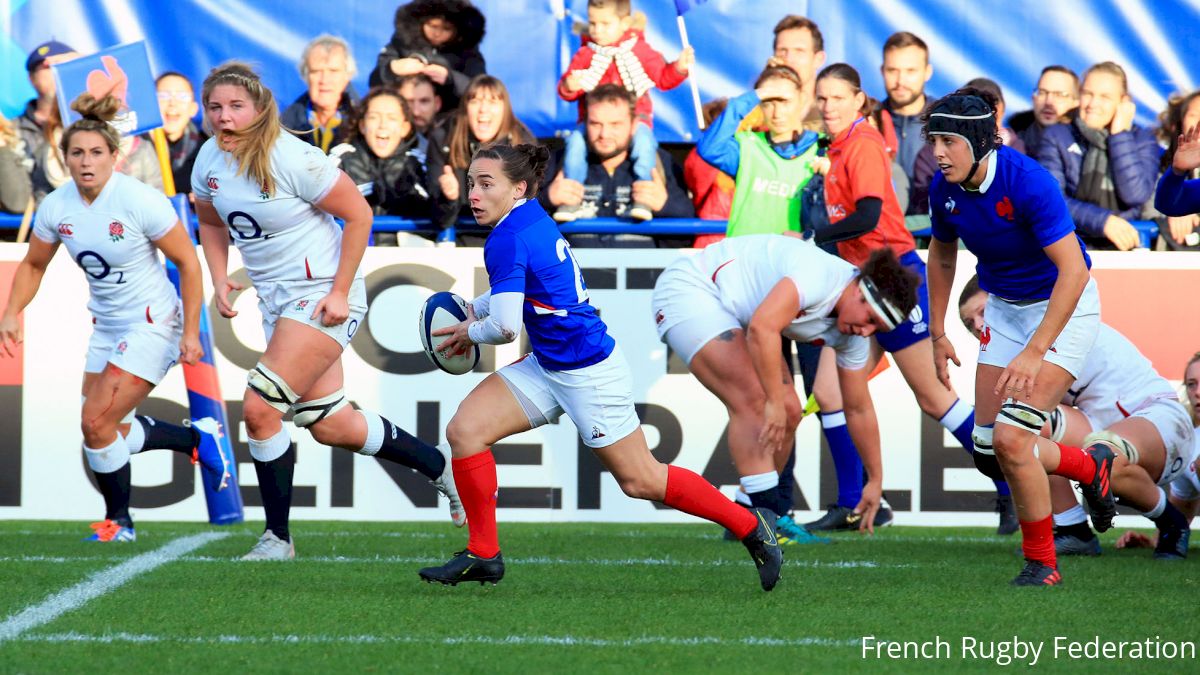 It's time.
Four previous matchweeks have led to the final day of this year's Women's Six Nations, and two countries within have a shot at winning the whole thing. As expected, France and England have come down to the wire for top honors in a clash of the titans.
Elsewhere, there's plenty to play for as all three Round 5 matches could reasonably end up as thrillers. The fight until the end keeps the Women's Six Nations great—and one of the top prizes in international rugby.
Prepared for Saturday's grand finale of games? We have you covered for the storylines and matches to watch right here on FloRugby.
NOTE: All match start times are listed in Eastern Time for Saturday.
Wales Vs. Italy
The Italians looked to be in disarray headed into their Round 4 clash with Scotland, with the meeting's loser, most projected to be Italy, likely headed toward the dubious Wooden Spoon for the nation at the bottom of the Women's Six Nations table.
That made it all the more surprising, then, when the Italians—who entered the Scotland game having scored just one try over three matchweeks—scored two tries through Melissa Bettoni and Silvia Turani in the second half for a stunning 20-13 comeback over the Scots amid a downpour in Parma.
Now that Italy has a win to its name in this year's competition, a new goal has come about: can the Italians make it two on the bounce against Wales? It's certainly not an absurd proposition as the Welsh have been battered in back-to-back weeks by heavyweights France and England (being outscored by a combined 91-10). This match may very well be the dark-horse game of the week or, at the very least, provide an adequate appetizer to the most-hyped meeting of Round 5.
France Vs. England
It was bound to happen all along, wasn't it? The France-England meeting to end this year's competition and to settle a Grand Slam—which would be England's 11th and France's sixth since 2002. The hype is real for the titanic matchup between two of the world's top women's rugby nations.
The Red Roses are the faraway world No. 1 and on a 22-match winning run, extended after a 69-0 thrashing of Home Nation rival Ireland in front of 15,836 fans at Welford Road in Leicester—a national record for an English women's rugby match.
The French make up the only team in this year's competition that's been close to England's stratosphere, and even then have less than half of the tries (20) scored that coach Simon Middleton's (42) squad has.
Still, two very important developments could influence Saturday morning's title-decider: France scrum-half Laure Sansus is the frontrunner for the player of the competition with a Six Nations-leading six tries, and leading her home nation to a stunning victory would almost certainly seal it.
As for England, it'll critically be without captain Sarah Hunter—the country's second most-capped player of all-time—and the Red Roses will need to look for another leading force in the squad in undoubtedly their toughest matchup of this Women's Six Nations. Expect fireworks and some of the most elite rugby on the planet in Bayonne.
Ireland Vs. Scotland
Things got a lot more dicey in a flash for Scotland. As previously mentioned, the Scots were favored to take care of Italy in Round 4 to emerge ahead in a race that no nation wants to be in: the race to the bottom. But like it did in Round 2 against Wales, Scotland let a halftime lead slip and critical points be left on the table.
With one match remaining, Scotland is staring a Wooden Spoon in the face and needs both a win over the Irish and a defeat from the Italians to make for the most surefire way to avoid sixth in a six-team competition.
Ireland likely isn't bursting with morale at the moment either after being routed by England this past weekend, but it did also beat Italy comfortably (29-8) in Round 3 and will host this weekend's matchup against a Home Nation adversary at Kingspan Stadium in Belfast.
Expect a gritty contest that may take awhile for the two rivals to get a feeling for each other as neither nation has proven it can consistently score in the competition (combining for 15 tries over four matchweeks). But a clash of styles between Scotland's possession-based attack and Ireland's swarming, strong-tackling defense might make for an intriguing finale that could come down to minute tactical decisions.