2022 England vs Ireland - Women's
Women's Six Nations Preview: England Aims To Continue Win Streak
Women's Six Nations Preview: England Aims To Continue Win Streak
Far and away the world No. 1, England has lived up to its billing through three rounds, outscoring opponents by a 189-10 margin.
Apr 20, 2022
by Briar Napier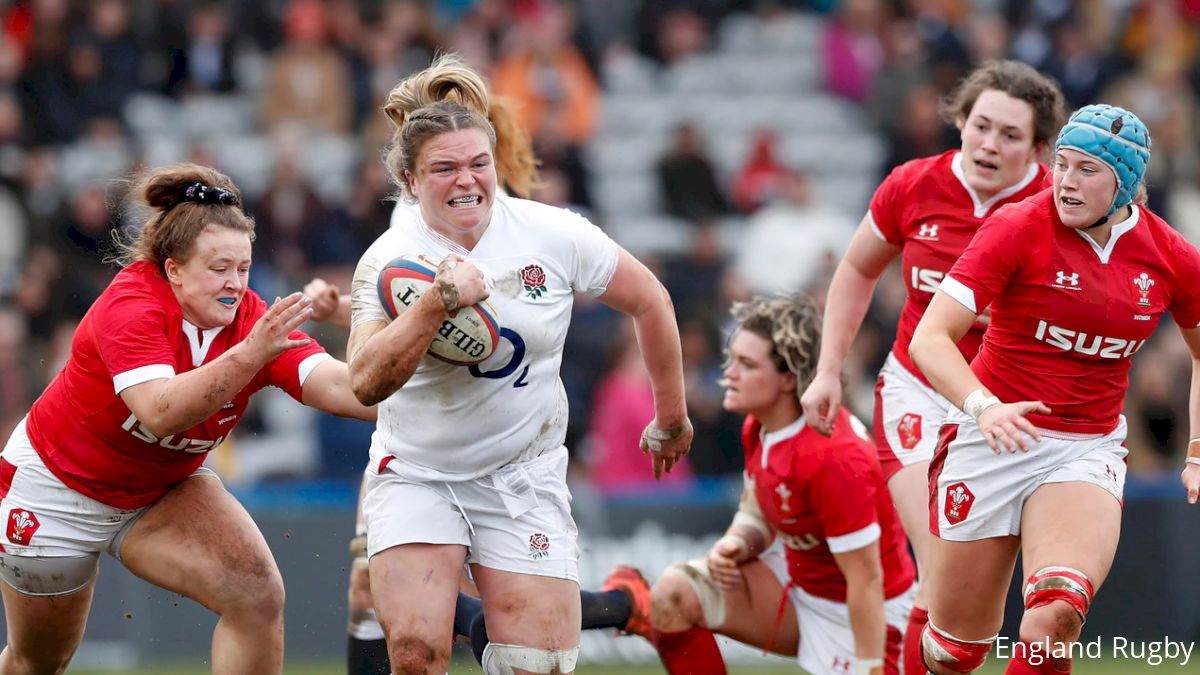 It's England's world in women's rugby.
On a truly historic run of form that includes growing trophy cases and plenty of wins, the Red Roses look to be at the forefront of what would be their 17th Women's Six Nations title. Now, halfway through this year's competition, realistically only one foe could be there to stop it.
That's not to say there's not plenty of drama left to settle in this year's women's Six Nations. A Grand Slam is still in play for two teams, as is price and old rivalries dating back centuries. Things are only going to heat up from here.
We have you covered for the storylines and matches to watch right here on FloRugby.
Wales Vs. France
Any hope of Wales posing a serious challenge to the current duopoly atop the Women's Six Nations table was likely shattered when England ran roughshod in a 10-try, 58-5 rout in Round 3, ending a promising two-win start by the Welsh.
However, they could find themselves posing a sneaky threat to the French this weekend. Paired with England as heavy favorites to win the Six Nations title, France—the world No. 3—did beat Scotland comfortably (28-8) last matchweek, but were both outscored and shutout by the Scots in the game's second half.
Wales needed a second-half boost of its own to beat Scotland in Round 2, but perhaps seeing a rival stand up to the mighty French will inspire the Welsh to do the same. Still, France has a top squad featuring some of the most elite players in women's rugby. Scrum-half Laure Sansus is currently leading the competition in tries (four) and points (20). Not surprisingly, France's second-half struggles against Scotland were without Sansus on the field as she was replaced at halftime.
Italy Vs. Scotland
The stakes of this match are simple: the winner likely avoids the dubious Wooden Spoon, "awarded" to the last-place finisher at the end of every Six Nations tournament. Right now, all signs point to it being Italy for the fourth time since joining the competition in 2007 and first time since 2017.
The Italians had a brutal start to their tournament, losing to England and France in back-to-back matchweeks by a combined score of 113-6, but looked more collected in a 29-8 defeat to Ireland in Round 3 as they scored their first try of the tournament through Melissa Bettoni in the 71st minute. Still, Italy has by far the worst record in the table.
Things haven't gone much better for Scotland as they also started 0-0-3, having already gone through the France-England gauntlet. However, what'll likely set the Scots apart against the Italians is the fact that they've been competitive in matches and up to standard with multiple foes—the France second half and almost all of the Wales game.
Additionally, scrum-half Jenny Maxwell has been an engine in the Scotland offense throughout the competition, leading Women's Six Nations at the moment with 232 passes made, over 100 more than the nearest competitor, Kathryn Dane of Ireland. Maybe the subject of a bit of bad luck so far, Scotland will look for full points and to distance itself from the bottom to start the final two games of the competition.
England Vs. Ireland
Dominant. Relentless. Overpowering. The descriptors to describe England's blistering start to this year's Women's Six Nations competition are endless. Far and away the world No. 1, England has lived up to its billing through three rounds, outscoring opponents by a 189-10 margin and 31 tries to opponents' two.
The Red Roses' goal in their Home Nations clash against Ireland this weekend, then, is to win comfortably and get their stars plenty of rest ahead of a massive Round 5 match against France.
Nonetheless, the Irish defense isn't a wash, with coach Greg McWilliams' back line holding opponents through three games to a combined 75 points—the best mark outside England and France. But Ireland haven't beaten England in a Women's Six Nations since 2015, and with the Red Roses looking to notch a fourth straight title and fifth in six years, momentum and history is clearly on coach Simon Middleton's side.
An incredible seven English players have scored multiple tries despite playing just three matches and are often subject to minute restrictions as their games usually stop being contests early. Ireland hanging around for much longer than halftime (or shorter) would be a surprise, especially as it will miss multiple players due to playing in this month's World Rugby Sevens Series. But with England, amid a winning run of 21 straight games in all competitions, there's little anyone else in the world can do otherwise.