2022 Chiefs vs Blues
Super Rugby Pacific Preview: Blues, Chiefs Rivalry Renewed
Super Rugby Pacific Preview: Blues, Chiefs Rivalry Renewed
There's still plenty of scores to settle before postseason play gets underway months from now. In fact, some will be settled in the matchweek ahead.
Apr 5, 2022
by Briar Napier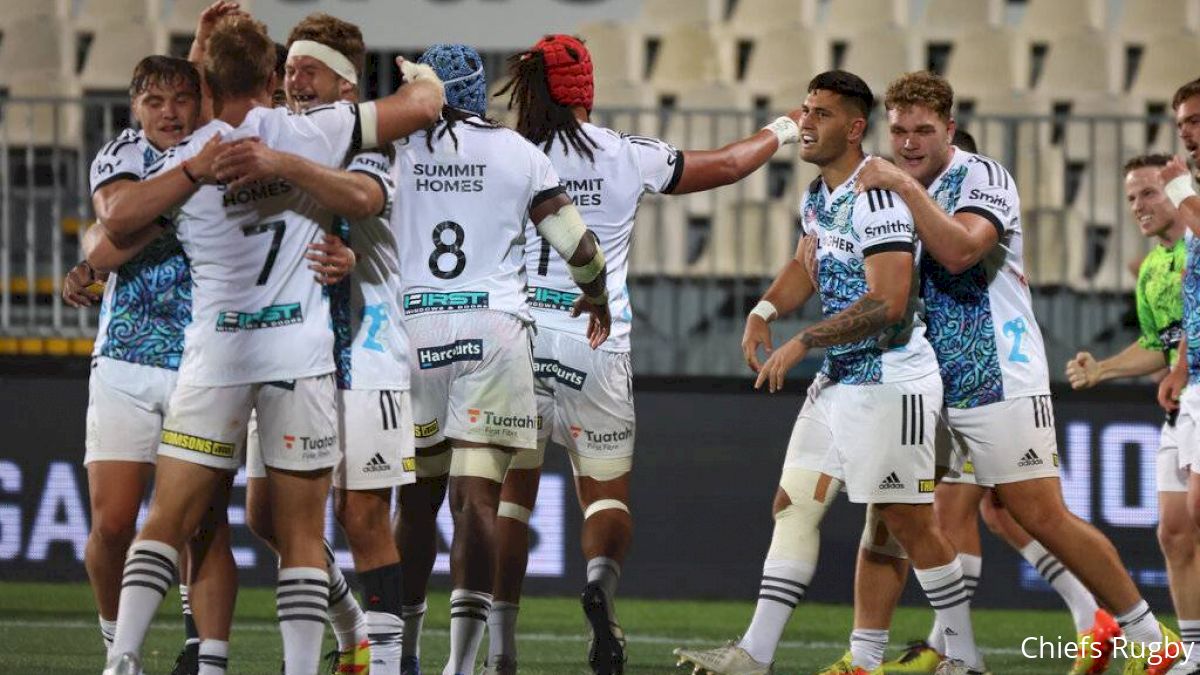 Chaos is ahead in the Super Rugby Pacific season.
The competition's halfway point will pass during the middle of Round 8, and there's still plenty of scores to settle before postseason play gets underway months from now. In fact, some will be settled in the matchweek ahead, in one of Super Rugby's top rivalries, for instance.
The positions in the table are far from settled, and nothing is certain. It's as good a time as any to catch up on the madness that has and will continue to ensue in Super Rugby this year—and FloRugby has you covered throughout the course of the competition.
What are the main storylines in Round 8? Here's what to look out for as Super Rugby Pacific charges toward the meat of the schedule.
Reds' Massive Result Has Them In Title Contention
Queensland Reds didn't just beat Brumbies in Round 7—to take a giant leap toward challenging the Canberra-based side for the top of the Super Rugby Pacific standings—they passed the test with flying colors. Coach Brad Thorn's Reds held the then-highest scoring team in the competition to a season-low point tally and their first defeat of the season as Brumbies were dismantled 21-7 following tries from Queensland's Fraser McReight and Filipo Daugunu.
The rematch of last year's Super Rugby AU final was sloppy, with 32 combined turnovers and a red card by Reds lock Tuaina Taii Tualima. Reds prevailed through the miscues and mistakes to convert when it mattered and found themselves level on points with their Aussie counterparts. Reds have Round 8 off, being able to look back on the past two matchweeks fondly after falling to Brumbies in their first meeting in Round 5. With the best defensive record in the competition at just 108 points allowed through seven matches, it doesn't appear as if the good form is stopping anytime soon.
How Will Brumbies Respond?
As for Brumbies, skipper Dan McKellar called the Reds defeat "dreadful" in post-match interviews, and he likely has a right to be critical. After winning their first six matches with an exciting style of rugby and a breathtaking pace, Brumbies' result in Round 7 was a step backward and a massive opportunity wasted to widen the gap at the top of the Super Rugby Pacific table.
That doesn't bode well for Brumbies' next foe, Fijian Drua, which has by far the worst defense in Super Rugby (241 points allowed in seven matches) and was already the subject of a 42-3 Brumbies shellacking back in Round 2. Drua might just be the perfect opponent for Brumbies to face after such a defeat as the high-flying attack of Tom Wright, Andy Muirhead and Co. could be keen to let off some steam against the Super Rugby rookies and get their squad back in the win column. With fellow top-half rivals in hot pursuit, too, a strong performance against a struggling opponent is paramount to send a message that Brumbies are still to not be taken lightly.
Mid-table Logjam Could See Shifts
The third-through-sixth slots in the Super Rugby Pacific standings at the moment make up the most intriguing bunch of sides in the entire competition as the teams are separated by just five points. There's Crusaders—the current top dog among New Zealand-based sides—who sit at 23 points with joint-leaders Brumbies and Reds, but the team only just held on in a 17-14 win in Round 7 over basement-dwellers Highlanders. Then there are Blues in fourth, who now hold the longest winning streak in the competition at five matches following a 46-16 triumph over a Moana Pasifika side that had two matches this past week to catch up on cancelations.
Blues will play a rival in the sixth-placed Chiefs in Round 8 (more on that below), the Hamilton-based side has won three of its last four and is one of the top-scoring squads in Super Rugby based on points per game (30). Finally, in fifth sits New South Wales Waratahs, who have fallen a bit behind the pace after being placed as high as second in the table just a couple of matchweeks ago. As the second half of the season looms ahead, the shuffling will begin and the pretenders and contenders will separate.
Where Does The Playoff Hunt Stand?
A little further down the pecking order in the Super Rugby Pacific standings lies the race to the top eight—and therefore, playoff qualification—of which Hurricanes currently hold the final postseason position with 10 points. As the Super Rugby Pacific season looks toward its second half, it's pretty clear the teams that will and won't be in the running below the 'Canes. Anchored to the bottom of the table is still Highlanders, who have the dubious honor of being the only winless team remaining in the competition with only bonus points preventing them from having a goose egg of points throughout coach Tony Brown's first six matches of the year.
Competition debutants Fijian Drua and Moana Pasifika (10th and 11th, respectively) can each say they've officially acquired Super Rugby victories, but problems remain for both sides that must be fixed if each they plan to mount a serious playoff push. Melbourne Rebels have the first-team-out slot in ninth, sitting four points behind Hurricanes, but a win over Fijian Drua in Round 6 was a big confidence boost. If Melbourne can parlay it with a Round 8 win over Western Force (while Hurricanes are underdogs over Crusaders), the race for eighth can get a lot more interesting.
Blues, Chiefs Set For Collision Course
Blues-Chiefs may be one of the more well-known rivalries in Super Rugby, but it's a fixture that one team has dominated for much of the past decade-plus. Since June 2011, the Chiefs hold a 15-1-1 advantage over their fellow New Zealanders in a consistent display of dominance throughout multiple Super Rugby seasons, with Blues only ending what was a 15-match unbeaten run from Chiefs with a 23-8 triumph over their adversaries in May 2019. The onset of the COVID-19 pandemic separated the rivals from each other for over two years—their last meeting resulted in a Chiefs win in January 2020—but the two are finally destined to square off again as part of Round 8 matches.
But if you think Blues are consigned to another day of misery, you might be mistaken. Blues haven't lost since Round 2 (even that being just a one-point loss to Hurricanes) and have looked white-hot, and hooker Kurt Eklund is the current joint-top try scorer in the competition with five tries to his name. It's a must-watch clash that should provide a more tantalizing and dramatic fixture than in previous years—and there's plenty of implications elsewhere, too.
Super Rugby Pacific Schedule: Round 8
NOTE: All match start times are listed in Eastern Time and are subject to change.
FRIDAY, APRIL 8
Highlanders vs. Moana Pasifika, 3:05 a.m.
Western Force vs. Melbourne Rebels, 5:45 a.m.
SATURDAY, APRIL 9
Hurricanes vs. Crusaders, 12:35 a.m.
Chiefs vs. Blues, 3:05 a.m.
Fijian Drua vs. Brumbies, 5:45 a.m.