2022 Queensland Reds vs Brumbies Rugby
Super Rugby Pacific Preview: Reds, Brumbies Clash
Super Rugby Pacific Preview: Reds, Brumbies Clash
Brumbies and Reds are on a collision course featuring the league's current top teams, that and more storylines in Super Rugby Pacific.
Mar 28, 2022
by Briar Napier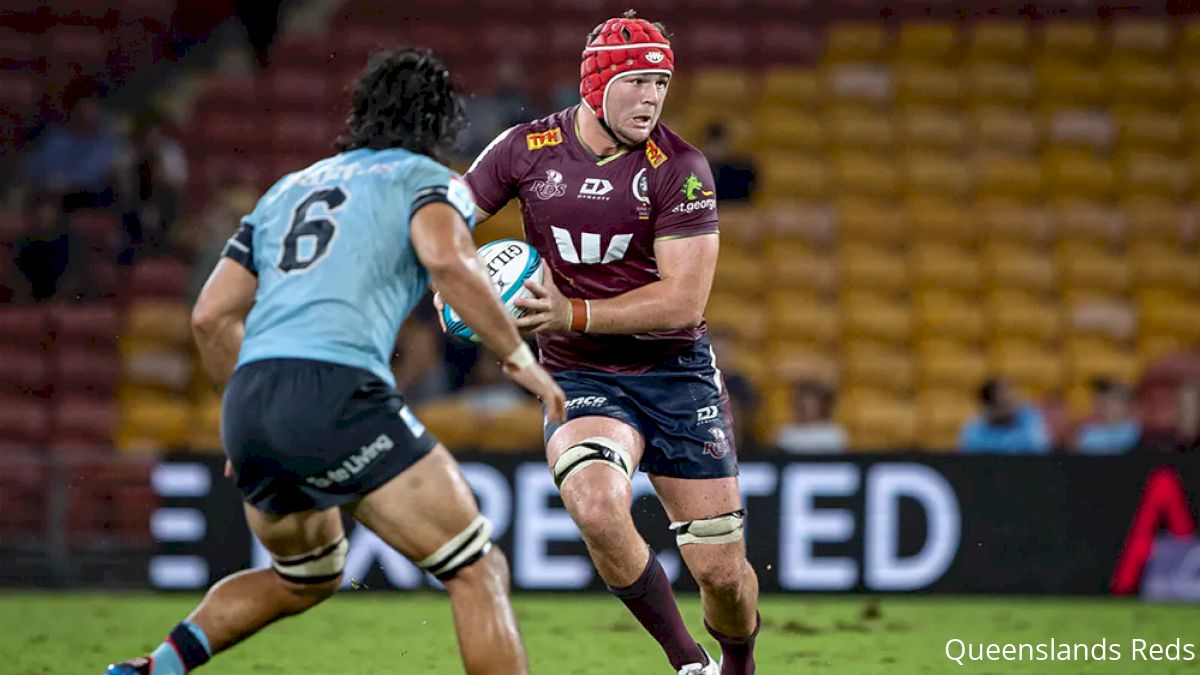 Who is going to do it?
That's the question on every team in Super Rugby Pacific's mind as Brumbies managed to keep a tight grip on the top of the competition standings and stay undefeated with a maximum six wins and six tries. With a Super Rugby season that so far has seen plenty of disruption, Brumbies have stayed cool, calm and collected ahead after each win.
But as much of the competition gets back to their feet following one (or numerous) COVID-19-related changes to their schedule throughout the past six weeks, some sense of normalcy may resume. Those conditions are where teams will feature their freshest and best—and by and large create higher-quality, more exciting rugby.
Here are the Super Rugby Pacific storylines to watch out for heading into Round 7, which you can catch live all throughout the competition on FloRugby.
Brumbies Survive Scare As Reds Test Awaits
Brumbies remained the only unbeaten team remaining in Super Rugby Pacific with another win in Round 6—but only just. Eleven tries were scored in the league leader's thrilling 39-38 triumph over Western Force, with Brumbies holding on despite going down to 14 men for 20 minutes following Tom Banks' red card late in the first half. Wing Andy Muirhead was superb, notching a hat-trick to help his unit snatch the points in Perth.
The highest-scoring team in Super Rugby, the Canberra-based club now holds a four-point lead over second-placed Queensland Reds, who just happen to be their opponent in Round 7. Reds won 32-20 over Waratahs in a massive upper-table clash in Round 6, and a result over the flawless Brumbies could go a long way as the competition nears its halfway point. One thing in the Reds' favor is that among the six teams that have played the maximum six matches, they hold the best defensive record at just 101 points allowed in total (or 16.8 per match).
Rock Bottom For Highlanders?
Despite losing All Blacks star Beauden Barrett to a concussion mid-match, Blues took care of a hapless Highlanders squad 32-25 to drop the one-time Super Rugby champions to a fifth straight loss and to keep them anchored to the bottom of the competition table. The Dunedin team almost staged a furious comeback at home, having trailed 18-3 at halftime, but the Blues held on for their second win over Highlanders this season and for a well-needed result after not playing in Round 5 due to COVID-19 issues within the squad.
With Moana Pasifika winning its first-ever Super Rugby match, that means Highlanders sit 12th of 12 teams in Super Rugby Pacific on two points through five matches played, having scored just nine tries throughout the season thus far. Seven points separate Highlanders from the top eight—meaning playoff positions—as the club is quickly entering "must-win" mode to save its season. Facing off against a Crusaders side in Round 7 that currently has 17 more points in the same amount of matches, it doesn't get any easier from here.
Crusaders Aim To Get Back Into Swing Of Things
Speaking of Crusaders, a 34-19 win over Chiefs in Round 6 was just what they needed after the squad was ravaged by COVID-19 issues that forced it to miss Round 5 like most of the other New Zealand-based teams. As table-toppers Brumbies and Reds hold a game in-hand over the third-placed Crusaders due to that postponement, it would be a grave mistake to consider coach Scott Robertson's men out of the fight. Tied for second in the competition with 21 tries, the Christchurch side can put up points in bunches and overwhelm defenses, with wing Leicester Fainga'anuku being one of the best individuals in Super Rugby at scoring tries with four to his name, tying him for second across all teams.
The last time a somewhat-normal Super Rugby competition was played in 2019, Crusaders stormed to the title by scoring 58 points in the table leading to the playoffs before winning the final that summer. The point is, if Crusaders can avoid further disruptions, they should be right in the thick of another title push.
Two In Two? Moana Pasifika's Historic Win
Live it up, Moana Pasifika. Following a nearly two-year process that involved playing its first match in 2020 all the way to being granted a license to play in Super Rugby this year, Moana Pasifika's long-awaited first win in Super Rugby finally came over this past weekend as the club fully-fledged with players either from or with heritage from Pacific islands triumphed 24-19 over Hurricanes. Having played just three of a possible six matches thus far due to virus problems wreaking havoc on both the squad and its opponents, it was a defining night for Moana Pasifika in Auckland as it won on a Danny Toala try in extra time to shock Hurricanes despite the visitors having a large advantage in possession for much of the match.
The next objective for Moana Pasifika? Repeat the feat. It'll take on Blues in Round 7, which is currently on a three-match winning run, but after finally getting over the hump to get its first win, Moana Pasifika could be beaming with enough pride to create a run.
Blues: Contenders Or Pretenders?
As mentioned previously, Blues' three-match run of winning form is currently the best in Super Rugby Pacific by a club not named Brumbies. But peeling back the layers reveals that two of those victories have come against the very bottom of the standings in Highlanders, while the other came against a Chiefs unit that has been a bit strange to figure out, having won three yet lost two. The Super Rugby Trans-Tasman winners know what it's like to be in the hunt for gold, and Blues certainly have the personnel to do it.
Fly-half Beauden Barrett's heavy knock he took against Highlanders could impact him down the line as he was diagnosed with a concussion, but when healthy the two-time World Rugby Player of the Year is still one of the finest talents on Earth—even at 30. Throw in the fact that Blues has (they hope) cleared their only COVID-19 outbreak after missing Round 5 due to it—plus a schedule that avoids Brumbies until Round 14—and coach Leon MacDonald's group will hope to be in the fight for a first official Super Rugby title since 2003.
Super Rugby Pacific Schedule: Round 7
NOTE: All match start times are listed in Eastern Time and are subject to change.
TUESDAY, MARCH 29
Moana Pasifika vs. Blues, 2:25 a.m.
FRIDAY, APRIL 1
Crusaders vs. Highlanders, 2:05 a.m.
Fijian Drua vs. Waratahs, 4:45 a.m.
SATURDAY, APRIL 2
Blues vs. Moana Pasifika, 2:25 a.m.
Queensland Reds vs. Brumbies, 4:45 a.m.
Hurricanes vs. Chiefs, 10:35 p.m.