2022 Western Force vs Brumbies Rugby
Super Rugby Pacific Preview: Brumbies Looking To Strengthen Lead
Super Rugby Pacific Preview: Brumbies Looking To Strengthen Lead
Virus outbreaks have made on-time play for some sides difficult, meaning that fans likely haven't seen the premier versions of most teams yet.
Mar 23, 2022
by Briar Napier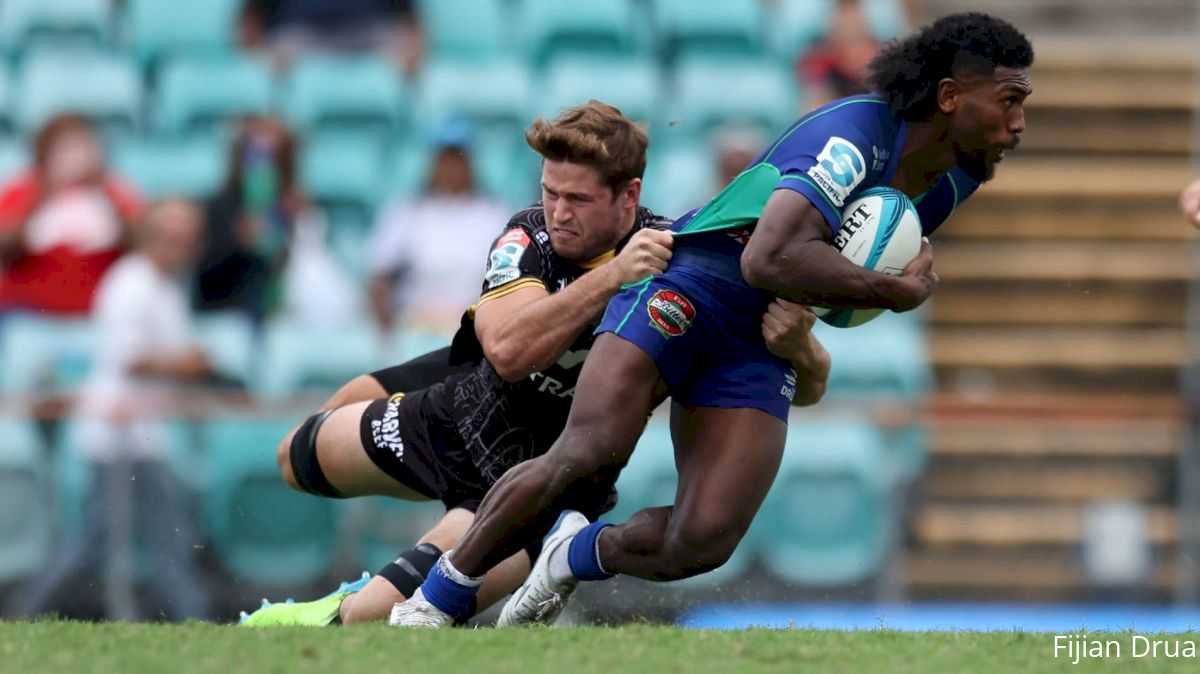 Through the third-way point in the Super Rugby Pacific season, there remains much undecided at the moment.
Virus outbreaks have made on-time play for some sides difficult, meaning that fans likely haven't seen the premier versions of most teams yet. But as the year goes along and the schedule stabilizes, the league table will only heat up. And with some frenetic fixtures ahead—including in Round 6—there's plenty of excitement to come.
Here are some storylines to monitor headed into the sixth week of Super Rugby, which you can catch live all season on FloRugby:
NOTE: All fixture start times are listed in Eastern Time and are subject to change.
Brumbies: The New Team To Beat?
In their highly-anticipated top-of-the-table meeting with Queensland Reds last round, Brumbies staved off their title rivals and kept up an unbeaten start to the season with a thrilling 16-12 win over Reds. Brumbies had just 35 percent possession in the opening 40 minutes and nearly gave the match away after Queensland captain Fraser McReight found himself on a breakaway with seconds left to play, but the Reds flanker couldn't handle possession after kicking the ball forward and hitting it off the post, allowing Brumbies to ground the ball and close out the match with skin intact.
Now four points clear and with the fixture against Reds out of the way, it's hard not to call Brumbies the early-season favorite to win their first Super Rugby title since 2004. There's still plenty of rugby left to play, but with a +75 point differential including victories over the second- (Reds) and third-placed (New South Wales Waratahs) clubs already, Brumbies will likely be at the top of the standings until further notice.
Shorthanded Chiefs Roll As Crusaders Clash Awaits
Stricken by a COVID-19 outbreak within the squad, Chiefs were without numerous critical players for Round 5 including All Blacks Sam Cane, Luke Jacobson and Anton Leinert-Brown as the team was the only New Zealand-based outfit able to field a team this past weekend. Nonetheless, Chiefs' performance under the circumstances allowed them to further stake their claim as the premier Kiwi team in Super Rugby. A nine-try day punctuated a 59-12 blowout of Moana Pasifika (which itself was coming off a virus-related cancelation in Round 4) in which five-eighth Bryn Gatland nearly outscored the Super Rugby rookies by himself with 11 points.
Chiefs will need everyone to get back healthy and well-rested for Round 6, however, with fourth-placed Crusaders next on the slate. A win in that fixture with Reds and Waratahs duking it out themselves could prove critical in Chiefs moving up the totem pole, especially considering teams above (with the exception of Crusaders) hold a game in-hand.
Waratahs-Reds Ahead In Critical Top-Half Battle
Waratahs didn't look great at times against Melbourne Rebels in Round 5, but still managed to skate past thanks to tries from Lalakai Foketi, Alex Newsome and Will Harris in a 24-19 win. The occasion marked New South Wales' first back-to-back victories since August 2020 and a spot in third in the current Super Rugby Pacific table, a welcome change for Tahs fans after a miserable last-place, winless finish in Super Rugby Trans-Tasman last season.
Waratahs' next test is to prove that they belong among the competition's elite. A Round 6 showdown with the team directly ahead of them. Reds will be looking to return stronger after the aforementioned defeat to Brumbies, while for Waratahs it's important for them to keep distance between themselves and the pack behind them for as long as possible—especially with many teams having rescheduled fixtures and added rust from unplanned bye weeks. Tahs and Reds have avoided that adversity thus far, and it could prove to be to their advantage down the line. But against each other, it will matter little.
Several Teams Look To Move Past COVID Hiccups
COVID-19 reared its ugly, ugly head on the Super Rugby Pacific schedule in Round 5, with three matches suspended due to virus outbreaks as some squads were unable to field teams. As previously mentioned, the New Zealand-based teams in particular were especially affected as the country has seen its biggest spike of cases throughout March since the pandemic began.
Crusaders, Hurricanes, Highlanders and Blues were all forced to reschedule matches, while Chiefs were dealing with virus-related issues of their own when they made a late shift to play Moana Pasifika, which had its originally-scheduled match against Highlanders shelved. It'll certainly mean plenty of fixture reshuffling as the competition goes along, though it could get shaky if more matches see COVID-related hiccups. Moana Pasifika in particular has only played two matches in the season's first five weeks due to virus impacts both in and out of the team, which undoubtedly played a role in the competition debutants looking rusty against Chiefs.
Could Drua Sneak Into The Top Eight?
Fijian Drua is learning that it has a knack for living dangerously. The other squad making its Super Rugby debut this season, Drua has finished their last three matches being within five points of their opponents. However, the team is only 1-2 in those fixtures, and with the competition's current worst defensive record (161 points allowed) there aren't likely to be Drua-led blowouts anytime soon.
Nonetheless, the 20-18 defeat to the Blues in Round 5 (while still a loss) showed some improvement on the defensive front. It took an 85th-minute Blues penalty, after the siren, to stop Drua from recording their second victory in their Super Rugby history. Getting into the playoffs as a top-eight team would be a massive achievement in Drua's first Super Rugby season, and it is currently in the early-year hunt for a place as it sits in ninth. However, with plenty of season left to go and holding matches in-hand on some teams above, there's much left to play for.
Super Rugby Pacific Schedule: Round 6 (ET)
FRIDAY, MARCH 25
Moana Pasifika vs. Hurricanes, 2:05 a.m.
Melbourne Rebels vs. Fijian Drua, 4:45 a.m.
Western Force vs. Brumbies, 7 a.m.
Highlanders vs. Blues, 11:35 p.m.
SATURDAY, MARCH 26
Chiefs vs. Crusaders, 2:05 a.m.
Queensland Reds vs. New South Wales Waratahs, 4:45 a.m.