2022 Brumbies Rugby vs Queensland Reds
Super Rugby Pacific Preview: Storylines For Round 5
Super Rugby Pacific Preview: Storylines For Round 5
With a major shock in Round 4 shaking up the title favorites picture, the door opens for some squads to take advantage and gain critical ground.
Mar 16, 2022
by Briar Napier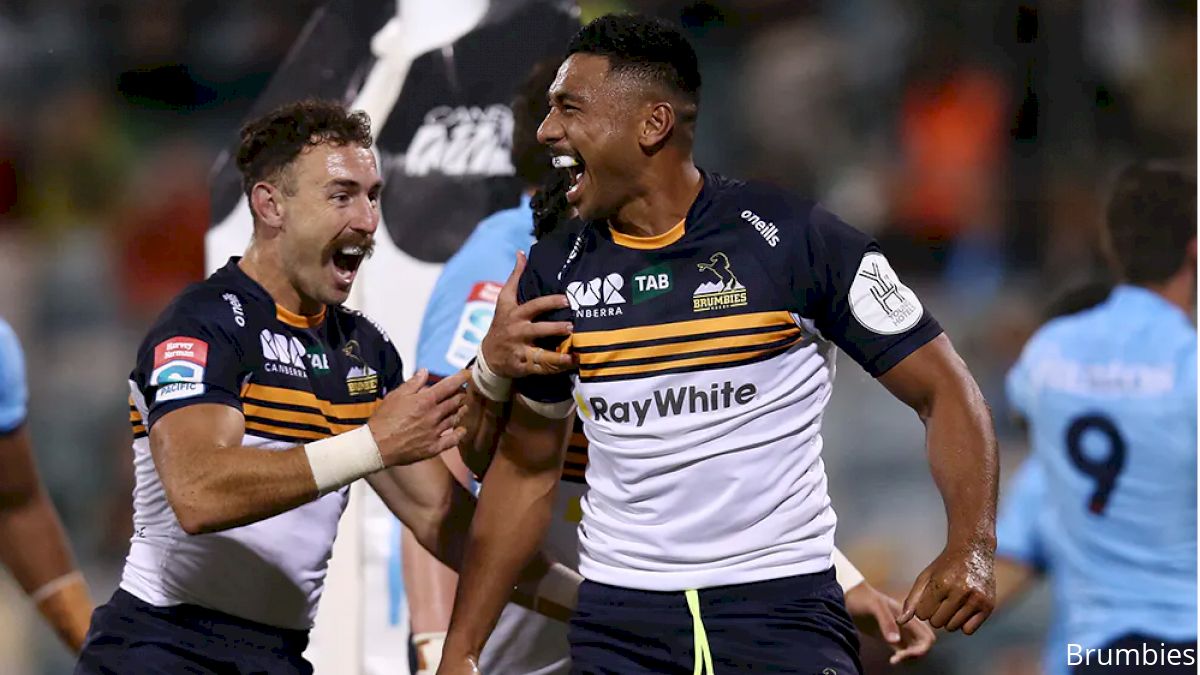 Things are heating up in the Super Rugby Pacific season.
With a major shock in Round 4 shaking up the title favorites picture, the door opens for some squads to take advantage and gain critical ground on the rest of the field even in the competition's early days.
As Super Rugby Pacific reaches its third-way point in Round 5 next weekend, check out some of the storylines currently impacting teams and the matchups to watch for on FloRugby throughout the slate of matches.
Reds, Brumbies Prep For Top-Of-The-Table Clash
With the Crusaders' stunning slip-up against the Chiefs over the weekend having shaken up the cream of the crop of the Super Rugby standings, Queensland Reds are now currently poised to take Crusaders' place. With a massive meeting against first-place Brumbies set for this weekend, it'll prove whether or not the Reds are worthy of staying. Coach Brad Thorn's men skated past Fijian Drua 33-28 in Round 4 to stay a perfect 4-0-0, but three of those wins have come against squads currently placed in the bottom-half of the Super Rugby table.
Meanwhile, two-time competition champions Brumbies easily cruised by bottom-dwellers Melbourne Rebels 36-17 in their latest match, maintaining Super Rugby's current best point total (18) and point differential (+52). If Reds manage to pick up points against current title favorites, they could be on to something. If not, it could signal Brumbies are poised for a historic season ahead.
Chiefs Stun Crusaders, Is It The Boost They Need?
Undoubtedly the result of the weekend was Chiefs' shocking 24-21 victory over 12-time champions Crusaders, with coach Clayton McMillan's side winning on the road at Rugby League Park for the first time since 2016. The way the Chiefs pulled off the upset was shocking, too.
Winger Shaun Stevenson scored his last of two tries in the match to clip a 21-10 deficit to 21-17 in the 76th minute, and centre Rameka Poihipi followed with a try of his own in the dying embers of the match, crossing the goal line at the corner in the 82nd minute to help Chiefs stun the three-time defending Super Rugby champions. The result could prove massive for Chiefs pursuit of a playoff position, while the Crusaders have ground to make up to catch the current top two of Brumbies and Reds. Chiefs and Crusaders play Hurricanes and Blues, respectively, in Round 5 and their responses will be monitored.
Highlanders' Slump Continues
With just one point through four matches, sirens are blaring in the Highlanders camp. Blues—even without All Black five-eighth Beauden Barrett and several others scratched due to COVID-19—still got past Highlanders 32-20 thanks to a 29-7 second-half run spearheaded by two tries from backrower Taine Plumtree. Plumtree was making just his second Super Rugby start.
Part of Highlanders' current slump is due to a brutal start to the schedule—they've played all four of the other New Zealand-based teams, three matches of which were away from home—making Round 5's planned meeting with rookie side Moana Pasifika at home a welcome respite. Nonetheless, Highlanders are currently languishing in 10th place in the table (even though four teams have played less than four games) and staring elimination in the face, well before the playoffs. It's a long campaign, but the points must come sometime to avoid an early exit this year.
Moana Pasifika Still Struggling
Moana Pasifika's debut season in Super Rugby can't be going the way it hoped. Through four rounds, the squad has only played a single match—a 33-12 defeat to Crusaders in Round 3—and had its most recent planned matchup against Hurricanes postponed due to COVID-19 issues leaving the Hurricanes unable to field a team.
This was after Moana Pasifika had planned matches in the first two weeks shelved due to virus cases within its own team, making for an unlucky first season in the competition thus far for the squad filled with players either from or holding heritage from various Pacific island nations. As long as both teams stay healthy, Moana may finally be able to try and get consistent field time going against Highlanders in Round 5, but with the fluid situation of COVID-19 across Oceania at the moment—virus cases have spiked recently in New Zealand to new pandemic highs—truly anything could be in play.
Are Waratahs Underappreciated?
Despite being just 2-0-2, the Waratahs currently hold a top-four spot in the competition. Those defeats came at the hands of the current top-two sides in Brumbies and Reds. Battered and bruised without captain Jake Gordon in the side over the weekend, NSW still managed to roll past Western Force 22-17, scoring all of its points in the first half as flanker Charlie Gamble and fullback Will Harrison notched tries for the home side at Leichhardt Oval.
Waratahs Round 5 opponent, Melbourne Rebels, currently sit in 11th place with one point and offer a key opportunity for the New South Wales team to make their way up the table—a particularly important fixture with Reds and Brumbies duking it out for first place is in the same matchweek. With 21-year-old flanker Will Harris proving to be a young star for the squad (three tries, tied for second in Super Rugby), Waratahs are liable to be a tough out for the remainder of the season.
Super Rugby Pacific Schedule: Round 5 (ET)
FRIDAY, MARCH 18
Highlanders vs. Moana Pasifika, 2:05 a.m. [Postponed]
Brumbies vs. Queensland Reds, 4:45 a.m.
Fijian Drua vs. Western Force, 11:35 p.m.
SATURDAY, MARCH 19
Crusaders vs. Blues, 2:05 a.m. [Postponed]
New South Wales Waratahs vs. Melbourne Rebels, 4:45 a.m.
Hurricanes vs. Chiefs, 10:35 p.m. [Postponed]