2022 NSW Waratahs vs Western Force
Super Rugby Pacific Preview: Crusaders, Brumbies Rolling
Super Rugby Pacific Preview: Crusaders, Brumbies Rolling
It's early goings this season, but two of the most successful teams in Super Rugby's history look to be thoroughly in the mix for yet another title.
Mar 9, 2022
by Briar Napier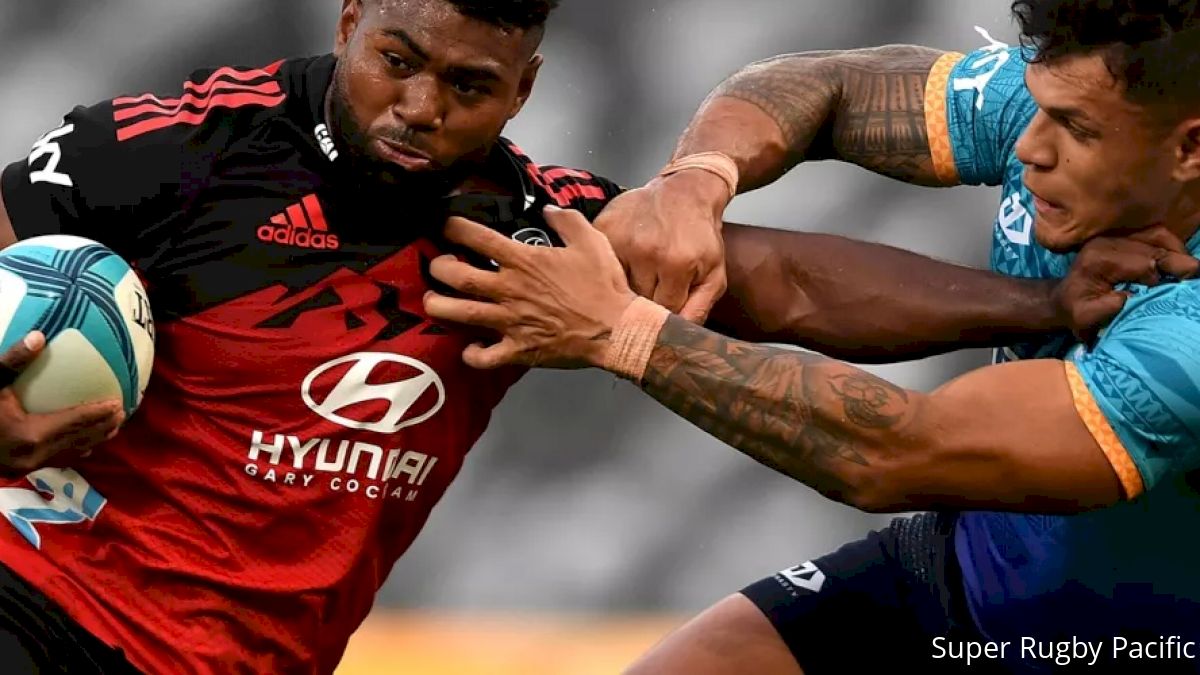 After three matchdays in Super Rugby Pacific this season, the field is starting to shape out among contenders and pretenders.
Some titanic matchups in the competition remain, but every result goes a long way in eventually determining the top-eight spots—and all-important playoff positions—in the league standings later this spring. And some look more primed to compete for silverware than others.
What's to come for Round 4? Look below at some of the key storylines heading into another week of Super Rugby Pacific that is coming to FloRugby.
Crusaders, Brumbies Look Like Favorites
It's early goings this season, but two of the most successful teams in Super Rugby's history look to be thoroughly in the mix for yet another title. Through three matchdays, Crusaders and Brumbies look to be the cream of the crop, with the current first-place Crusaders as the first squad to crack the 100-point barrier after beating Moana Pasifika 33-12 in its Super Rugby debut.
Yet it is Brumbies who currently hold the best point differential in the table at +52, improving to 3-0-0 with a 27-20 win over New South Wales Waratahs in Round 3, holding them and Fijian Drua to a combined 23 points over the past two matchdays. Queensland Reds are still hanging around as one of three unbeaten squads, as well, but with just nine tries scored in three matches, they could be outpaced by one of the elite scoring teams in the tournament. Crusaders and Brumbies will play bottom-half sides Chiefs and Melbourne Rebels, respectively, in Round 4, matchups that could further increase the duo's gap against many other teams in the standings.
What's Bothering Highlanders?
The runner-up in last year's Super Rugby Trans-Tasman, Highlanders' start to the 2022 campaign couldn't have gone much worse. The New Zealand outfit sits at 0-0-3 with a minus 48 point differential, putting them second-worst and only ahead of Melbourne Rebels as the lowest-ranked sides that have played three matches.
Highlanders' most recent defeat came at the hands of Hurricanes by a 21-14 scoreline in Round 3, with the visitors failing to gain much momentum throughout the match and were saved by a late Josh Dickson try from making the deficit look more lopsided. The squad's Round 4 fixture against Blues, who have played one less match due to COVID-19-related postponements, is a major opportunity for the Highlanders to regain some form against a team higher in the table. Though it'll be an uphill climb: Blues narrowly lost to Hurricanes 33-32 on Feb. 25, with Hurricane and All Black Ardie Savea's siren-beating try in the 79th minute proving to be the difference.
Moana Pasifika Looking For Stability
Moana Pasifika—a newly-created squad for this season consisting of players hailing from various Pacific island nations—was supposed to have its highly-anticipated debut into Super Rugby back on Feb. 17. Alas, COVID-19 cases within the Moana Pasifika roster postponed that grand opening until Round 3, when the squad was welcomed to the competition with a 33-12 thumping by Crusaders on March 3.
Hurricanes await in Round 4 on March 11, and from the small sample size there was much to like about coach Aaron Mauger's side. Tongan international and loose forward Solomane Funaki scored the first try in team Super Rugby history by notching the first try of the game against Crusaders. Though the 10-time champions recovered well from there, the debutants had six clean breaks to their opponents' three and had moments where they looked well up to the task of playing with the current table leaders. With the first match finally under their belts, Moana Pasifika will now hope for their first Super Rugby points.
Hurricanes Playing With Fire
Being the second most-leaky defensive team in the competition thus far, while also currently ranked fourth, could end up being a dangerous combination. That is exactly the place the Hurricanes find themselves in after three matchdays, skating by the slumping Highlanders in Round 3 while seeing newbies Moana Pasifika this week. All Blacks Sevens international Salesi Rayasi—a wing who actually played a match for Moana Pasifika in a one-off against the Maori All Blacks in 2020—has been a key piece of the attack, scoring a joint competition-high three tries, all of which came against Blues in Round 2.
However, that match in particular also revealed some of the defensive deficiencies that Hurricanes have been plagued with, as the Blues led 32-14 with 10 minutes to play and they needed a furious comeback to secure the win. Then there were the 42 points they gave up the round before to Crusaders. This time it didn't result in a victory as Hurricanes were defeated by double digits. Defensive consistency must come if Hurricanes want to stay in the playoff places, because it's more than likely the mistakes will catch up with them soon enough.
Fijian Drua's Defensive Woes
Super Rugby's other new team this year, Drua notched its first win ever in the competition with a 31-26 victory over Melbourne Rebels in Round 3, scoring three tries to keep pace with the top eight and playoff spots. However, the island nation's representative in Oceania's biggest club rugby competition needs a better defensive unit to stay afloat for much longer. Drua has been rocked thus far early in the campaign by other teams' attacks, allowing a Super Rugby-high 108 points and 16 tries through three matchdays.
For instance, Brumbies and Drua had fairly even shares of possession (52 percent to 48 percent) in their meeting in Round 2, but Brumbies stomped their opposition 42-3 by playing efficient rugby, outpacing Drua in kicks in play 25-8 and in passes 127-85. Another top-three team in Queensland Reds is on the docket in Round 4, and Drua must show more might on the defensive side of the game or a similar result could be in play.
Super Rugby Pacific Schedule: Round 4 (ET)
MARCH 11
Blues vs. Highlanders, 1:05 a.m.
Melbourne Rebels vs. Brumbies, 3:45 a.m.
Hurricanes vs. Moana Pasifika, 10:35 p.m.
MARCH 12
Crusaders vs. Chiefs, 1:05 a.m.
Queensland Reds vs. Fijian Drua, 3:45 a.m.
New South Wales Waratahs vs. Western Force, 10 p.m.