International Rugby League
Autumn Nations Series Recap: France, Ireland Fly High; All Blacks Struggle
Autumn Nations Series Recap: France, Ireland Fly High; All Blacks Struggle
France and Ireland come out of the Autumn Nations Series with their heads held high, while Australia and New Zealand are down in the dumps.
Nov 23, 2021
by Briar Napier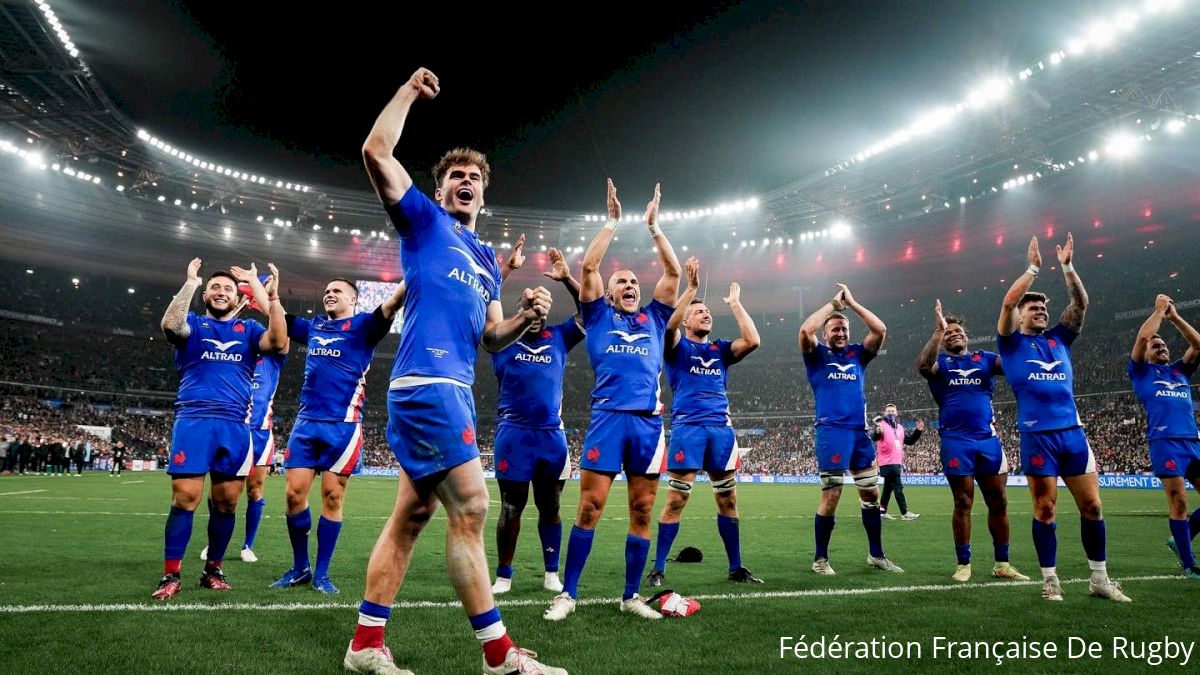 It's not often a nation commands as much attention as New Zealand does on the world rugby stage.
That includes when it loses.
Sure enough, the All Blacks were seeing red after a flat end to the year, losing successive matches in the Autumn Nations Series to Ireland and France as reigning world champions South Africa strengthened its grip atop the current world rankings.
As New Zealand loses sight of the Springboks, a cavalcade of opponents are eyeing them down from below. That includes the two teams it lost to this fall and a surging England, who looks primed and ready to vie once again for its first No. 1 ranking since 2019.
With that being said, what's all that we learned from this year's Autumn Nations Series?
All Blacks Bounced Twice
Without question the most shocking result of the Autumn Nations Series was Ireland's 29-20 victory over New Zealand on Nov. 13 in Dublin. For about a week, that is.
France one-upped the Irish by beating the All Blacks on home turf for the first time since 2000, winning 40-25 at the Stade de France for Les Bleus largest victory over New Zealand in their history. Leading 24-6 at half, the All Blacks fought back to 27-25 but a stunning French display of 13 unanswered points in the match's final 17 minutes completed a historic night and gave New Zealand back-to-back defeats for just the second time in a decade.
Couple that with New Zealand's third loss to Ireland in five matches—after previously being unbeaten against the Irish for 111 years—and the pressure is mounting on All Blacks boss Ian Foster as the team has lost at least three matches in a calendar year for the first time since 2009. Even though the attack is elite as New Zealand became the first nation in Test rugby history to score 100 tries in a season against France, a leaky defense and slow starts to matches have been its recent downfall.
The All Blacks' decade of dominance in the 2010s, when they won two Rugby World Cups and a world-best 116 matches, have never seemed so far away as now.
England Completes Revenge Tour
Australia and South Africa have been directly involved in knocking England out of the last two Rugby World Cups, so when the two appeared on England's Autumn Nations Series schedule this fall, it offered coach Eddie Jones' crew a shot at sweet vengeance.
Vengeance achieved. After easily dismantling Tonga in its Series opener, England cleaned house in a 32-15 win over the Wallabies before beating the reigning world champion Springboks 27-26 in a thrilling rematch of the 2019 World Cup final. Fly-half Marcus Smith's last-gasp penalty in the final minute sealed the win to give the English some solace for South Africa's 32-12 win two years ago in Japan and a perfect run of its end-of-year Test internationals.
A bonus: England now hasn't lost to Australia in eight matches dating back to the 2015 World Cup pool stage, in which the Wallabies' 33-13 win played a role in England missing out on the quarterfinals on home soil. It couldn't have been a better end to the Test season for Jones, a native Aussie, whose side will have a run of momentum headed into the Six Nations in February, a title it'll attempt to reclaim after two years as Wales was victorious in the last iteration.
What's Happened To The Wallabies?
Speaking of Australia, it couldn't have been a worse end to the year for coach Dave Rennie's team as successive defeats to Scotland, England and Wales marked seven match losses in 2021—the most the Wallabies have suffered since 2018—and its first winless European tour in 45 years.
The Wales defeat in particular was Australia's third straight, and between that, eight straight losses to England and three successive defeats to New Zealand, the Wallabies have gotten into bonafide slumps over stretches of the past couple of years. It's reflected in the world rankings, too, as Australia has dropped from third to sixth over the course of the Autumn Nations Series as England, Ireland and France leapfrogged with boosts from some great performances.
To make matters worse, Rennie will likely be sanctioned by World Rugby after slamming officiating following the Wales loss, in which Australia played a man down for most of the match but carried a lead into the 82nd minute before a late Wales penalty. It's perhaps a fitting end to what's been a tumultuous two years in charge for Rennie, who had just one win in six Tests in 2020 followed by the Wallabies' underwhelming 7-7 record this year.
There's two years until the World Cup to try and right the ship and play consistent winning rugby, like when Australia went on a five-match winning run that included two wins over South Africa earlier this Test season. But the two-time world champions won't like to be down the order among rugby's elite for long.