2021 England vs USA - Women's
Women's Eagles Announced For Clash With No. 1 England Sunday
Women's Eagles Announced For Clash With No. 1 England Sunday
Head Coach Rob Cain has made (9) nine changes from last week's match against Ireland as the USA Women's XVs National Team face England.
Nov 19, 2021
by FloRugby Staff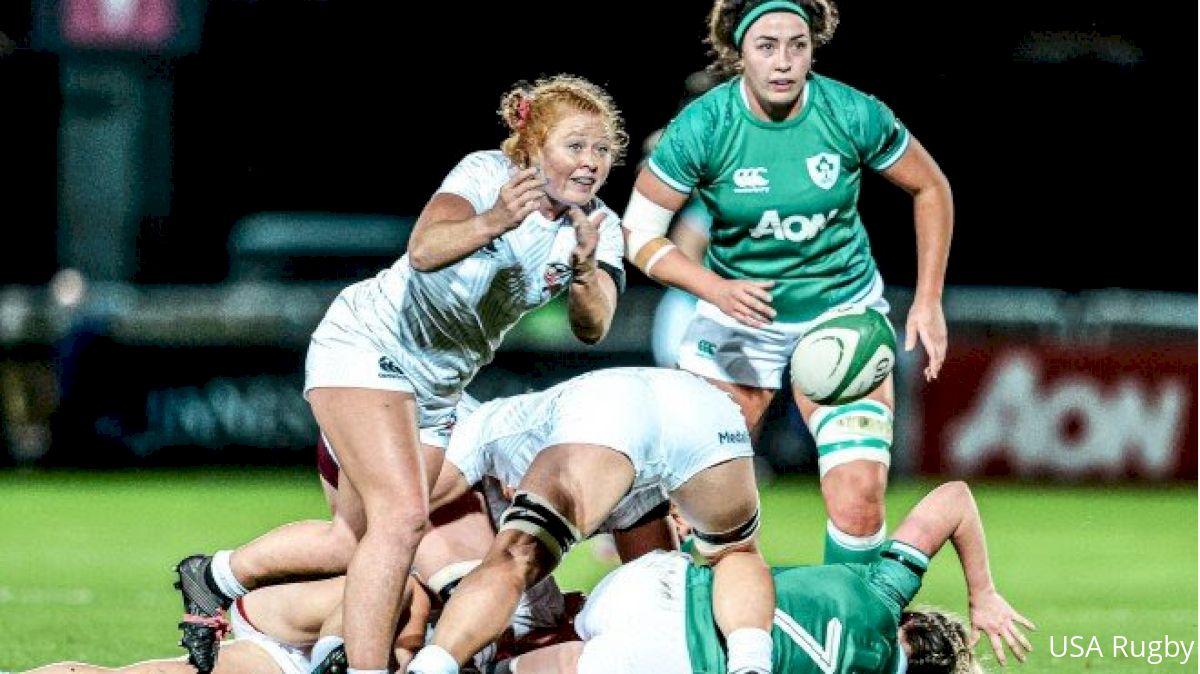 WORCESTER, ENG (November 19, 2021) - Head Coach Rob Cain has made (9) nine changes from last week's match against Ireland as the USA Women's XVs National Team face England this Sunday, KO 9:45 AM ET, on florugby.com. The match takes place at Sixways Stadium in Worcester, home of the Warriors in the Premiership.
Roster changes
Charli Jacoby plays prop alongside Hope Rogers after last competing in the Canada series

With Rachel Johnson out due to injury, Hallie Taufoou plays lock with Captain Kate Zackary in at flanker and Kristine Sommer at No. 8

Kayla Cannett and Jennine Detiveaux will play wing in place of Bulou Mataitoga and Tess Feury

Mckenzie Hawkins suits up at fullback

Jenny Kronish and Joanne "Nana" Fa'avesi could also play for the first time since the Canada series if called from the bench
Head Coach Rob Cain said:
"Playing England in England, the best team in the world, presents an exciting challenge and opportunity for us this Sunday. Under Simon Middleton, they have thrived off their pressure game in their ability to create and control it, with multiple outlets to do so. They have been extremely successful the past three weeks against some of the world's leading teams.
"For us, we have dominated large parts of our previous three games, showing the strides we have made across our depth and tactical awareness. But this tour has also highlighted the importance of playing test matches and getting real-time pressure games both domestically and at this level.
"Given over 80% of the squad hasn't had the opportunity to play high level matches for the past two years, playing what will be our 4th test match in 20 days against a team like England gives us a real opportunity to showcase our adjustment to that pressure.
"When we deliver in our tactical areas of focus throughout the week; and when we match that with the same level of precision and skill set that's needed in real time, we control large parts of the game at this level, which highlights the development that has taken place.
"Our challenge and our opportunity on Sunday is to determine if we can do this against England. These experiences are so important on our road to the World Cup."
Last week against Ireland
The USA Women fell to Ireland 10-20 in another close contest for their first away test in three years. Both teams suffered numerous handling errors through the first half while the U.S. also struggled at scrum time. Ireland were first to score despite the United States making several trips inside the opposition 22 with some promising runs that ran dry due to costly errors.
Defense and lineout execution was again much improved for the Eagles who also managed to score two tries off the hands of Bulou Mataitoga in the first half and Elizabeth Cairns in the second. Just as the U.S. were taking control, Ireland extended their lead with a try and penalty goal following a yellow card to Mataitoga. The Eagles continued to dominate large periods of play until the end but, unfortunately, couldn't execute their multiple scoring opportunities in the second half.
England Preview
England are currently ranked No. 1 in the World and have been undefeated since April. While the pandemic affected every nation differently, the Red Roses were one of a handful of nations who've had the opportunity to compete internationally since early 2021.
While that does heighten the levels of competition for both sides, the United States will be prepared for a physical contest from whistle to whistle, with every intent to minimize errors and capitalize scoring opportunities as this week's training has prepared them to do. Sunday will not be an easy contest, by any means, but playing the best team in the world always provides a platform to learn and improve in execution, as well as adapt in high pressure situations to become battle hardened for an even bigger year leading into Rugby World Cup in 2022.
USA Women's Eagles Roster
| | | | |
| --- | --- | --- | --- |
| PLAYER | POSITION | CLUB | CAPS |
| 1. Hope Rogers | Prop | Life West Gladiatrix | 32 |
| 2. Saher Hamdan | Hooker | Life University | 3 |
| 3. Charli Jacoby | Prop | Loughborough Lightning (ENG) | 8 |
| 4. Hallie Taufoou | Lock | Colorado Gray Wolves | 2 |
| 5. Alycia Washington | Lock | Worcester Warriors (ENG) | 24 |
| 6. Rachel Ehrecke | Flanker | Colorado Gray Wolves | 2 |
| 7. Kate Zackary (C) | Flanker | Exeter Chiefs (ENG) | 18 |
| 8. Kristine Sommer | No. 8 | Gloucester Hartpury (ENG) | 16 |
| 9. Carly Waters | Scrumhalf | Saracens (ENG) | 7 |
| 10. Megan Foster | Flyhalf | San Diego Surfers | 7 |
| 11. Kayla Canett | Wing | USA Sevens | 9 |
| 12. Katana Howard | Center | Sale Sharks (ENG) | 6 |
| 13. Amy Talei Bonte | Center | Gloucester Hartpury (ENG) | 8 |
| 14. Jennine Detiveaux | Wing | Exeter Chiefs (ENG) | 7 |
| 15. McKenzie Hawkins | Fullback | Colorado Gray Wolves | 5 |
| 16. Kathryn Treder | Reserve | Beantown RFC | 2 |
| 17. Maya Learned | Reserve | Gloucester Hartpury (ENG) | 5 |
| 18. Nick James | Reserve | Sale Sharks (ENG) | 15 |
| 19. Jenny Kronish | Reserve | Beantown RFC | 2 |
| 20. Elizabeth Cairns | Reserve | Life West Gladiatrix | 14 |
| 21. Olivia Ortiz | Reserve | Davenport & Chicago North Shore | 8 |
| 22. Joanne "Nana" Fa'avesi | Reserve | USA Sevens | 3 |
| 23. Sarah Levy | Reserve | USA Sevens | 4 |
USA Women's Eagles Traveling Staff (Ireland & UK)
Head Coach | Rob Cain
Assistant Coach | Neil Harris
Assistant Coach | Kate Daley
Analyst | Callum Howells
Strength and Conditioning | Albert Sasu
Strength and Conditioning | Huw Bevan
Lead Athletic Trainer | Hillary Stepansky
Athletic Trainer | Jade Callan
Team Doctor | Terrence Cronin
Team Manager | Kasey Allen
USA Women's XVs Autumn Internationals
November 1, 2021 | 9-15 (L)
vs Canada
Glendale, CO
November 5, 2021 | 13-26 (L)
vs Canada
Glendale, CO
November 12, 2021 | 10-20 (L)