2021 Ireland vs USA - Women's
Women's Eagles Announce Squad For Ireland Test This Friday
Women's Eagles Announce Squad For Ireland Test This Friday
No. 6 Women's USA Rugby will face No. 8 Ireland in Friday's Test. Coach Rob Cain announces the roster.
Nov 10, 2021
by FloRugby Staff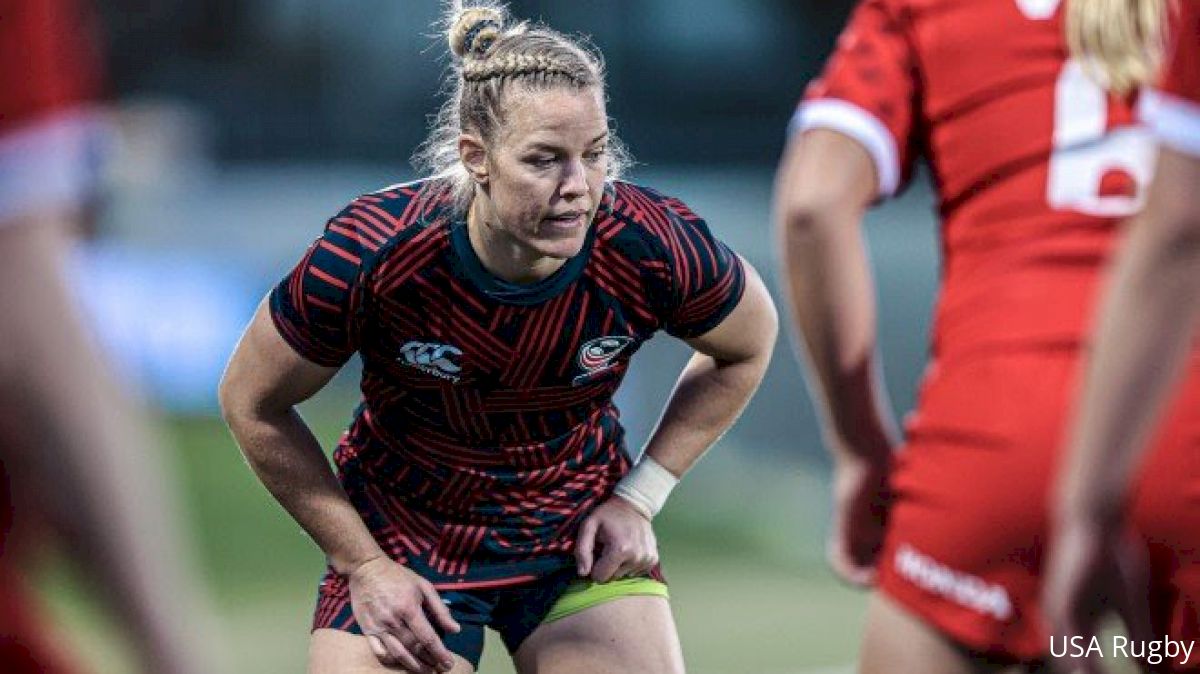 DUBLIN, IRE. (November 10, 2021) - Head Coach Rob Cain has made 9 changes from last week's battle with Canada as the USA Women's XVs National Team prepares to face Ireland on Friday at 2:15 PM ET on FloRugby.com.
Roster Changes:
Catie Benson starts at prop with Nick James named to the reserves
Alycia Washington starts at lock
Rachel Ehrecke is in at flanker with Elizabeth Cairns named to the reserves
Megan Foster suits up at flyhalf
Amy Bonte is in at center with Tess Feury in at wing for Alev Kelter and Ilona Maher who returned to sevens residency
Kayla Canett will start at fullback with McKenzie Hawkins named to the reserves
Kathryn Treder could play her first test match since November 2019
Sarah Levy is named to the reserves after being part of the non-23 last week
Ireland v USA Preview
The USA Women and Ireland last met in November of 2018 for what was the Eagles' first test win (19-10) since Rugby World Cup 2017.
Friday's matchup brings a renewed spirit to the Autumn Internationals as the No. 6 United States seeks retribution for two frustrating -- yet close -- losses to rivals Canada in Glendale. Ireland are ranked 8th in the world and will play their first test since September when they lost narrowly to Scotland in the European World Cup qualifier.
Positives from Glendale
While the USA lost the Pacific Four Regional Series to Canada, Coach Cain's side showed some significant improvement from the last test series in November of 2019. In what was their first test rugby since the pandemic, the Eagles lost by only 19 points on aggregate compared to 44 points just two years prior. Still, the team made no excuses for their lapses in performance, signaling a crucial change in attitude and mindset going into the next two games.
Head Coach Rob Cain said:
"Thank you to the players and staff who were part of our first two matches. To the players who left us, you will all be missed. It is always especially hard to say goodbye to people who leave through injury and we hope to see them back soon.
"The group remaining are under no illusions as to how strong a test Ireland will present. The fact that they've played seven test matches through the pandemic gives us another great platform to challenge where we are."
"The Canada series allowed us to get some positive answers individually and collectively both in our technical and tactical execution. The players' effort has been incredible as they've changed so much in terms of their rugby. That said, it has also been a frustrating two weeks, especially when this hard work and evolution hasn't always translated in real-time.
"To have momentum and the opportunity to win both test matches slip away at crucial times after some real positive moments prior has shown the progress being made but also highlighted how, at critical times, our focus, execution, and precision needs to always be at the highest level.
"We are excited at the prospect of this squad bringing those key learnings to life this Friday."
USA Women's Eagles Roster
| | | | |
| --- | --- | --- | --- |
| PLAYER | POSITION | CLUB | CAPS |
| 1. Catherine Benson | Prop | Sale Sharks (ENG) | 24 |
| 2. Saher Hamdan | Hooker | Life University | 2 |
| 3. Hope Rogers | Prop | Life West Gladiatrix | 31 |
| 4. Kristine Sommer | Lock | Gloucester Hartpury (ENG) | 15 |
| 5. Alycia Washington | Lock | Worcester Warriors (ENG) | 23 |
| 6. Rachel Ehrecke | Flanker | Colorado Gray Wolves | 1 |
| 7. Rachel Johnson | Flanker | Exeter Chiefs (ENG) | 9 |
| 8. Kate Zackary | No. 8 | Exeter Chiefs (ENG) | 17 |
| 9. Carly Waters | Scrumhalf | Saracens (ENG) | 6 |
| 10. Megan Foster | Flyhalf | San Diego Surfers | 6 |
| 11. Bulou Mataitoga | Wing | Berkeley All Blues | 4 |
| 12. Katana Howard | Center | Sale Sharks (ENG) | 5 |
| 13. Amy Talei Bonte | Center | Life West Gladiatrix | 7 |
| 14. Tess Feury | Wing | New York Rugby | 7 |
| 15. Kayla Canett | Fullback | USA Sevens | 8 |
| 16. Kathryn Treder | Reserve | Beantown Rugby | 2 |
| 17. Maya Learned | Reserve | Gloucester Hartpury (ENG) | 4 |
| 18. Nick James | Reserve | Sale Sharks (ENG) | 14 |
| 19. Hallie Taufoou | Reserve | Colorado Gray Wolves | 1 |
| 20. Elizabeth Cairns | Reserve | Life West Gladiatrix | 13 |
| 21. Olivia Ortiz | Reserve | Davenport & Chicago North Shore | 7 |
| 22. McKenzie Hawkins | Reserve | Colorado Gray Wolves | 5 |
| 23. Sarah Levy | Reserve | USA Sevens | 3 |
USA Women's Eagles Traveling Staff (Ireland & UK)
Head Coach | Rob Cain
Team Manager | Kasey Allen
Assistant Coach | Neil Harris
Assistant Coach | Kate Daley
Analyst | Callum Howells
Strength and Conditioning | Albert Sasu
Strength and Conditioning | Huw Bevan
Lead Athletic Trainer | Hillary Stepansky
Athletic Trainer | Jade Callan
Team Doctor | Terrence Cronin
USA Women's XVs Autumn Internationals
November 1, 2021 | 9-15 (L)
vs Canada
Glendale, CO
November 5, 2021 | 13-26 (L)
vs Canada
KO 6 PM MT