2021 USA vs Canada
3 Lessons The Eagles Can Take Into Saturday's Canada Rematch
3 Lessons The Eagles Can Take Into Saturday's Canada Rematch
Are we experiencing a bit of a "sky is falling" phenomenon after last week's poor outing, or is there real cause for concern?
Sep 10, 2021
by Alex Rees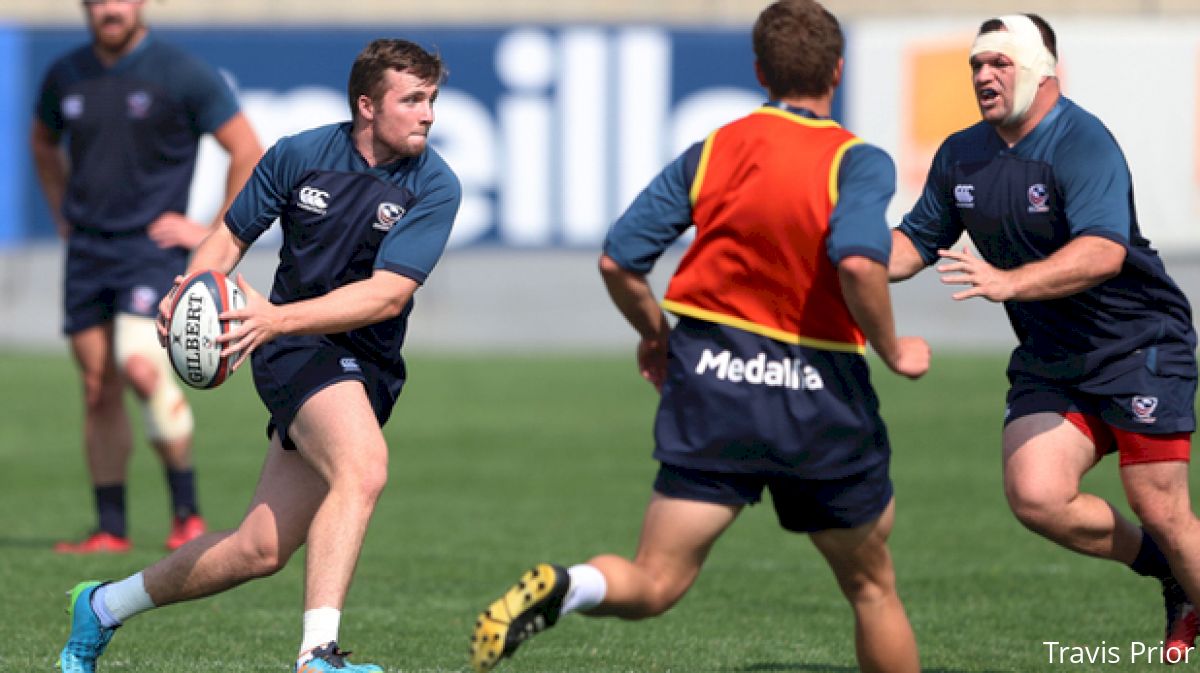 An unsavory 34-21 loss to the Canadians last week has the United States looking down the barrel of a lengthened road to the 2023 World Cup in France. With the second leg of a two-match series taking place this weekend stateside, the Eagles have plenty to fix if they're to start booking those trans-atlantic flights in two years time.
Are we experiencing a bit of a "sky is falling" phenomenon after last week's poor outing, or is there real cause for concern? We won't know for sure until they suit up again on Saturday, but in the meantime we can trust they're hard at work putting game 1 behind them.
As the Eagles finish up their film study in preparation for round two with Canada, here are a few things we can hope they learned throughout the week:
1. Seize (and maintain) the early momentum
One of the more frustrating aspects of last week's match in Newfoundland was the fact that the USA started off extremely well. A try within three minutes of the opening kickoff seemed poised to ease any nerves the guys might have had, but such wasn't the case. If anything, the early try riled up Canada, who hit the Eagles in the mouth time and time again.
This go-around, the U.S. needs to get a foothold into the game and keep their foot on the Canadian throats. As we learned in round 1, Canada - forgive this reference - operates somewhat like the stench of a stinking bag of garbage in the kitchen; only getting stronger the longer you don't take them out.
Head Coach Gary Gold & Captain AJ MacGinty Discuss Upcoming Match Against Canada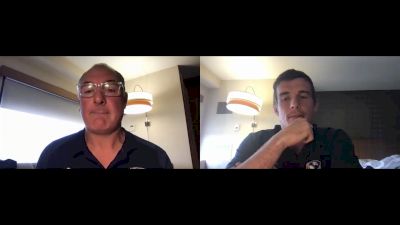 2. We aren't the Boks. We're the Eagles.
There's certainly something to be said for a team that leans into its defense to win games. In fact, if not mistaken the old saying goes: "Offense wins games, but defense wins championships." By most accounts, this is certainly true. I mean, look at the Springboks; the reigning World Cup, Rugby Championship, and Lions Tour winners have one of the best defenses we've ever seen, and the results on the field are plain to see. So why not imitate the best?
Because we aren't the Springboks.
South Africa owns such a dominant set piece, power, and aerial advantage over just about every team in the world that the most effective way to win is by leaning into these facets of the game. Hence, halfback Faf de Klerk will hoof anywhere between 15 and 30 box kicks per game for his meaty pack and rabid backline to go chase. Regardless of whether or not they win the ball in the air (which much of the time they do), they're in a great position to go assert their defensive dominance. It's not the prettiest rugby, but it works. For them.
Who it does not work for - in the least bit - is the United States. In recent times the Eagles have gravitated towards a conservative, box-kicking team committed to "grinding out" wins. And it's simply not our identity. Few, if any, MLR teams play this style, meaning our players aren't familiar with this approach to rugby yet try and play this way for the Eagles (generally only being together for two or three weeks tops.) This is not to suggest we shouldn't be a defensive-minded outfit, but for what it's worth, Americans generally don't play sports conservatively.
Hopefully we come out guns blazing on Saturday, leaning into the things that make us who we are - fast, ambitious, and exciting.
3. Thirteen Points is nothing
Thanks to a late try from Tavite Lopeti (on debut no less!) the Eagles trail by just 13 in the two-leg aggregate fixture. Considering some of the huge results we've seen under Gary Gold since he took the reins in 2018, there is no reason why we can't go and win this next one by two converted tries.
AJ MacGinty may need to put in a big shift, but with or without him at 100% this team has what it takes to put it on Canada. Now, this is not saying we should be scoring tries on every possession, but instead that we simply don't need to panic. Take the three points when they're on offer, keep the scoreboard ticking, and the result will take care of itself.
Keep our foot on the gas, play our style of rugby (cough cough quit all the box kicking cough), and don't feel like we need to chew the entire steak on the first bite. Act upon these lessons and we'll be ready to check American Airlines for ticket prices to France.
Watch the full match replay of the first test between USA and Canada: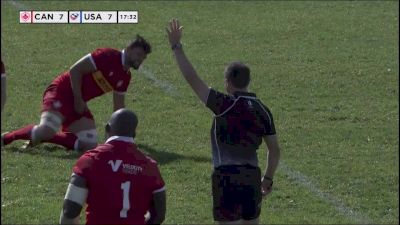 Unlock this video, live events, and more with a subscription!
Get Started
Already a subscriber? Log In
USA Match-Day Roster
| | | | |
| --- | --- | --- | --- |
| PLAYER NAME | POSITION | CLUB | CAPS |
| 1. David Ainu'u | Prop | Toulouse (FRA) | 12 |
| 2. Kapeli Pifeleti | Hooker | Saracens (ENG) | 5 |
| 3. Joe Taufete'e | Prop | Lyon (FRA) | 30 |
| 4. Nate Brakeley | Lock | Rugby United New York | 26 |
| 5. Nick Civetta | Lock | Rugby United New York | 29 |
| 6. Jamason Fa'anana-Schultz | Flanker | Old Glory DC | 4 |
| 7. Hanco Germishuys | Flanker | Rugby United New York | 24 |
| 8. Cam Dolan | No. 8 | NOLA Gold | 54 |
| 9. Ruben De Haas | Scrumhalf | Saracents (ENG) | 20 |
| 10. AJ MacGinty (C) | Flyhalf | Sale Sharks (ENG) | 29 |
| 11. Ryan Matyas | Wing | San Diego Legion | 12 |
| 12. Bryce Campbell | Center | Austin Gilgronis | 35 |
| 13. Tavite Lopeti | Center | Seattle Seawolves | 1 |
| 14. Christian Dyer | Wing | USA Sevens | 3 |
| 15. Marcel Brache | Fullback | Austin Gilgronis | 25 |
| 16. Dylan Fawsitt | Hooker | Rugby United New York | 16 |
| 17. Chance Wenglewski | Prop | Rugby ATL | 7 |
| 18. Paul Mullen | Prop | Utah Warriors | 21 |
| 19. Siaosi Mahoni | Lock | San Diego Legion | 3 |
| 20. Andrew Guerra | Flanker | NOLA Gold | 2 |
| 21. Nate Augspurger | Scrumhalf/Wing | San Diego Legion | 27 |
| 22. Will Magie | Flyhalf/Fullback | Austin Gilgronis | 28 |
| 23. Mike Dabulas | Flyhalf/Fullback | Old Glory DC | uncapped |
Men's XVs National Team Staff
Head Coach | Gary Gold
Asst Coach | Rob Hoadley
Asst Coach | Steve Brett
Asst Coach | Shawn Pittman
Head of Strength & Conditioning | Huw Bevan
Asst Strength & Conditioning | Josh Schnell
Performance Analyst | Jimmy Harrison
Team Doctor | Sam Akhavan
Head Physiotherapist | Kristen Douhan
Massage Therapist | Daliah Hurwitz
Athletic Trainer | Ron Klingensmith
Team Manager | Oscar Alvarez