2021 USA vs Canada
USA's Match Day 23 Set For Second Canada Test
USA's Match Day 23 Set For Second Canada Test
Head Coach Gary Gold has made (7) seven changes to his match roster from last week as the USA faces Canada this Saturday.
Sep 9, 2021
by FloRugby Staff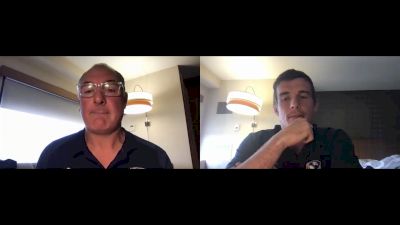 Head Coach Gary Gold has made (7) seven changes to his match roster from last week as the USA faces Canada this Saturday, Sept 11, KO 7 PM MT, at Infinity Park in Glendale, CO. The match marks the finale of a home and away series within the Rugby World Cup qualification process. Tickets are available at www.usarug.by/RWCQ with a LIVE stream on FloRugby.com.
Roster highlights:
AJ MacGinty will lead the group as Captain and start at flyhalf

David Ainu'u and Joe Taufete'e start at prop

Kapeli Pifeleti starts at hooker

Ryan Matyas (wing) will start for the first time since 2018 against Romania

Tavite Lopeti starts at center after winning his first cap last week and scoring a crucial try at fulltime

Mike Dabulas could make his national team debut from the bench
Last Week vs Canada
Last week saw a devastating and uncharacteristic 34-21 loss to Canada, marking the first time the USA Men have lost to Canada in eight years. The Eagles put themselves behind with simple errors and a lack of urgency that allowed Canada to claw their way back in the game despite two yellow cards in the opening minutes and a number of their own penalties.
Tavite Lopeti's try on the final drive cut the gap on the scoreboard, giving the USA a 13-point deficit to make up (14 points to win) this Saturday in order to become the North America 1 seed.
Whoever wins the battle will face Uruguay, the South America 1 seed, on Oct 2 and Oct 9 to seal qualification to Rugby World Cup 2023 in France. Whoever loses will face Chile, also on Oct 2 and Oct 9, to continue the qualification process into next year.
September 11 Tribute
Saturday's match takes place on the 20th anniversary of the September 11th attacks, marking a significant and meaningful day in the nation's history.
The Eagles will honor the occasion by wearing a commemorative logo both on their warm-up shirts and as a patch on their match jerseys. A special video featuring Men's and Women's 15s players will appear at pregame, followed by a moment of silence to honor all those affected in 2001 and even most recently in Kabul.
At halftime, Lt. Col. Dr. Kat Strus will accept a commemorative flag on behalf of Friends of Flight 93, in honor of American rugby players Mark Bingham and Jeremy Glick. Bingham and Glick are known for their heroic efforts in derailing the fourth plane 20 years ago. USA Rugby highly encourages the community to support Friends of Flight 93 by making a donation to The National Memorial or by purchasing their own warm-up shirt in-stadium. All t-shirt profits go directly to the fund.
Click here to make a donation to Friends of Flight 93.
Head Coach Gary Gold said
"I speak for everyone when I say we are incredibly focused on making up for our performance last week. As a group, we are utterly disappointed in what we showed on the field against Canada; and credit where it's due, because they took their opportunities and deserved to win. We absolutely cannot underestimate what this Canadian side can do and it is on us to put out a dramatically improved performance from last week.
"Saturday will be a serious task for us both physically and mentally on the field and because of what that day represents to this country. Playing on the anniversary of September 11 is something our guys take very seriously and there is a huge amount of pride that goes into representing your country in a World Cup qualifier on such an important day as that."
USA Match-Day Roster
| | | | |
| --- | --- | --- | --- |
| PLAYER NAME | POSITION | CLUB | CAPS |
| 1. David Ainu'u | Prop | Toulouse (FRA) | 12 |
| 2. Kapeli Pifeleti | Hooker | Saracens (ENG) | 5 |
| 3. Joe Taufete'e | Prop | Lyon (FRA) | 30 |
| 4. Nate Brakeley | Lock | Rugby United New York | 26 |
| 5. Nick Civetta | Lock | Rugby United New York | 29 |
| 6. Jamason Fa'anana-Schultz | Flanker | Old Glory DC | 4 |
| 7. Hanco Germishuys | Flanker | Rugby United New York | 24 |
| 8. Cam Dolan | No. 8 | NOLA Gold | 54 |
| 9. Ruben De Haas | Scrumhalf | Saracents (ENG) | 20 |
| 10. AJ MacGinty (C) | Flyhalf | Sale Sharks (ENG) | 29 |
| 11. Ryan Matyas | Wing | San Diego Legion | 12 |
| 12. Bryce Campbell | Center | Austin Gilgronis | 35 |
| 13. Tavite Lopeti | Center | Seattle Seawolves | 1 |
| 14. Christian Dyer | Wing | USA Sevens | 3 |
| 15. Marcel Brache | Fullback | Austin Gilgronis | 25 |
| 16. Dylan Fawsitt | Hooker | Rugby United New York | 16 |
| 17. Chance Wenglewski | Prop | Rugby ATL | 7 |
| 18. Paul Mullen | Prop | Utah Warriors | 21 |
| 19. Siaosi Mahoni | Lock | San Diego Legion | 3 |
| 20. Andrew Guerra | Flanker | NOLA Gold | 2 |
| 21. Nate Augspurger | Scrumhalf/Wing | San Diego Legion | 27 |
| 22. Will Magie | Flyhalf/Fullback | Austin Gilgronis | 28 |
| 23. Mike Dabulas | Flyhalf/Fullback | Old Glory DC | uncapped |
Men's XVs National Team Staff
Head Coach | Gary Gold
Asst Coach | Rob Hoadley
Asst Coach | Steve Brett
Asst Coach | Shawn Pittman
Head of Strength & Conditioning | Huw Bevan
Asst Strength & Conditioning | Josh Schnell
Performance Analyst | Jimmy Harrison
Team Doctor | Sam Akhavan
Head Physiotherapist | Kristen Douhan
Massage Therapist | Daliah Hurwitz
Athletic Trainer | Ron Klingensmith
Team Manager | Oscar Alvarez