2021 Canada vs USA
Team USA Match Day Roster Announced For Canada Test
Team USA Match Day Roster Announced For Canada Test
Bryce Campbell leads as Captain when the No. 16 USA Men's XVs National Team faces No. 22 Canada this Saturday.
Sep 2, 2021
by FloRugby Staff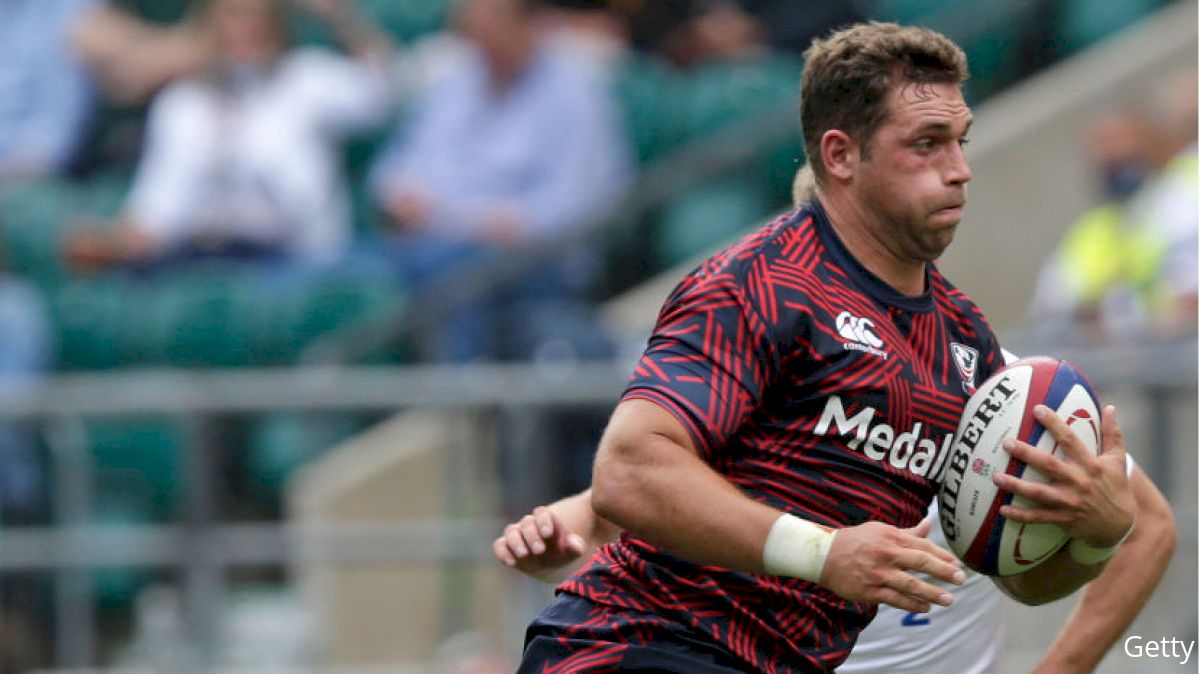 Bryce Campbell leads as Captain when the No. 16 USA Men's XVs National Team faces No. 22 Canada this Saturday in the first of a two-leg series for Rugby World Cup qualification. Kick off is set for 3:00 PM local time // 1:30 PM Eastern at Swilers Rugby Club in St John's, Newfoundland. The game will be LIVE-streamed on florugby.com.
Roster Highlights
Due to travel complications, AJ MacGinty arrived late into camp and will be named to the reserves

Starting hooker Dylan Fawsitt and reserve Nate Augspurger feature for the first time since Rugby World Cup 2019

Christian Dyer (wing) and Luke Carty (fullback) will start after two impressive performances this summer against England and Ireland

Reserve Tavita Lopeti could earn his first cap from the bench
Head Coach Gary Gold said:
"This is the first of two very crucial games for us in terms of Rugby World Cup qualification. We are very clear on what our roles are and what we need to do this weekend and now it's time to execute against those plans.
"As a squad we have had to adapt not only over the past year, but in these last two weeks as the travel restrictions and safety requirements due to COVID-19 have changed the preparation landscape for everyone. On top of that, Canada bring a well-coached and formidable side with a wealth of talented players. They have proven time and time again just how much of a threat they are in terms of their game plan, experience and rugby intelligence as we all saw at our warm up match back in 2019.
"All our focus and energy right now is on Canada this weekend in St John's as they pose a massive challenge for us."
About the Two-Game Series
Saturday's matchup is the first of two-games in a home and away series that serves as Part One of the overall World Cup qualification process. The United States will host Canada on September 11 in Glendale, CO for the final leg where the team who scores the most points across both games will emerge as the top seed for North America.
If the Eagles win, they'll face Uruguay -- the top seed for South America -- in another home and away series on Oct 2 in Glendale, CO and Oct 9 in Montevideo. If they lose, the USA will face Chile on the same dates in October for a separate home and away series to determine placings for the next stage of qualification in 2022.
Tickets for both USA home matches on Sept 11 and Oct 2 are available now at usarug.by/RWCQ. Both matches are broadcast LIVE on florugby.com.
Last Meeting: USA vs Canada
The United States and Canada will meet for the first time since 2019 when the Canadians hosted a nailbiter at B.C. Place as a warmup for the previous World Cup in Japan. After starting with an 0-12 deficit, the Eagles came back to defeat their rivals 20-15, retaining the Can-Am trophy and extending their win streak over Canada to six games. The USA have not lost to their North American counterparts since 2013 but logged a draw in the 2017 qualification series.
| | | | |
| --- | --- | --- | --- |
| PLAYER NAME | POSITION | CLUB | CAPS |
| 1. Chance Wenglewski | Prop | Rugby ATL | 6 |
| 2. Dylan Fawsitt | Hooker | Rugby United New york | 15 |
| 3. Paul Mullen | Prop | Utah Warriors | 20 |
| 4. Nate Brakeley | Lock | Rugby United New York | 25 |
| 5. Nick Civetta | Lock | Rugby United New York | 28 |
| 6. Hanco Germishuys | Flanker | Rugby United New York | 23 |
| 7. Jamason Fa'anana-Schultz | Flanker | Old Glory DC | 3 |
| 8. Cam Dolan | No. 8 | NOLA Gold | 53 |
| 9. Ruben De Haas | Scrumhalf | Saracens (ENG) | 19 |
| 10. Will Magie | Flyhalf | Austin Gilgronis | 27 |
| 11. Mika Kruse | Wing | Utah Warriors | 2 |
| 12. Bryce Campbell (C) | Center | Austin Gilgronis | 34 |
| 13. Marcel Brache | Center | Unattached | 24 |
| 14. Christian Dyer | Wing | USA Sevens | 2 |
| 15. Luke Carty | Fullback | LA Giltinis | 2 |
| 16. Kapeli Pifeleti | Hooker | Saracens (ENG) | 4 |
| 17. David Ainu'u | Prop | Toulouse (FRA) | 11 |
| 18. Joe Taufete'e | Hooker | Lyon (FRA) | 29 |
| 19. Siaosi Mahoni | Lock | San Diego Legion | 2 |
| 20. Andrew Guerra | Flanker | NOLA Gold | 1 |
| 21. Nate Augspurger | Wing/Scrumhalf | San Diego Legion | 26 |
| 22. Tavita Lopeti | Center | Seattle Seawolves | uncapped |
| 23. AJ MacGinty | Flyhalf | Sale Sharks (ENG) | 28 |
Men's XVs National Team Staff
Head Coach | Gary Gold
Asst Coach | Rob Hoadley
Asst Coach | Steve Brett
Asst Coach | Shawn Pittman
Head of Strength & Conditioning | Huw Bevan
Asst Strength & Conditioning | Josh Schnell
Performance Analyst | Jimmy Harrison
Team Doctor | Sam Akhavan
Head Physiotherapist | Kristen Douhan
Athletic Trainer | Ron Klingensmith
Team Manager | Oscar Alvarez