2021 Bledisloe Cup
Ultimate Guide To The Rugby Championship & Bledisloe Cup
Ultimate Guide To The Rugby Championship & Bledisloe Cup
To get you set for all the upcoming action we've put together the ultimate guide to get you ready for The Rugby Championships and Bledisoe Cup.
Aug 10, 2021
by FloRugby Staff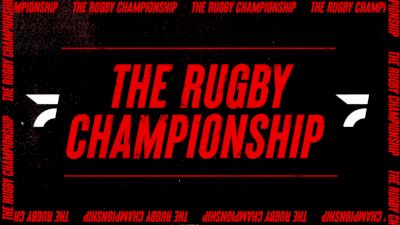 We are one match into the test series between New Zealand and Australia to determine who takes home the Bledisloe Cup. That also means that we a just a few days away from the start of The Rugby Championship, which begins on August 14th.
The final two tests of the Bledisloe Cup are set tot take place during TRC so to get you set for all the upcoming action we've put together the ultimate guide to get you ready for what's to come.
Mark your calendars and set your alarms for each upcoming match you want to watch.
Check in with Rob Vickerman and our very own Adam Armstrong to learn about the history of the Bledisloe Cup that began in 1930s.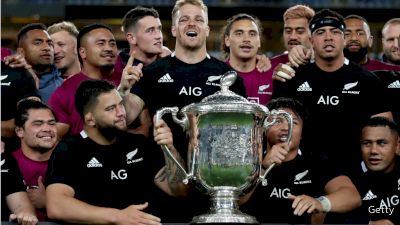 For even more insight, let's dive into TRC a little bit more with a team-by-team breakdown.
The Springboks face a challenging dilemma ahead. Presently entrenched in a heartstopping series with the British & Irish Lions, South Africa will have all eyes fixated on this weekend's decisive third test with a series winner to be crowned at its culmination.
No more than 6 days after that, however, the Boks must shift their attention to Argentina and the Rugby Championship. Following three brutal matches against the Lions, the question will be, can South Africa hold up physically for an entire tournament? There's no questioning the Springboks' ability - South Africa still sits number 1 in the World Rugby Rankings - but given the fatigue that comes with taking on the touring Lions, they'll have their work cut out.
Tactically, there's no better mastermind in rugby than Springbok coach Rassie Erasmus, who has already led South Africa to a Rugby Championship and a World Cup title in his 3-year tenure. He looks poised to add a British Lions series win to that resume, and a second Rugby Championship may be enough to cement his legacy as an all-time legend.
Top to bottom, this South Africa team is stacked with talent, size, and physicality. They won't 'wow' anybody with champagne rugby, but they know who they are and precisely how they want to beat you. The dogs up front (Trevor Nyakane, Eben Etzebeth, Pieter-Steph du Toit, Siya Kolisi, Duane Vermeuelen to name a few) will dominate the set-piece and collisions. The kickers and distributors in the middle (Faf de Klerk, Handre Pollard, Willie le Roux) will dictate the field position. And the finishers (Damian de Allende, Lukhanyo Am, Makazole Mapimpi, Cheslin Kolbe) will make the magic happen to score tries. Simple as!
These guys enter the fold as the favorites.
What is there to say that hasn't already been said about the All Blacks? How about this? Is New Zealand in danger of becoming a "finesse" team? When Covid disrupted world rugby and everything else, the All Blacks were coming off a disheartening loss to an efficient England at the 2019 Rugby World Cup. Since then they have lost for the first time ever to Argentina (who hadn't played at all in 13 months), following a loss to Australia. Stern tests have been hard to come by since then, with a canter vs a woefully overmatched Tonga XV, and two slightly tougher battles with Fiji. The domestic Super franchises almost swept their Australian counterparts in the Super Rugby Trans Tasman series, but is the crown slipping a little? South Africa is the World Champion and ranked #1, and there is less fear of the All Blacks than in years past.
That said, good luck to the team that underestimates New Zealand - they are stacked all over the field with world-class talent, and will be eager to re-establish themselves as world #1. Look for Brodie Rettalick at Lock to come back strong from his sojourn in Japan, and new blood Will Jordan and Caleb Clarke to run in some spectacular tries from out wide.
Aussie rugby is going through a transitional period, and it remains to be seen which direction they will take. Accusations of mismanagement and finger-pointing at the top have left the Wallabies in a very uncertain state, and their finances took another hit in settling the Israel Folau fiasco. But there is a glimmer of hope in the rise of a successful generation of Aussie youth teams and a 2-1 win in a tremendous Test series with France over the last month. The trick will be to blend proven veterans like skipper Michael Hooper and Marika Koroibete with dynamic newcomers such as Noah Lolesio at fly-half, and back-rowers Harry Wilson and Rob Valetini. It won't be easy for the young Wallabies in the pressure cooker of The Rugby Championship, but it feels like a fresh start for Aussie Rugby.
The Pumas enjoyed a first-ever win against New Zealand a year ago, upsetting the All Blacks 25-15 under the lights in Sydney. The win came under trying circumstances, with the Argentinian squad unable to train for two weeks before the test per quarantine rules. Despite the lack of preparations, Argentina fronted up with a performance for the ages.
Since that special day, Argentina has drawn twice with the Wallabies, drawn once with Wales, beaten Wales, and been shut out by the All Blacks. Heading into the Rugby Championship - better prepared we might add - the Pumas know that stringing consistent results together is the key. Can they go where no Argie team has gone before and win the whole thing?
Keep a close eye on flankers Pablo Matera and Maros Kremer - especially if you're an Aussie, Kiwi, or Saffer flyhalf. These members of the Argentinian demolition squad have that uncanny ability to disrupt an entire attack plan, by way of dominant tackles and pesky breakdown steals. In the wider channels, the ever-influential Nico Sanchez will pull the strings in the 10-shirt, looking to free up space for the dangerous weapons he has around him - notably center Jeronimo de la Fuente and winger Bautista Delguy.
Rob and Adam also gave us their thoughts on The Rugby Championships as well.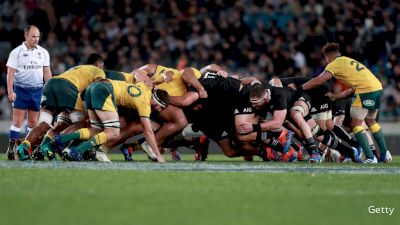 Within each one of the teams we just broke down there are a few players that take the lead for them so let's take a look at the top players to watch at The Rugby Championship.
Argentina
Marcos Kremer | At 6'7 and 253 lbs, Argentina flanker Marcos Kremer isn't just a heat-seeking missile; he's a full on atomic bomb. Capable of blowing up a team's entire attack plan, this explosive mountain of a man was the heart and soul of Argentina's famous victory over the All Blacks in Sydney last year, amassing 28 tackles - yes you read that right - in the process. What's scarier? The young man is just 24 years of age, meaning he hasn't even begun to peak. And when he does peak, everybody in World Rugby is going to feel it - especially poor fly-halves. Throw in his highly capable line-out work and ball-carrying ability and we're looking at a possible all-timer down the line.
Nico Sanchez | The man, the myth, the maestro, Nico Sanchez isn't just the string-pulling puppet master for the Pumas, he's the talismanic leader the boys lean on when things get tough. Sanchez has just that touch of class needed to take a good team and elevate them to being a great one. He's not the biggest fly-half out there, standing just 5'10, 183 lbs, but he has a rocket of a right boot, a knack for wiggling through gaps, and a passing touch so deft you'd swear John Stockton wound back the years and put his short shorts back on. If Kremer's 28 tackles vs the All Blacks last year made him the heart and soul of that win, it was Sanchez's 25 points that provided the killer blow. He'll be leading Argentina from the front once again.
Australia
Harry Wilson | The Wallabies got off to a rocky start against New Zealand a week ago, falling behind 33-8 before a 17-point flourish at the end made the scores respectable. They'll need a better performance from the big boys up front, and it starts with youngster Harry Wilson. The 21-year old 8-man is tougher to put down than an overcooked ribeye, his 6'5 240 lb frame generally moving at high speeds and almost always coming downhill. While he was relatively quiet against the All Blacks in Bledisloe #1, don't expect to see that from him twice. His go-forward is vital to the Aussies playing the style of rugby they like best - dynamic, intense, high tempo footy.
Tom Banks | 27-year old Tom Banks may have just 10 caps to his name, but the lightning quick fullback has quickly established himself as the most dangerous man down under. Like Australia's own Eastern Brown Snake, Banks has that venomous factor about him, capable and willing to strike from anywhere on the pitch - and once he's free there's no stopping his bite. Scorer of two tries against the All Blacks a week ago, the Brumbies man provides hope the Wallabies can knock off any team in the Rugby Championship with enough front-foot ball to release lethal speedsters like himself out wide.
New Zealand
Ardie Savea | Possibly the most dominant ball carrier the sport has to offer at the moment, Ardie Savea hardly takes any searching to find on the field. His impression on any game he's in is felt early and often… particularly by his opposition. Savea serves as a de facto answer to the popular question, "can you imagine if Adrian Peterson played rugby?" Look no further than the hurricane *wink wink* of elbows and knees that invariably leave a wake of sore bodies and groans in the morning. Pair that with a bloodhound nose for poachable rucks and backline skills to boot, and you certainly have someone to lookout for in The Rugby Championship.
Richie Mo'unga | Mo'unga might be the most intriguing player to watch in the entire competition. Richie's undeniable class he's displayed as the Crusaders' out-half has yet to fully permeate through the international ranks. Mo'unga has been the form player in super rugby for 5 years now. His combination of ball skills, athleticism, defensive prowess, and an innate ability to make plays in the most pivotal of moments raise questions whether he's really just a created player on Xbox.
Pretty much everything the Crusaders have touched turns to gold, and it seems as though King Midas has been pulling the strings from the 10 jumper. With 22 caps to his name, Mo'unga may not have erupted onto the international stage like many predicted, but like a dormant volcano, it seems more a matter of when than if it happens. This Rugby Championship is a blank canvas that just might end up being Mo'unga's first masterpiece as an All Black.
South Africa
Springbok front row | You know the Springbok front row was highly formidable when I, as a half-back, couldn't help but notice the monumental impact the big boys up front made in the Springbok's test series win over the British and Irish Lions. South Africa boasts a scary good front row with individuals such as Bongi Mbonambi, Steven Kitsoff, and Frans Malherbe brutalizing opponent's scrums while the likes of Trevor Nyakane, Malcom Marx and Vincent Koch wait eagerly in the bullpen to stampede over the survivors.
A typical scrum for South Africa looks like two granite boulders with legs on either side of an equally large boulder, supported by five sequoia trees behind them. The way in which the South African scrum was able to produce scrum penalties late in the game against the B&I Lions in the second and third test matches made the crucial difference in the outcome of the series. Look for this robust unit to have a say in how the upcoming Rugby Championship plays out.
Lukhanyo Am | It can be easy to overlook the sheer brilliance of Lukhanyo Am while Cheslin Kolbe does his best to literally personify lightning in a bottle. But whereas Kolbe serves as the spectacular bolt of lightning illuminating the sky, Am is the ever present storm clouds constantly casting a dark, foreboding shadow over anyone who steps on the field against him. Am's talent lies in his ability to read the game, especially on defense, as he routinely snuffs out budding set piece attacks with ease.
Am is one of those players who consistently makes the right play time and again throughout the course of a game, none sticking out more than the other, and by the final whistle his name must be mentioned in man of the match considerations. Virtually nobody has been able to unlock the Springbok defense in the past two years, and Lukhanyo Am is the crux that has yet to be solved in the middle of it.