2021 Ireland vs USA
USA Eagles Finish Summer Internationals With Loss To Ireland
USA Eagles Finish Summer Internationals With Loss To Ireland
The USA Men's XVs National Team suffered a disappointing 71-10 loss to Ireland at Aviva Stadium.
Jul 12, 2021
by FloRugby Staff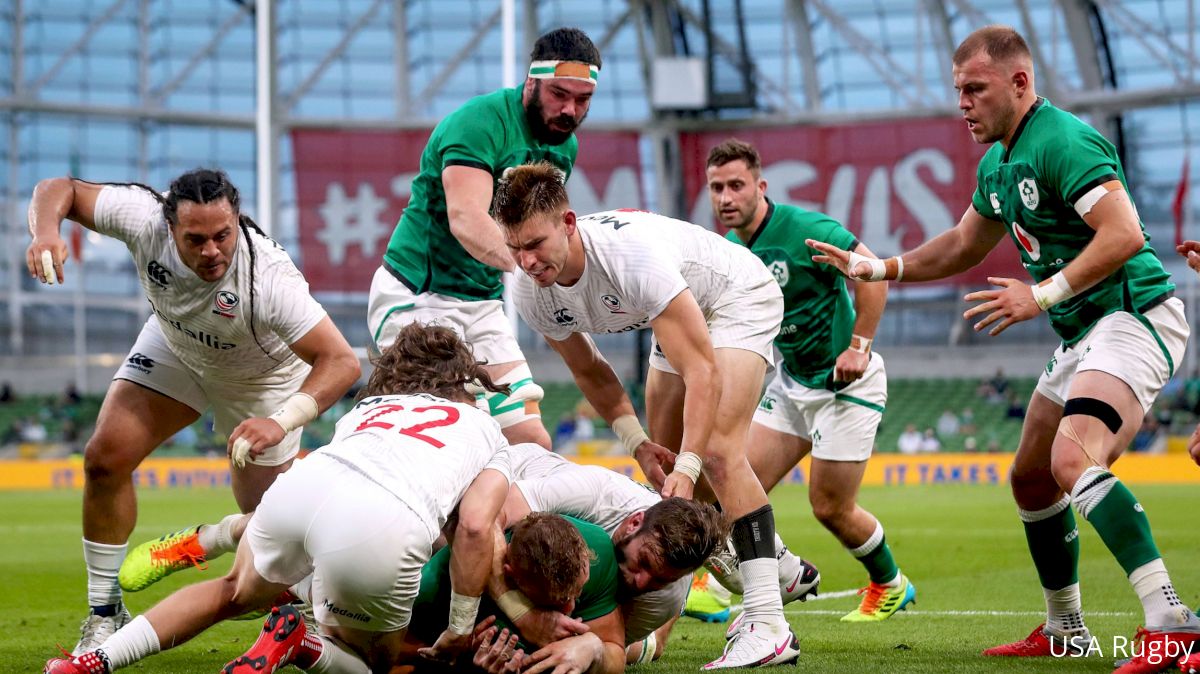 The USA Men's XVs National Team suffered a disappointing 71-10 loss to Ireland at Aviva Stadium. Through the first 20 minutes, America pressured the Irish -- spending most of their time inside the 22 with at least three five-meter drives -- though nothing came of it on the scoreline. Ireland came away with a number of easy tries thanks to missed tackles, exposed gaps and errors in possession by the U.S. side.
Towards the end of the first half, Ireland had a comfortable lead at 31-3. In the 54th minute, United States' flanker Riekert Hattingh drew a red card for a high tackle and the Irish ran away with an emphatic victory. Michael Baska scored the USA's lone try from a maul in the 71st minute. Luke Carty kicked the conversion and a penalty in the first half.
Head Coach Gary Gold was honest about his side's performance in Dublin. Following an impressive second half performance against England last week, where the USA outscored their British counterparts 26-17 for a final result of 43-29, today's encounter told a different story.
"Not all what we planned for and no excuses whatsoever," said Coach Gold. "This was just not good enough. The intensity we spoke about didn't bring attack or defense. We had a couple options at the beginning of the game that we didn't execute. WE just slowly but surely let them back into the game and today we got taught a proper lesson."
Captain Bryce Campbell was equally disappointed, knowing that the momentum from last week's game conflicted with the performance.
"We came here to see what we could do," said Campbell. "We didn't necessarily come here to win a game. We have a lot of confidence in our forwards to get it done early and they missed the mark. We need to finish the opportunities that we get."
Coach Gold and his side assembled for the first time in nearly two years just a couple weeks ago, giving players five days together before their opening match against England. As a young team with many new faces, the squad recognizes its many workons ahead of the next international window this Fall.
The Eagles will now look ahead to their Rugby World Cup 2023 qualification series against rivals-Canada on September 4 and 11. Canada will host the opening game at St John's after which the USA will host in Glendale on September 11.
Results from those matches will dictate which South American side the Americans will face in another home and away on October 2 and 9. Once their position is known for France 2023, the USA will come home for a rematch with Ireland to close out their Fall internationals on October 30 at Allegiant Stadium in Las Vegas.